23rd July 2013
After nearly a month of absolutely splendid weather somewhere in the bowls of the earth the Gods of Sod flipped over their calender, chuckled and had evil thoughts as they saw that it was the NWFGs three day trip to the Royal Navy Air Stations of Yeovilton and Culdrose. It came to pass as they raged fire and brimstone onto us in an another attempt to thwart one of our trips, having already done pretty well for the previous couple of years.
Well not quite fire and brimstone but close, certainly cloud, torrential rain, thunder and lightning dominated the early hours of the morning of the trip and with each flash and crash I could see the trip, which had taken hours and hours of work since February, with the planning, liaising, documentation and co ordinating going straight down the tubes. The phone calls and text message started at 07.00. The Beagle Pup G-IPUP which was due to join us for the Yeovilton leg crewed by NWFG member Nick Allum with Kevin Smith had seen the TAFs and had decided to bale out early. Driving onto the airfield was rather depressing with the remains of the storms leaving a layer of low cloud and a very damp atmosphere. The TAF's had changed but it was patchy as to what times if and when it might improve, and the Culdrose one, which was to be our second and overnight stop was decidedly grim. The actuals between North Weald and Yeovilton were just horrid, in some cases 200ft cloud with 400m viz. I can't remember how many phone calls I made over the next hour and a half getting updates from both Yeovilton and Culdrose. Things were constantly changing and although the weather had now improved at NW quite considerably, Culdrose was still an issue, and Yeovilton only slightly better. I was within a gnats crotchet of calling it off and going home in a sulk when a phone call from the airfield manager at Yeovilton revealed it was now reasonable and improving by the minute. The decision was made that we would go and at least visit Yeovilton and play Culdrose by ear when we got to Somerset. The weather still wasn't great but it was safely doable and everyone was quite happy that if it looked iffy just come back to NW.
With confirmation that our our slots times could be pushed well back and with the aircraft already prep'd during the long wait it was only a question of mounting up and going. So that's exactly what we did with a very orderly line forming on the taxiway to R20. It was clearly not going to be a straightforward day and as we cleared the TMZ westwards towards Bovingdon there was a nice big black wall of cloud and rain ahead of us just west of Elstree. A flash of lightning completes the picture perhaps. As you know there isn't a great deal of room to manoeuvre in the Luton/ Heathrow gap but fortunately Stewart and Jonathan in NUKA had slipped past Phil and I in FS and we saw them diving off to the southwest some distance ahead. They could obviously see something we couldn't. As we got closer to the black wall with a few raindrops slapping onto the windscreen we saw a nice big gap that we could see straight through and NUKA disappearing through it and acting as the group Pathfinder. We had to keep a very close eye on our position and where the gap actually was as we were getting close to the London CTR (and we all know about infringements) but we slipped through without a problem and out into relatively clear air on the other side.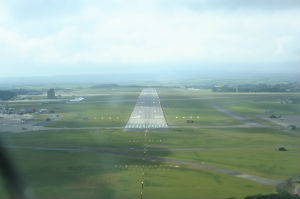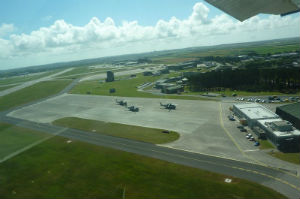 Routing for most of the group was overhead Wycombe and then via Compton (CPT) with more or less a straight line to Frome and then turn left. The cloudbase and viz wasn't great but certainly very flyable and we had the usual excellent service from Benson and Boscombe Down before changing to Yeovilton. That was all pretty straightforward for most and with the wind and us approaching from the NE they positioned us nicely for very long finals onto the cross runway 22. With the cloud breaking and the sun poking through things were looking up even if the horizontal viz wasn't great. But at least we were there.
With instructions from the tower we were soon all parking under the careful direction of marshallers to the south of the tower where we were met by the ever effervescent airfield manager Roger Bodnarchuk, otherwise known to everyone throughout the Royal Navy as 'Mr B'. Roger is an all round 'top bloke' who I first had dealings with on our group visit in 2009 and is extremely supportive of GA and visits like ours. However, I did have some rather colourful old Navy language about how the NWFG had managed to swing getting into both Yeovilton and Culdrose on the same day and for their Air Day in particular. He was as expected very organised and efficient and soon had a whole section of keen young sailors climbing over our aircraft to get them refuelled.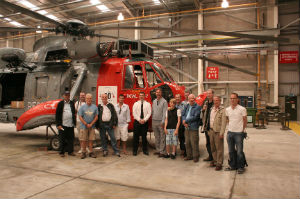 A minibus soon arrived to transport us to the Fleet Air Arm Museum and just as importantly lunch. A rather special visit had been arranged for us to the RN Historic Flight but unfortunately as we were so late in arriving they had already left for Culdrose. After a bite to eat in the Swordfish restaurant we only had time for an hour or so in the excellent museum which was a pity as we had to get airside and to the minibus to take us back to the aircraft to meet our arrival slots at Culdrose. If you are in that part of the country and have never visited this museum it is well worth a call in, detailing as it does the whole history of British Naval Aviation and more with great aircraft exhibits.
Back with Mr B on the apron he gave us an update on the weather at Culdrose which was looking quiet doable now although a lot of arriving aircraft had been delayed. With very specific instructions for our long taxi to the threshold of R22 for departure avoiding the helicopter movements we called for start. It was a conga line of NWFG aircraft as we picked our way around the unfamiliar peri track and had to wait to cross the main R27 in turn. Soon we had an impressive line of aircraft at the hold waiting for our clearances onto the next part of the trip.
Climbing straight out the rolling hills and farmland of Somerset unfolded below us in the sunshine with a great improvement in the viz. Routing down towards Exmouth we said goodbye to Yeovilton and onto Exeter Radar. The river Exe with Torquay in the distance drifted serenely past as we headed towards the spectacular high ground and multiple colours of Dartmoor. Unfortunatly the cloud had built up significantly as we approached the moor and with rising ground ahead decided to climb above it. Sitting up around 5000ft had us in very clear air surround by peaks of bright white cumulus cloud which is always stunning. Soon we were abeam Plymouth and making early calls to Culdrose approach. It always adds an interesting element when you hear ATC calling inbound aircraft with things like 'due to weather conditions all inbound aircraft are to join by the Helford River estuary' and 'can you fly IFR?' We could see what looked like low cloud piling up ahead of us so it was time to make a descent towards Culdrose whilst at the same time looking at the chart to find out where the Helford River actually was. Fortunately the plates which I had been sent and copied to the whole group showed it perfectly. A long estuary on the south coast west of Falmouth which should take us direct to Culdrose on the hill beyond. It was a bit tricky maintaining vfr on the way in towards Falmouth which was covered in a broken layer of cloud at not much more than 800ft but with excellent viz below. Skimming below the cloud gave us great views over Falmouth Water as we picked our way around the headland to find the mouth of the river beyond which has to be said has quite high hills along the banks. Routing up the river we could see the huge expanse of Culdrose out in front of us and were soon getting our landing clearance for R30 with a 17-21kt wind straight across the slot. Welcome to Cornwall! Arriving in quite close order we were soon taxiing to our remote stand on the northern side of the airfield. It's always special arriving amongst types of aircraft that one wouldn't normally be mixing it with. Hawks, a Typhoon,Tornados, Apaches and Merlins being but a few and of course the bases own Sea Kings. Not the most relaxing of flights over the last 15 minutes and a pity that we didn't really have too much opportunity to enjoy the views, but at least we were in. Probably just as well as over the next hour the strong wind off off the sea increased and the cloud scudded across the airfield at a couple of hundred feet.
With the aircraft in a nice line and carefully chocked and put to bed it was off in another minibus to the main gate. My number 3 daughter Carly who was in Cornwall kindly acted as cab driver ferrying the guys to the Premier Inn Hotel a couple of miles down the road. Dinner was the usual jolly group event and was taken in the pub next door where we were joined by our hosting Officer Lt Edward (Teddy) Thurston RN who is a Sea King pilot with 771 Sqn at Culdrose. With no flying the following day a few local ales were sampled and a pleasant time was had by all.
The Culdrose Air Day is notorious for bring a change in the weather to Cornwall and apparently has done for the last 20 years. Well this year it didn't disappoint. The breeze and patchy low cloud at around 400ft covered the airfield for most of the day and did disrupt the flying schedule a lot. However there was a very big crowd and the static displays were excellent. There were some great flying displays by the various visiting aircraft and helicopters including one by a Dutch Apache who did things that I thought should be impossible in a heli especially at such a low height. The Red Arrows arrived, left, arrived and finally disappeared, calling off their display due to the conditions, which was unsurprising really. However, just as they left the Sea Vixen arrived in all it's roaring glory to put on a stunner of a low level display.
Later in the afternoon we regrouped for a tour of 771 Sqn. Starting in the briefing room Lt Thurston gave us a very interesting intro to the Squadron and the history of Air Sea Rescue before taking us on a tour of the facility and Ops Room before allowing us the opportunity to get up close and personal to one of the Sea Kings in the hanger. I would like to say a big thank you to him for spending so much time with us and for giving such a detailed and informative brief as well as answering almost endless questions.
After a very satisfying day it was back to the hotel to refuel ourselves and to discuss the events over dinner. The forecast had been for a front and deep low to pass over from late afternoon and that arrived with a vengeance bringing high winds and torrential rain for most of the evening and night.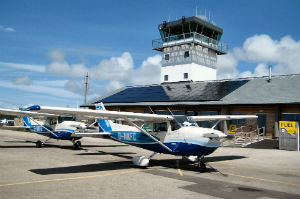 As we were so close to the Scilly Isles it seemed rude not to go as we were already relativly close. We had decided that if the weather was really good we would give it a crack as none of our group had been before. Well amazingly it was good, although there were some fluffy cumulus around and a reasonably stiff breeze the rain had left the air crystal clear. It took a while and some faffing to get through the gate into Culdrose and out to our remote stand. Once we were ready there was also a significant delay at the hold as we had to wait our turn as the Air Day participant aircraft started to depart, no complaints really as we had a bit more of an air show. Leaving Culdrose in the distance we routed along the beautiful coastline of Cornwall, passing close to the spectacular St Michaels Mount sitting majestically in the bay opposite Penzance. From there we could see the Scilly Isles sitting some 28 miles west of Lands End. Speaking to Lands End and then Scillys Info had us approaching the islands in a well spread out line. An offer from the helpful controller of doing an anticlockwise tour around the islands at a 1000ft was too good an opportunity to miss and it was pretty impressive. The collection of small islands that form the Scillys were sitting in calm azure blue sea that was so clear it was almost Caribbean in appearance. Reporting passing the lighthouse at St Agnus had us positioning downwind for R27. This is only 523 mts and is half tarmac half grass and the airfield guide description of 'undulating' doesn't do it justice. Although spectacular on the approach across the sea and the low cliffs this really isn't one for the faint hearted. A clue as to what must often happen was the controller mentioning to an inbound commercial Sky Bus Twin Otter that 'It's their first time here so they will probably be going around'. Oh he of little faith, we were all in first time without too much of a problem, interesting though! Having got in, it was only the thought of getting out that caused more consternation. However, we were all reasoanblty light on fuel at that point for that very reason. It was unfortunate that we didn't have more time to explore but we had to make do with a quick lunch in the passenger terminal before getting ready to head back. Well worth another visit in the future.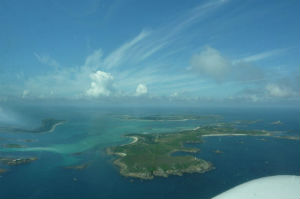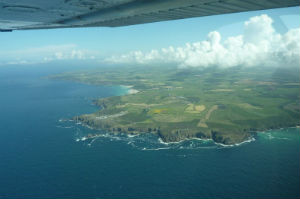 The departure was something else, getting to the turn around to depart from 27 means going over the crest of a hill and requires the aircraft equivalent of a hill start in a car if you don't want to roll back and fall over a small cliff onto the beach and into the sea. Yet another interesting experience. Right turn after take off and out via St Martins head VRP. The weather was still great and now with a fair tail wind the sea crossing to Lands End was a lot quicker. We stopped onto the beautiful grass strip that is Lands End really just because it was there, but it was also ideal for having the aircraft refuelled. They also have a very nice terminal and cafe with a terrace looking out over the sea towards the Scillys. Well worth a visit.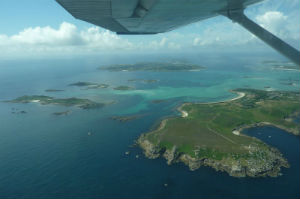 Our next stop was to be Compton Abbas. Routing east all too soon our great run over the stunning scenery of Cornwall and Devon was coming to an end as we became visual with Compton Abbas sitting on the high ridge south of Shaftsbury. Another great grass airfield and one of my favourites. This was another quick visit and just time for coffee as time was getting on. Heading back in the late afternoon we were now over much more familiar territory and our route back was uneventful.
All safely back into North Weald. Around 7hrs 45mins flying, new destinations and airfields with absolutely stunning scenery made this a very successful three day fly out. Thank you to all who took part and made it such an enjoyable trip. Also my gratitude to Lt Thurston at Culdrose for hosting us and giving us such an excellent tour and Mr Bodnarchuk at Yeovilton for allowing us in and having everything meticulously arranged for our visit, especially given our very late arrival from the original plan.