3rd February 2007
Saturday the 3rd February, a day to be remembered as one of the finest this winter so far in terms of flying weather. The group met at North Weald Airfield for our planned excursion to Wellesbourne Mountford, a name so long it just doesn't fit in the log book. 'EGBW' is located just outside Stratford-upon-Avon, and beneath the Birmingham CTA and offers two hard runways and concrete taxiways, all important at this time of year in avoiding the usual bogs.
The aircraft were prep'd under a crystal clear blue sky, with only a minimal frost to be removed from the upper surfaces as the sun was warming things up nicely.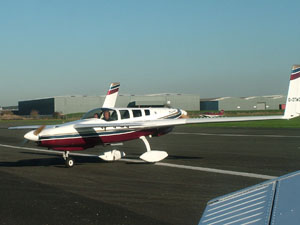 The crews for the day were Paul Bazire with daughter Suzie in G-NS with Julian Mitchell, Paul Weeks and Alex Kenning in G-RB , Kieran Hardiman and Paul Hutson (who has just rejoined North Weald Flying Group) in KK and G-WH being manned by Matt Humphreys and Tony Norman (on his first fly out). We departed from North Weald's R02 and turned left to transit at low level to north of Ware and then up through the Stansted/Luton corridor; visibility was probably in excess of 50 miles and the air as smooth as silk. However G-WH experienced some severe turbulence for several seconds which caused them to lose a lot of airspeed and a couple of hundred feet close to Harlow. Matt and Tony believe this could only have been caused by the decaying wake turbulence of a large jet inbound to Stansted (we had been watching a very low B747 freighter and a couple of B737s turning in as we prep'd our aircraft).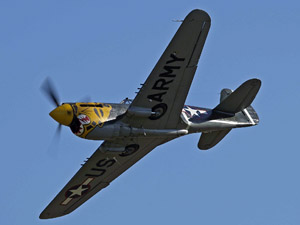 As the rest of us enjoyed this perfect day, we didn't realise that G-RB had suffered a radio failure (despite being repaired the day before) before getting airborne and that Paul W and Alex had been left behind. Routing out westwards the crew of NS took the opportunity to do some sightseeing at the huge number of cars and vans stored on the disused Bedford airfield, a look at the Santa Pod dragster raceway and the vehicle proving ground at Gaydon, with hundreds of more stored cars. (Where do they all go?)
Just under an hour after departure we called Wellesbourne Information to be told 'R36 LH QFE 1036 report overhead, eight aircraft inbound' Just a trice busy then! And so it was the North Weald Flying Group arrived and began to thread their way into the circuit that made Heathrow's approach look like child's play. 'G-NS downwind, contact two ahead'… 'G-NS there should be five ahead' Great! All eyes scanning the sky for the others, and following the long line of aircraft in. Eventually we were all down and taxiing past the Vulcan Bomber that dominates the NW corner of the airfield, but ended up being parked so far from the clubhouse that they sent out a car to collect us.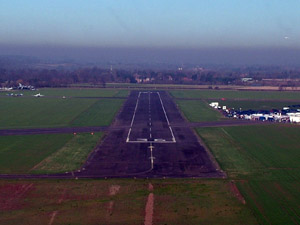 We met up with three members of the Andrewsfield Group. They had flown PA28 G-ASUD in to join us, Peter, Steve and Rob. Good to see you guys. A very pleasant and leisurely lunch was taken whilst sitting in the sunshine on the patio, in February no less. Wellesbourne was undoubtedly the busiest airfield we have visited as a group. A constant stream of aircraft coming and going with numerous go arounds where separation was getting tight. The Touchdown Cafe was also very busy and good value. Wellesbourne is well worth a visit, not too far, nice cafe and great to see such a busy GA airfield. Peter Teichman even dropped in for lunch in his P40 Kittyhawk and brought all the spectators to their feet with a high speed fly past and barrel roll on his departure. Great stuff.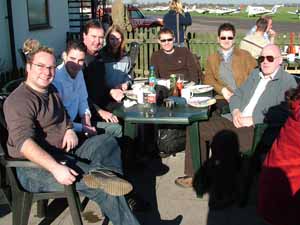 The return was uneventful in the still clear skies and passing over Silverstone race track we all made our way back by a more southerly route, passing through the Luton Heathrow gap this time. Fortunately we didn't cut the time fine (this time) and had all gone back to our aircraft for the return together. However it was so busy that NS ended up as number nine and 25 minutes in the queue for departure, the controller sending aircraft around just to get aircraft off.
A very pleasant day with surprisingly clear weather and a very pleasant destination. As always a big thank you to those who took part and commiserations to Paul W and Alex who were left behind. Let's hope our weather luck holds for the