15th May 2016
WEEZE/NIEDERRHEIN (EDLV) (EX RAF LAARBRUCH) 14th/15th MAY 2016
With a pretty dismal start to the year in terms of the weather thwarting the two earlier planned group fly outs, it was surprising to see a half-decent forecast a few days before our overnight trip to Weeze in Germany.  With so much organisation required, for a big trip like this to be scuppered by the weather would have been very disappointing, especially as John Reynolds had done so much work in putting the 'meat on the bones' of the trip itself.
It was therefore with much anticipation and a degree of slight disbelief that as they date drew closer, the general forecast wasn't actually that bad…which generally means the forecast will change dramatically a day or two before. Going as far as Germany and with an overnight stop thrown in always makes the call of whether to go that bit trickier. However, by Friday things were still looking pretty good overall; the only real issue was the possibility of some haze on the Saturday and the likelihood that the wind would pick up in Germany on Sunday with some showers back on the UK side in the afternoon. The decision was made…it was a go.
With the usual busy preparation of aircraft prep, flight plans, GAR's, lifejackets and rafts stowed, we were ready for the off. The weather was good enough, not great and with some really lumpy low cumulus but certainly flyable. Our first stop was to be the ex-military airfield at Merville (LFQT) which is some 35nm SW of Calais. Having stopped at Calais for our customs stop so many times over the years, I had looked for a new airfield for us all – one that was more or less en route, but could offer us customs and a timely early lunch stop. Merville had the facilities and were happy to do the customs bit with advance notice. Several days before, JR put all the advance information details in place for PPR and customs and confirmed that they could take our large group for food. The reply came back that it was no problem and that they looked forward to welcoming us at Merville. We looked forward to a possible new gateway to France and beyond.
Heading out in a well separated stream for North Weald we routed down towards Billericay and requested a transit through Southends airspace via Sheerness on track for Dover. As usual this presented no problem and we crossed the Thames in quite reasonable weather – a bit hazy but more than acceptable. As we approached Canterbury we said goodbye to Southend and changed to London Info for our Channel crossing. Dover port slipped past below us as we did the short hop towards France. Mid Channel we changed to Lille Information and gave them our routing as Cap Gris Nez direct LFQT. Approaching the coast the cloud began to thicken and the base dropped down to around 1800ft with a few spots of rain which was no real problem as there wasn't any high ground or obstructions on our planned track. We passed over St Omer and had a great view of the massive La Coupole V2 bunker just south of the town. The aerial view was a bit of a consolation prize as that should have been a fly out venue the month before which was thwarted by the weather.
Lille cleared us into their Class C airspace around Merville and ask us to change to Merville Tower. We were routed via NA point and were to report to the airfield in sight. The cloud had lifted significantly but it was still a bit murky which made spotting this relatively large airfield quite tricky, but we were soon downwind left hand for R04. With our landing clearance we lined up for the final stretch to the 1840m 04.
On touching down we were directed to clear right to the Aero Club where the others were already starting to park up. There followed a scene a bit like an aviation carry on film. Gordon Horscraft and crew in the GEEP had arrived first and gone to the Aero Club restaurant only to find it closed for lunch! (not the first time we have had that in France). It was suggested that they go over to the 'Terminal' side where they could get sandwiches and snacks. Everyone then started calling up for clearance to taxi over to the opposite side and were directed to taxy via the grass to cross the runway on the NE end, so Phil and I followed the line of NWFG aircraft in VB. The grass was extremely soft and had obviously just been cut for the first time that year looking at the sides. Unbeknown to us the GEEP had got stuck in the soft ground and a helpful group of visiting Germans was trying to haul it out. With the sticky ground we just wanted everyone to keep moving, the problem was, as we were in a line the grass cuttings were being thrown into the air resulting in the most horrendous green cloud, and with us as the last aircraft we were getting the lot and could hardly see a thing. Fortunately we kept moving and got to the terminal side where we shut down and looked for food and drink after checking the air intakes weren't full of grass!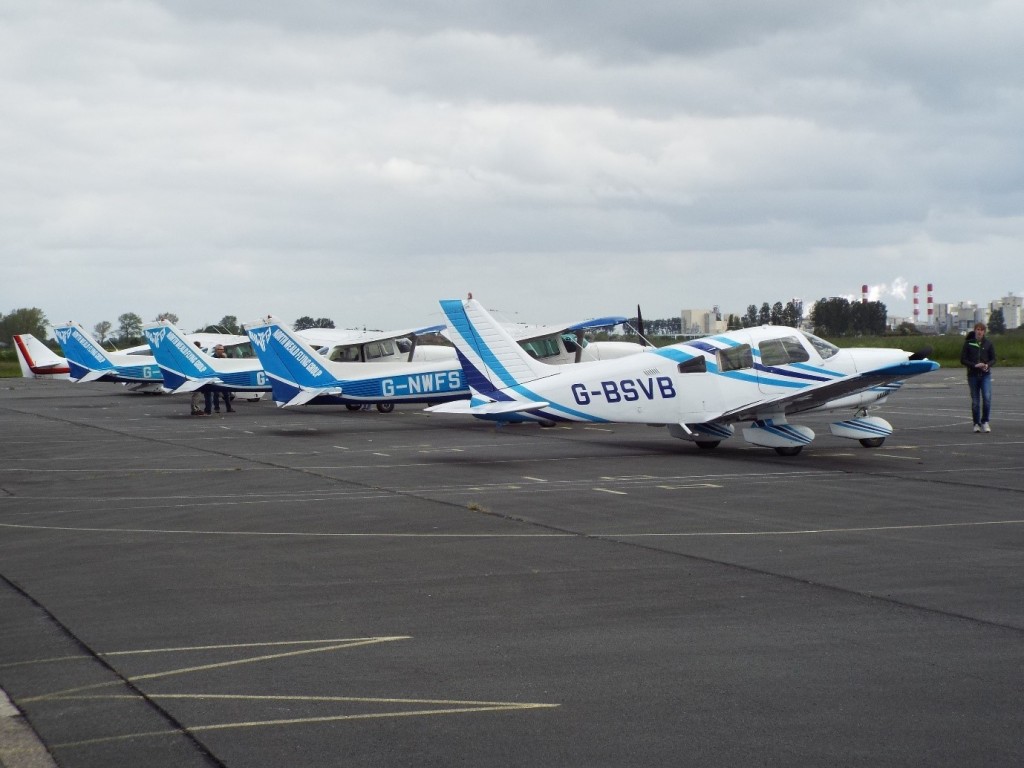 The NWFG on the apron at Merville
Needless to say, the place was locked up and deserted, a walk down to the fire station resulted in the same result. We were now stuck airside, no food, no drink, no customs people and no toilets which resulted in a bit of 'Improvisation'. I did feel sorry for Linda and Joanne Horscraft though. A phone call by Phil to the tower resulted in a rather embarrassed controller saying that he would phone the fireman who was at home having his lunch and see if he would come back. Oh really! We knew that was never going to happen but gave it 10 minutes just to be polite before Phil phoned the tower and said that we wanted to leave. The guy in the tower was going to go for his lunch as well, but when Phil said we were going to leave anyway he did say that he would see us out and in fairness was very apologetic. The problem we had was that as we were due to spend some time having lunch we were now early for all our filed flight plans which had been filed for the next leg as we were crossing the Belgium and German FIR boundaries. Our helpful controller got that sorted and with the GEEP extracted from the mud we were all heading off for a speedy departure from O4. So Merville turned out not to be a great choice and certainly not another gateway to France. Perhaps we caught them on an off day but they had had plenty of notification which had been acknowledged. They did however waive all the landing fees when JR complained to the airfield manager after the visit.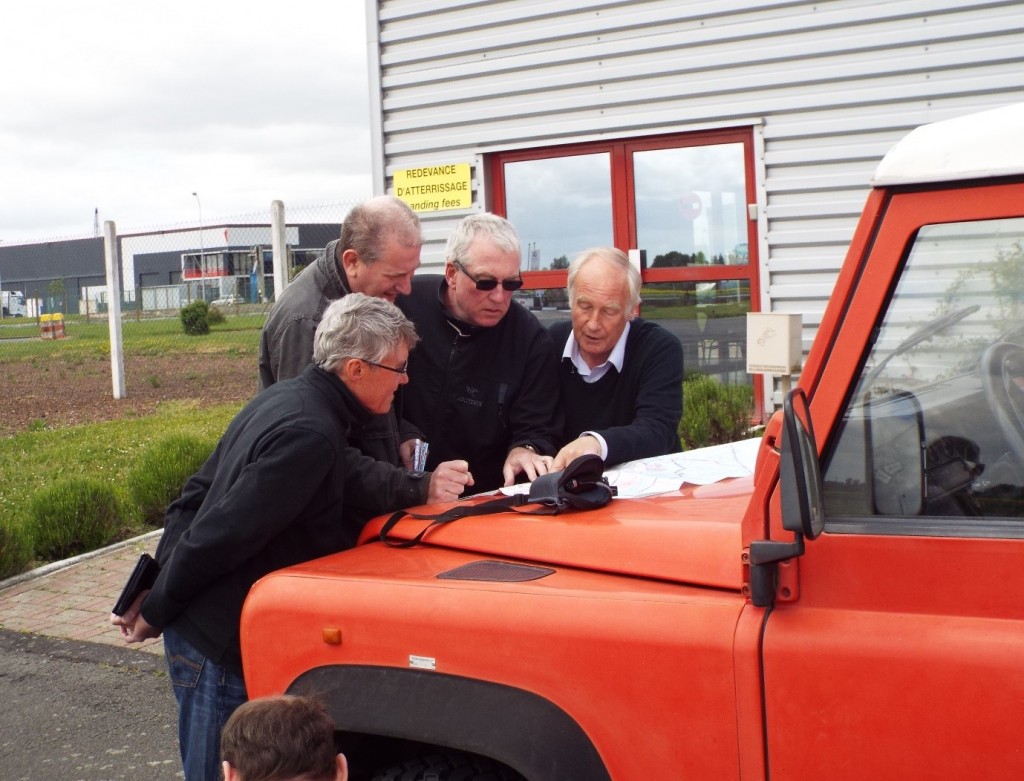 Which way is Germany chaps? I have no idea what Phil is doing down there!
So, back in the air, starving and in need of a caffeine fix we headed NE past Lille and Kortrijk towards the Affligem (AFI) VOR NW of Brussels. The airspace on this leg is quite complex with some low narrow gaps between major airspace, primarily Brussels and Antwerp and most of the crews were working their way through these gaps whilst talking to Brussels Info. Phil and I thought we would try and straight line it and requested a routing direct from AFI to BRUNO (BUN). As usual with the continental controllers they were more than helpful and said that they would try and coordinate it with Brussels Approach. Within a couple of minutes we were handed off to Brussels Approach and got our direct clearance to BUN at 2300ft. Clearing Brussels airspace, we were handed back to Brussels Info for a short time before requesting an early change to Dutch Military before reaching the Dutch border, as we were intending to ask for a transit of Eindhoven's airspace to make it a straight line towards our destination at Weeze (Niederrhein). Slipping over the flat lands of the Dutch border near Ommel we were cleared through the airspace via Zulu and Yankee. However with just 20nm to run we were directed to 'turn right heading 150 to allow for separation from inbound traffic to Eindhoven.' That took us miles out of the way and we were nearly at Venlo on the German border before we were turned back towards Weeze and instructed to make the call to Niederrhein Tower. Niederrhein sits in a large wooded area in Germany just a few miles east of the Dutch border and was originally known as RAF Laarbruch before becoming Weeze/Niederrhein Airport when the RAF pulled out in 1999. As we were cleared to join left hand downwind for R27 it was easy to see the familiar military layout in the distance. A long 2565m runway with four areas of hardened aircraft shelters (HAS) in the trees on all four corners of the airfield. With some other group aircraft ahead of us we slowed early to allow a bit of separation but as we followed, Malcolm and JR in the controller wasn't happy and directed us to go around.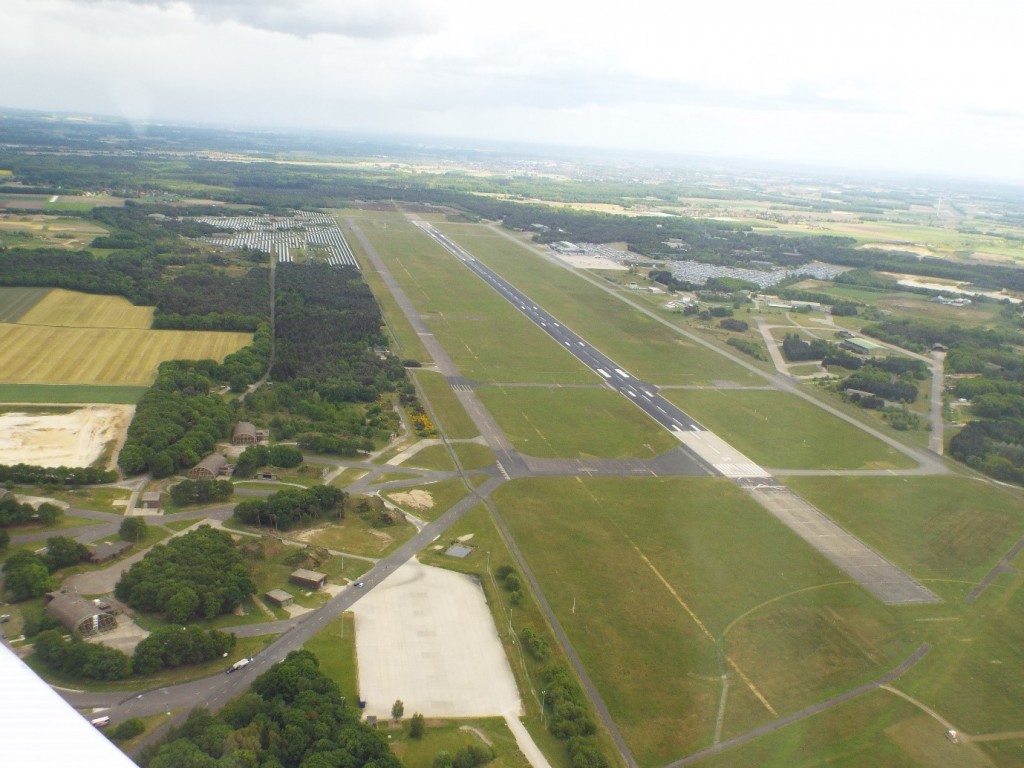 Weeze/Niederrhein/Laarbruch on the go around.
That was no bad thing as it gave us a great leisurely view of the whole site and a good close up of the HAS areas before turning out for a right hand circuit back towards 27. Unfortunately for us, a FC and the GEEP were now left hand downwind which meant we had to extend and head off east into what seemed like the depths of Germany before turning back towards the airfield. The wind had now picked up from the north which up which made it a bit lively on the approach but we were soon down and vacating left for our overnight parking position. This was to be in one of the early Mk 1 HAS areas and it was a great experience to follow the taxiway in between the big conifers towards the shelter just like countless RAF jets had done throughout the Cold War. There is just something incredibly atmospheric about these areas especially for anyone with a knowledge of the history of the time, but more of that later. We were spreading our aircraft around the open parking area with help from a marshaller from Solid Handling, our very efficient and friendly ground handling company. Nick Turner who was joining us on his first fly out in his red Falco had his aircraft in the shelter entrance and had the cowling off looking for an oil leak. Fortunately, this turned out to be nothing.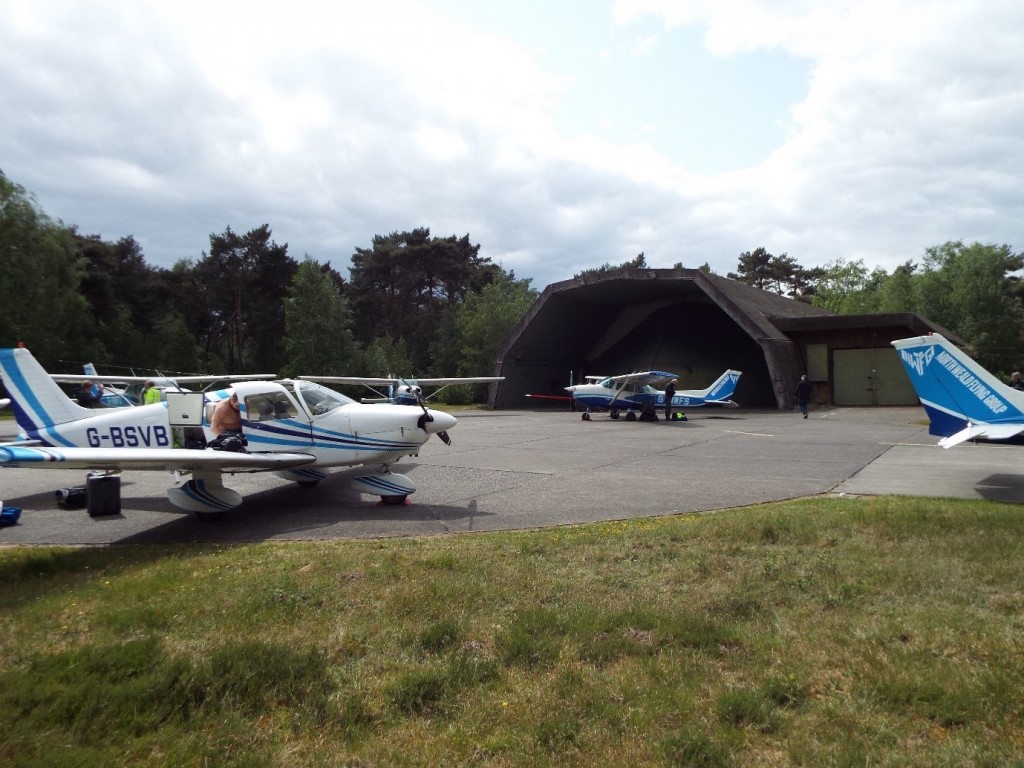 Unpacking by a Mark 1 HAS
With the group having wrapped up the aircraft for the night we were shuttled to the landside in a minibus and headed down to the RAF Laarbruch museum which is only a few hundred meters from the terminal building and was the main purpose of our visit. This is the only RAF museum in Germany and it chronicles the history of RAF Laarbruch from its first opening as an advance landing ground for the allied air forces as they advanced on Germany in 1945. It was the first RAF station built on German soil and was known then as 'B100'. It later became much bigger and was a vitally important part of the NATO defence of Western Europe during the Cold War. For anyone with an interest in the history of the RAF or this time in general there is a lot to be read and the museum website covers it in detail, with the history of the base, the aircraft and squadrons that flew from there. That was practically all the classic Cold War jets, Canberras, Phantoms, Buccaneers, Jaguars, Tornados and Harriers as well as many others over the years until its closure in 1999. There is too much for me to cover, so for those interested the link is below.
http://www.kle.nw.schule.de/laarbruch-museum/html/ENG/index_ENG.htm
The museum had opened for our visit and we were ushered in by retired Squadron Leader Rod Hawkins MBE who, as a Buccaneer and then a Tornado pilot based at Laarbruch, certainly knew what he was talking about as he painted a great picture of the base and its operations from first hand experience. After Rods introduction and talk we headed into the museum itself to look at the myriad of displays, with Rod on hand to answer the many questions from our guys.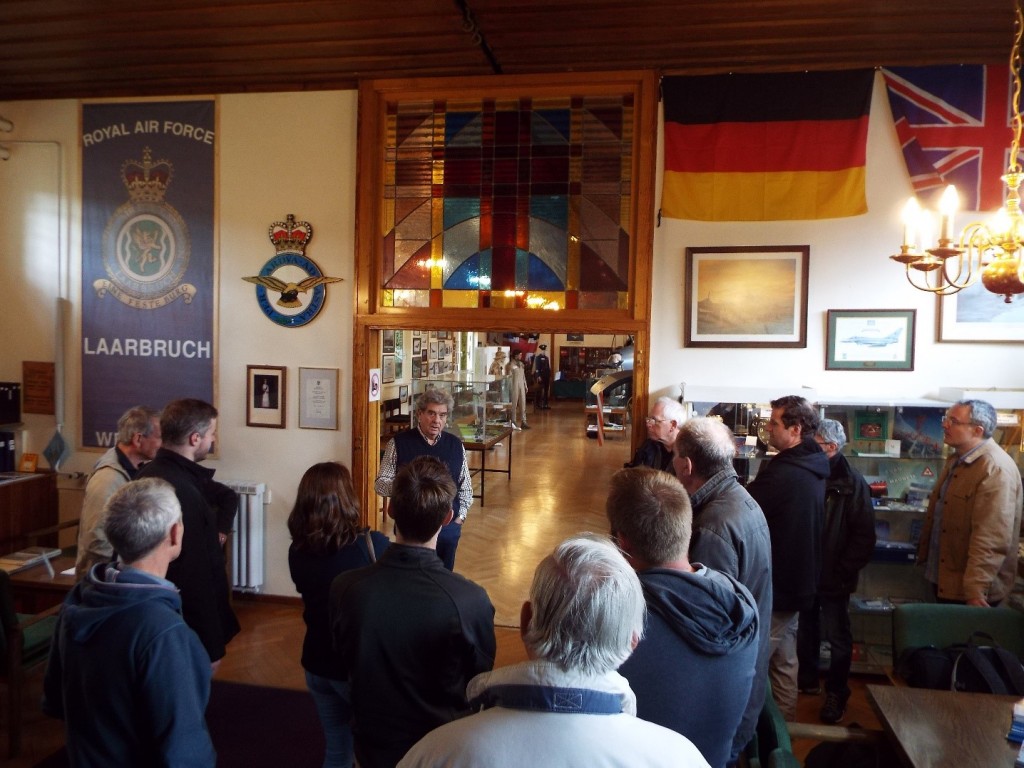 Introduction to the museum by Sqn Ldr Rod Hawkins MBE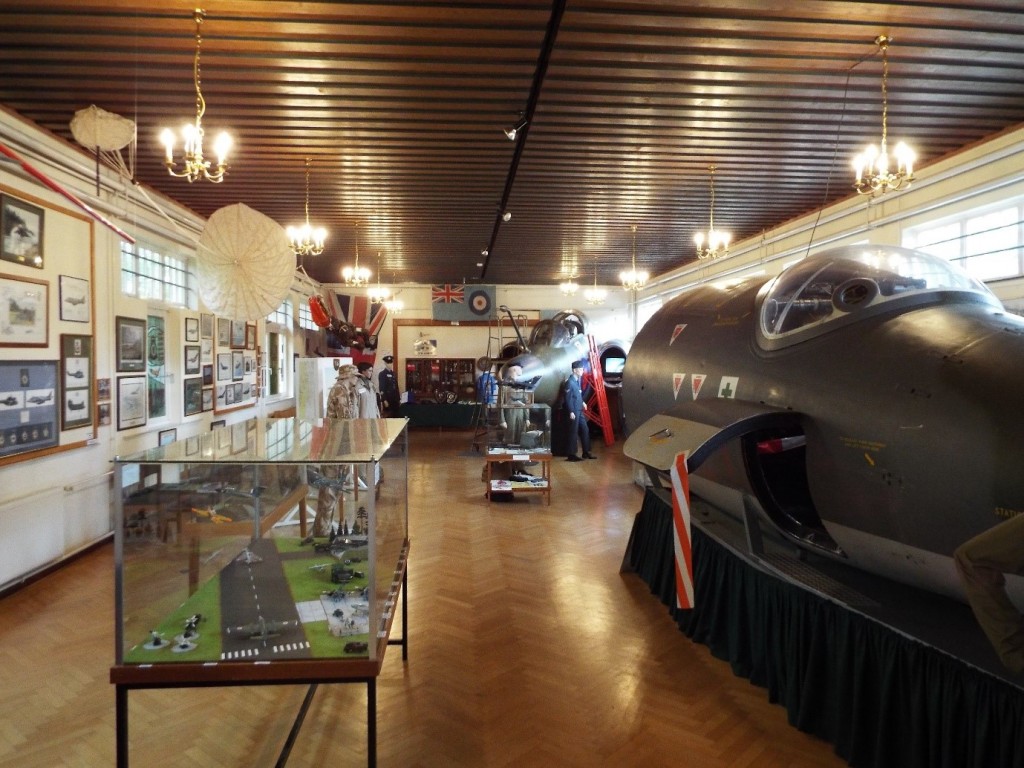 Part of the museum
There is everything there to give a fascinating insight into life at Laarbruch, from model dioramas to pictures, uniforms, parts of aircraft, and outside a fully intact Canberra which will be repainted very soon. This really is an excellent place to visit and the volunteers that keep the place running really are in a labour of love and all credit to them for doing such a wonderful job. Having made our group 'donation' to the museum we headed out to get the bus to Weeze town where we were almost all booked into the Jagerhof Hotel. Only Tony Chapman and Nick T who joining the trip late had been unable to get into the hotel and were staying some little way off in the next town. By the time we arrived there wasn't much time for wandering around and it was quite clear that the small town wasn't really going to have a restaurant for 19 at short notice, plus we had invited the guys from the museum down to join us as a thank you. No matter, the Jagerhof came up trumps with a function room at the back and after sampling the splendid Warsteiner in the bar they served us an excellent meal at a very reasonable price. The hotel was ideally located, comfortable and excellent value and if you are planning to visit well worth a stay. However at about 06.00 I was woken by the sound of the early morning Ryanair flights departing off of 27 and it did make me wonder what that must have been like for the residents of Weeze at the height of the Cold War with incredibly noisy Phantoms at full afterburner to contend with, as opposed to the relatively quiet 737's of today. What we tend to forget is that during that time, the risk of conflict between Russia and NATO was very real and how many people must have been woken by the sound of aircraft taking off late at night, wondering…'is this it?'
The following morning we had a large coach laid on for a tour of the base and to get into the old military areas with Hal Palmer, who had been a servicemen at Laarbruch, being our guide. Returning to the museum we then headed off in the coach into the woods and through a series of gates to get onto the old access roads which took us to the four different HAS areas. On the way to the newest complex of Mk 3 HAS we stopped at an abandoned and rather eerie site with a large watch tower and grass and earth covered bunkers with one single access road. This had been the nuclear bomb storage area where Hal told us that C130 Hercules Transports would arrive at night to deliver and collect the weapons in rotation for servicing. At that time it was surrounded by three separate layers of chain link and razor wire fencing and had a permanent armed guards there, with orders to engage with lethal force anyone who breached the first line of defences.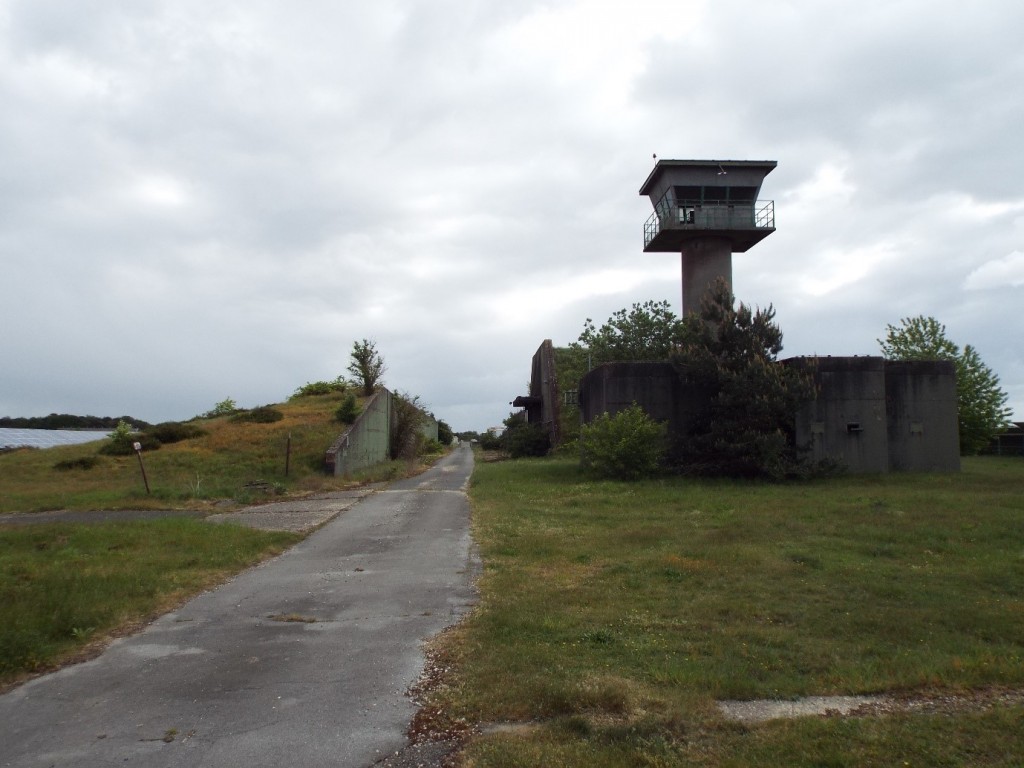 The abandoned 'Nuke' store.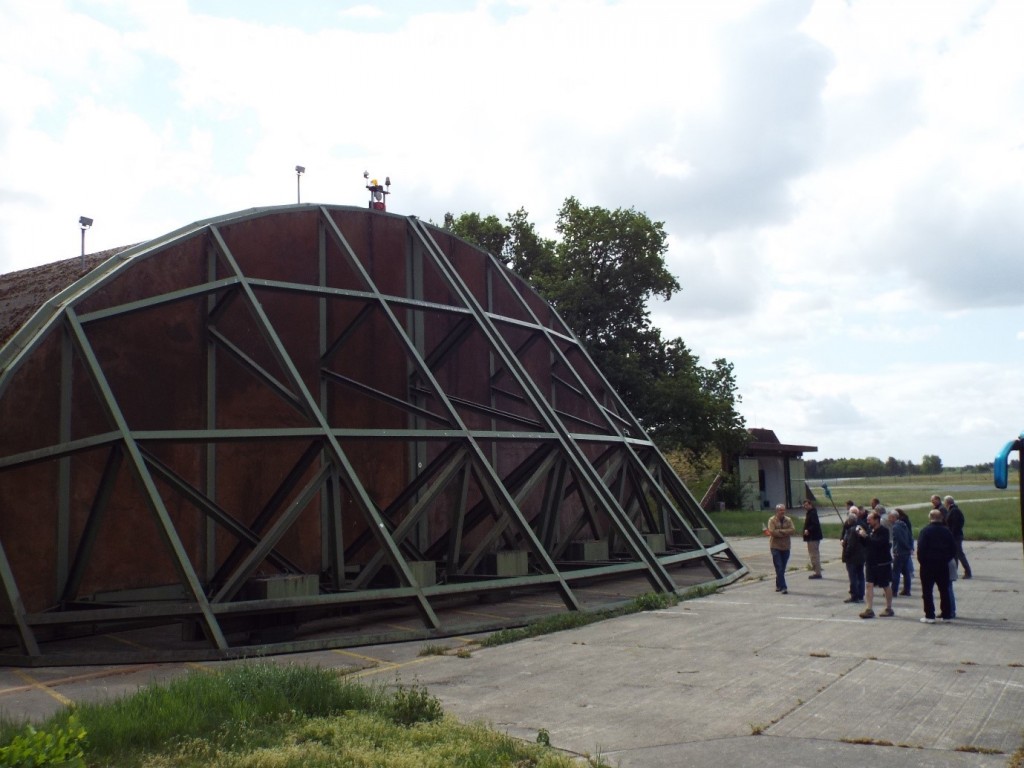 A Mk 3 HAS. No sign of Herman though fortunately.
The last aircrafts of the Cold War to be stationed here were Tornados, and at its busiest there were four Squadrons with HAS's for all the aircraft, so that gives you an idea of the scale of the place. The HAS areas as mentioned are all hidden in woods and have a complex series of taxiways. Standing outside in the total quiet with the tall trees and the huge concrete structures, it was really thought-provoking. Thoughts and contemplation were suddenly interrupted as a siren sounded a yellow light flashed and the huge reinforced doors of the HAS started to open, powered by unseen huge electric motors. Gazing into this concrete cavern opened up another train of thought, especially taking into account what Rod had told us earlier. On this base alone there were always 4 aircraft on 365 day QRA duty, each armed with a WE117 thermonuclear bomb, affectionately known by the crews as 'buckets of instant sunshine' slung beneath a wing. This was the real front line and it wasn't difficult to imagine the aircraft sitting menacingly in the HAS in all weathers with the crews ready to respond in minutes to what would have been Armageddon. All very sobering really.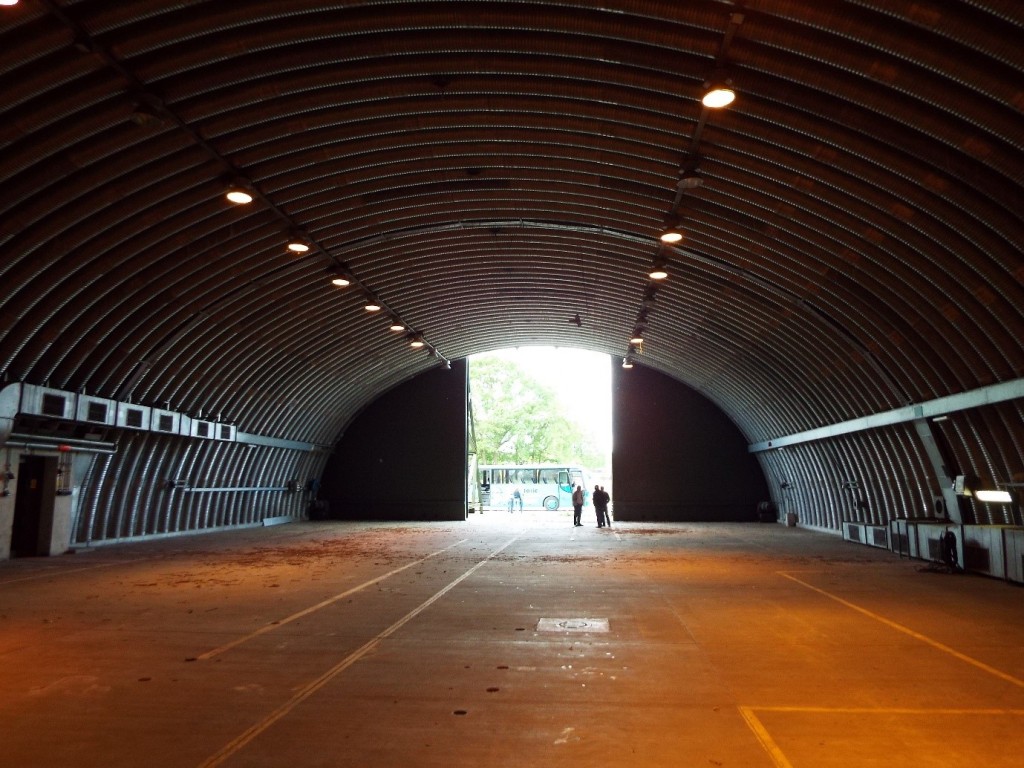 Inside the HAS
As we got back on the coach things were made a bit lighter with the story of 'Herman the German' a ghost who apparently haunts the HAS and who Hal swears to have seen. Also the fact that much of the original land and structures on the north side have become a nature reserve with apparently a whole range of animal, bird and insect life flourishing which is good to hear.
The coach took us back to the terminal where we said our thanks to Hal for such a splendid and informative visit and picked up with Solid Handling once again for transport back to our aircrafts which were sitting in the sunshine by the HAS. Not quite as impressive as a Buccaneer or Tornado, but we love them anyway and they are a lot cheaper to run!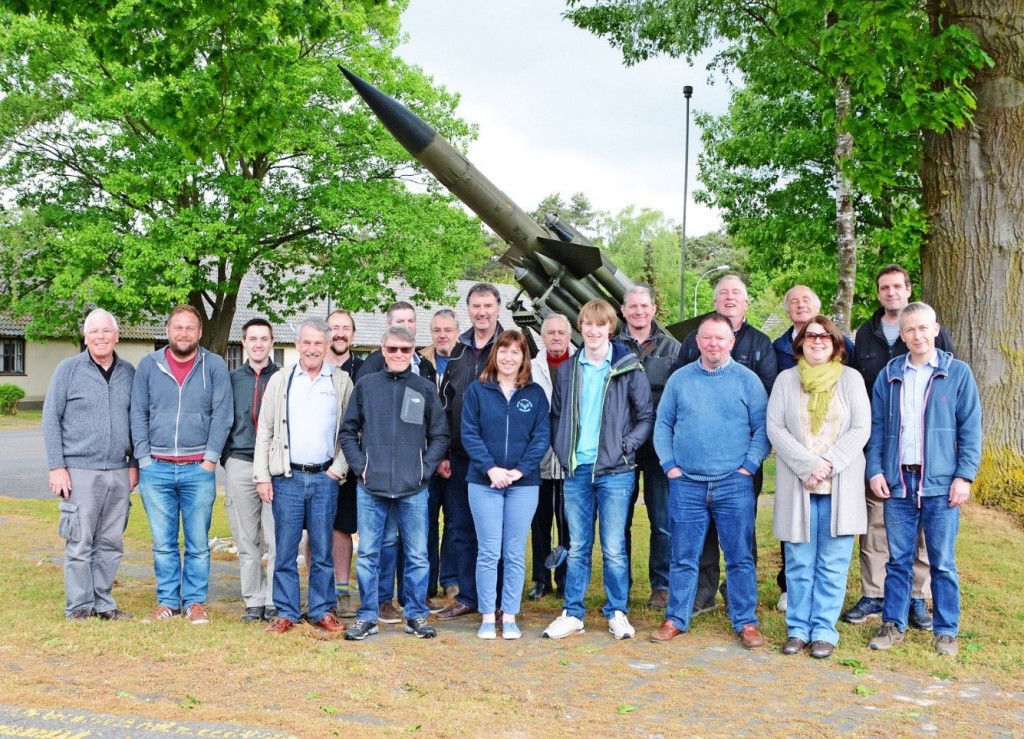 Our intrepid aviators
With everything prep'd and flight plans in for our leg to Midden Zeeland (EHMZ) we called for start and were soon manoeuvring our way along the tree lined taxiway and onto the open area of the airfield for run ups prior to departure on R27. The wind had picked up as forecast and was now a pretty brisk northerly. To avoid the airspace surrounding the big Dutch Air Force base at Volkel we were routing NW for 20nm to Nijmegen before turning west along the Waas river towards Middelburg. Climbing out with a right turn and an early call to Dutch Military we looked back on Weeze and reflected on what a great visit it had been as we headed off towards Nijmegen in what was beautifully clear but very turbulent air. I had always wanted to see the 'Bridge at Nijmegen' made famous by the film of the same name.  This had been one of the vitally strategic bridges (together with Son and Arnhem) in 'Operation Market Garden', the Allied forces push to reach the Rhine in September 1944. Watch the film, 'A Bridge Too Far' if you haven't already or if you are interested it's well documented on Wikipedia; https://en.wikipedia.org/wiki/Operation_Market_Garden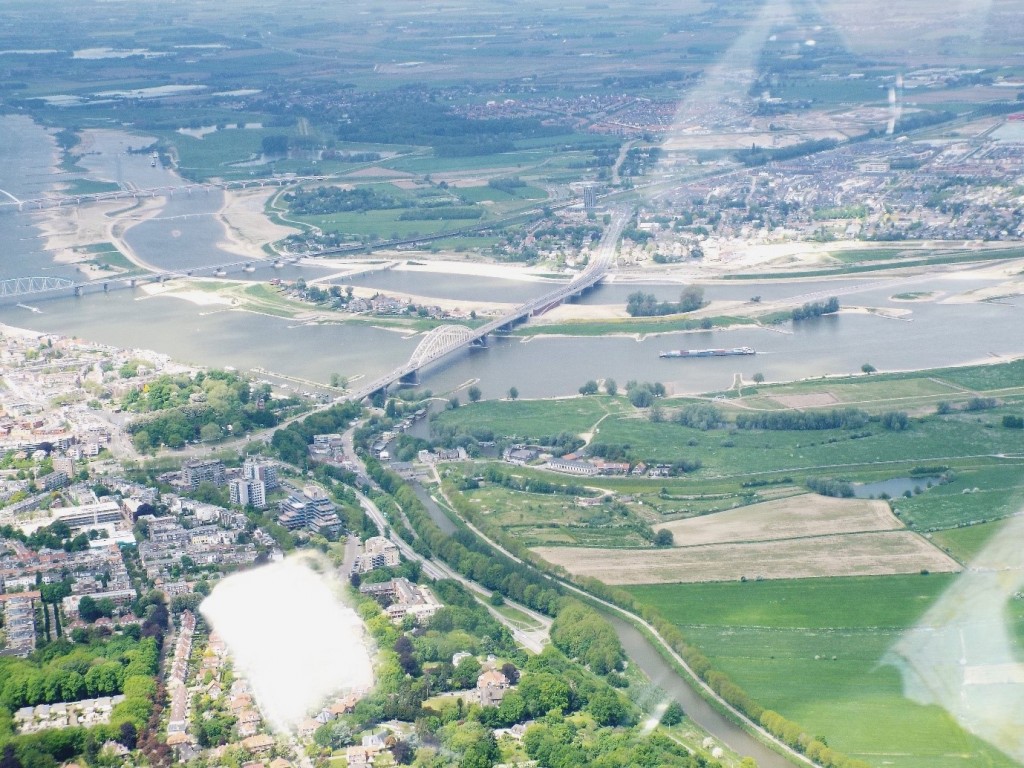 Nijmegen (poor pic due to hardly being able to keep the camera in my hands!)
To say the flight was a trice uncomfortable would be putting it mildly, the plane was bouncing all over the place as if suspended on a giant bungee strap. However we had a good look at the bridge before turning west for the next 80nm to MZ. Navigation was easy as we were basically following the A69 motorway and the Maas River.  It was all rather flat but with the river, the fields and small villages with their churches and steep roofed houses it was all very picturesque. With Rotterdam's airspace out to right we saw the estuaries ahead that led into the large islands in that area, one of which is Middleburg in the centre of which sits Midden Zeeland. Entry towards the airfield was going to be a little complex as there were active parachuting area to both the east and west of this 810m grass airfield. It has been an unbelievable 9 years since the NWFG visited as a group, so this was to be a first for most of our participants this time. With the airfield plate out, we threaded our way in towards the airfield past the sailing boats and windmills and slipped in right hand downwind for the billiard table like R27. No pics of that unfortunately as it was so bumpy by that time holding the camera steady was just impossible! Despite the stonking crosswind we touched down smoothly and vacated right to get a top up of very expensive Dutch Avgas. The airfield was absolutely heaving, we had hundreds of people as well as a large brass band to meet us and a stunning parade of pristine classic cars and military vehicles thrown in. We had arrived in the middle of a large show of course and hopefully our fleet of 'G' reg aircraft added to it. The airfields new restaurant is an absolutely excellent facility and despite being rushed off their feet they had done exactly as promised and had laid out one long table by the window for us. There followed a rather excellent lunch whilst enjoying the view out of the huge window.
With our participants and aircraft suitably refreshed, it was time for the last leg of the trip back to North Weald. Once again, with flight plans filed we headed back to our aircraft. There was still a fair northerly blowing but the weather was forecast to be good on the way back. To avoid a very long water crossing we were routing down to the Costa (COA) VOR crossing into Belgium and then along the coast, overhead Ostend before turning out towards the Dover (DVR) VOR and onto North Weald via Southends airspace. With the grass runway disappearing beneath us as we climbed out from R27, we did a gentle left turn direct towards the town of Vlissingen on the coast. Saying goodbye to MZ, we changed to Dutch Military and continued towards COA. A few miles from COA we were told to change to Ostend Approach and a call to them requesting a clearance through their airspace and overhead had us routing down the coastline not below 2000ft. As we passed over the airport we could see some rather large and lumpy black clouds ahead and had to request a descent as the cloud base got lower. Down to 1500ft we could see the visibility decreasing and the base of the now dense black cloud getting significantly lower ahead. The long line of cloud was exactly where we wanted to go, but knowing that it was moving quickly from north to south and looking out north into the North Sea it looked clear for a significant distance, so advising Ostend of our intentions we turned right and ran parallel with the cloud line. Ostend advised us to change to London Info and we duly complied and established contact with them and getting our 1177 with Charlie squawk. We were wondering if we were going to end up on the Norfolk coast if we had to hold the heading for much longer but soon a very large gap in the cloud appeared and we could see the coast of England in the distance and slipped through the gap towards Ramsgate. We might as well had just tracked direct from MZ with the dog leg we had just done. However, that's flying and forecasts. Coasting in we headed up towards Whitstable and after requesting a change from London Info to Southend Radar it was a clearance through their airspace in the now lovely clear air and a direct track back to North Weald.
With all safely back in, everyone agreed that it had been an intense but thoroughly enjoyable and interesting trip. It was a great confidence builder and gave all of our participants a good deal of useful experience as well as being an incredibly interesting visit in its own right. Hopefully we can have some more as enjoyable as this one. We might have to re think Merville as a stop but maybe we were just unlucky. Weeze Airport were the exact opposite, a superb service, extremely efficient and at a very reasonable price. I don't need to say more on the Museum and the guys running it, absolutely excellent and thank you so much to Rod and Hal for hosting us on our visit and making us so welcome.
Thank you to all the participants for making it such an excellent group outing. Good to see Nick Turner from Biggin Hill join us in his Falco, hope to see you again on another trip. Doing my Oscars bit again, a special mention to John Reynolds (JR) for helping out in doing the ground work with Merville and Weeze to make it all happen.
Paul