15th August 2011
Another very successful group trip was undertaken on Monday the 15th August, this time to Wattisham airfield in Suffolk which is home to the Army Air Corps Apache attack helicopters. As is usual with the military visits the process began several months ago with letter writing, document forwarding, other bureaucratic niceties and attending a recce/planning meeting a few weeks before the actual visit. Although a little involved I will say that once the necessary permission was granted the Flight Planning Unit at Wattisham itself were extremely efficient and helpful in making it all happen by slotting in our planned eight visiting aircraft with their normal movements. Due to the constraints of space I was limited to a total of 20 members who would be able to attend the day. The participants were myself with daughter Suzie and Phil Fellows in G-VB. Paul Weeks and Stewart Braddon were two up in NUKA as one of our members had to drop out on the morning for family reasons which was a pity. Pete McDonald and Barrie North squeezed into FA with FC crewed by George Tunks, Malcolm Jarvis and Tony MacLaughlan. Vrai Stacey with Jonathan Senior and new member Ben Pugh were in MM and our regular addition C172 G-RJCC was brought along by Bob Chapman who was kindly taking NWFG members Alex Khan and John Reynolds as passengers. There were two other additions, one a first on one of our fly outs, a Beech Musketeer G-TAMS crewed by NWFG member Tony Walsh and friend Barry Record which was coming in from Shipdham and David Rickwood in the little Eurostar G-CEHL which was trekking up from Gloucester.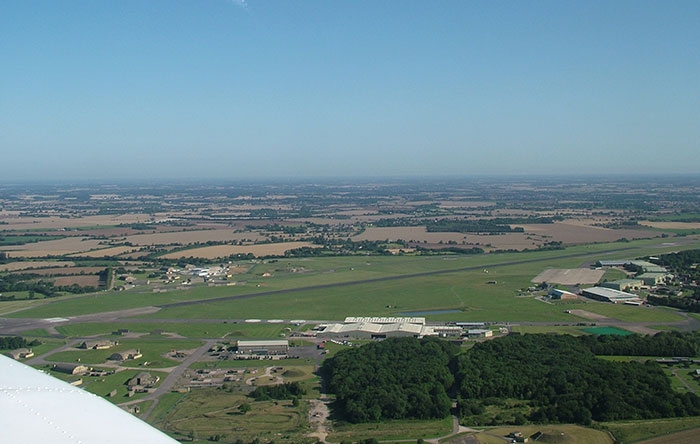 After a prolonged period of what can only be described as 'pants' weather the morning was absolutely perfect. Light winds, blue sky and viz in excess of 50k, amazingly lucky really. This wasn't a long trip only about 30 mins flying time from NW. However we did have very specific five minute separation slots times from ATC in which to get our aircraft in so as not to disrupt their flight training. VB was due in at 09.10 and the last the Eurostar at 09.45 which meant being ready prior to NW's runway being opened.
With all our eager aviators at 'readiness' in the cockpits as the time ticked by the engines began to spring into life. Climbing into the clear air was an absolute joy as always and we turned out towards the north of Chelmsford which was our point to make initial contact with Wattisham Approach. Calling in turn we were given our relevant squawks and were cleared into the MATZ for LH downwind joins for R23. The long runway and the swath of hardened aircraft shelters, a remnant of the Cold War, soon came into view in the clear air. Into the downwind at a 1000ft and then a curving approach towards the 'piano keys' had us wishing we had a car horn fitted as about 50 gulls were basking on the end of the runway, a couple of revs on the engine soon had them clearing safely out of the way.
We were being parked on the north side and no backtracks were permitted. It was therefore a case of either getting down early at the threshold and vacating right after approx 450 meters or having to go to the end exit 2424 metres away, and then taxi back as far again along the peri track. Most of us made it! Andy Warburton the extremely helpful airfield manager marshalled us into our parking spots on the old wartime parking spectacles.
Once everyone was in having kept very close to their allotted slot times and having met with our liaison officer Major Rob Smith, we climbed into our transport for the first stop at Wattishams Tower to kick off our tour with a visit to the ATC radar room and the tower.
With the group split into two we had very interesting talks in both the radar room and up in the tower itself. The latter being made even more interesting by a couple of departing Apache's and an inbound RAF Puma for a rotors running refuel.
From the tower we moved across to number 4 hanger where again we split into two groups and were given a walk around presentation and introduction to the Westland built, Rolls Royce powered, Apache WAH64D attack helicopter. With the crew explaining the capabilities of this surprisingly large aircraft and how an Apache can operate in all weathers, day or night and detect, classify and prioritise up to 256 potential targets in a matter of seconds and then engage with Hellfire missiles, rockets and a 30mm chain gun it is easy to understand why the price tag is in the region of £35m+ per unit.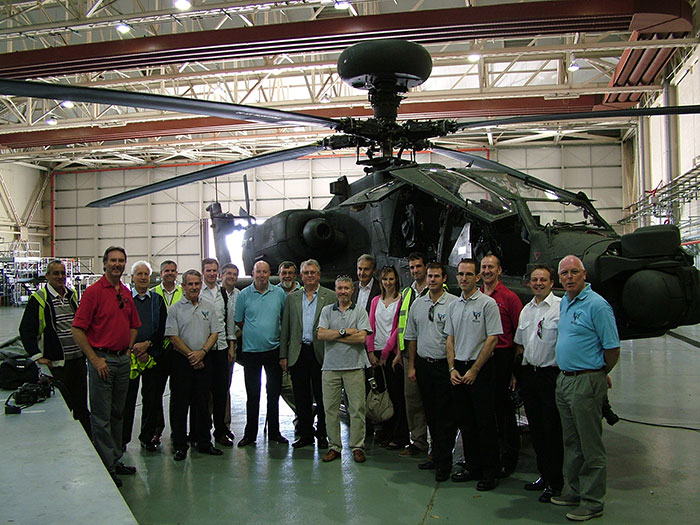 Our next stop was the large hanger that houses the Depth Support Unit (DSU). In this hanger the aircraft arrive at one end and are stripped down to practically just the bare airframe. They then proceed through a series of eight 'pulses' where various work is undertaken by the civilian technicians including engineers from Boeing, Westland and Rolls Royce. After 64 days the aircraft appears complete and ready for a flight test with hopefully another 900 hours of operation without major work before it's next visit. Our tour through the building revealed just how enormously complex these aircraft are and also what a slick maintenance operation this is. There is no question of delays, the aircraft 'will' reappear at the other end after 64 days and 'will' be ready for service.
We were all ready for a well deserved stop after our 50 minute tour of the DSU and we headed off to the very historic Officers Mess. A Mess that still has the beautifully polished long wooded tables that date back to WW2 when Wattisham was a Bomber station and then a front line Cold War Lightning and later a F4 Phantom base. There is a lot of history there. A very nice meal with plenty of it was enjoyed by the group whilst the various paintings of Army Air Corps exploits over the years looked down on us. 
 
Suitably refreshed we piled into the bus to drive to the RAF 22 Sqn Search and Rescue Unit at the eastern end of the base, the site of the old RAF QRA (Quick Reaction Alert) sheds which now house the two Lightnings at Bruntingthorpe. At the SAR site we took our seats in the lecture room for a video and talk on the work of the SAR units by Flt Lt Doug Larkham before visiting the Ops room and then being given a comprehensive tour of the two Sea Kings based there. Apart from giving a fantastic insight into the work of the SAR Units what came over very clearly was the tremendous enthusiasm that the crews have for their job.
Following the SAR talk we had an input from PC Adrian Bleese of the Suffolk Police Air Support Unit who operate from Wattisham. His very amusing presentation was coupled with a rather 'cheesy' (his words) video of the work of the unit. This was again another aspect of aviation at Wattisham that was very interesting to gain some knowledge about, especially in terms of the leaps in capability that the latest technology has brought. Unfortunately their aircraft was in for it's annual so we were unable to actually see it.
Our final stop was to one of the relics of Cold War history, a hardened aircraft shelter on the northern side of the base. These huge concrete structures can be seen at current and former RAF or USAF bases all over the country and were built during the early 80's to provide protection for aircraft against Soviet attack. Capable of withstanding a direct hit from a 500 pound bomb they also provided protection in the event of a nuclear strike. However with collapse of the Soviet Union and the advent of precision guided weapons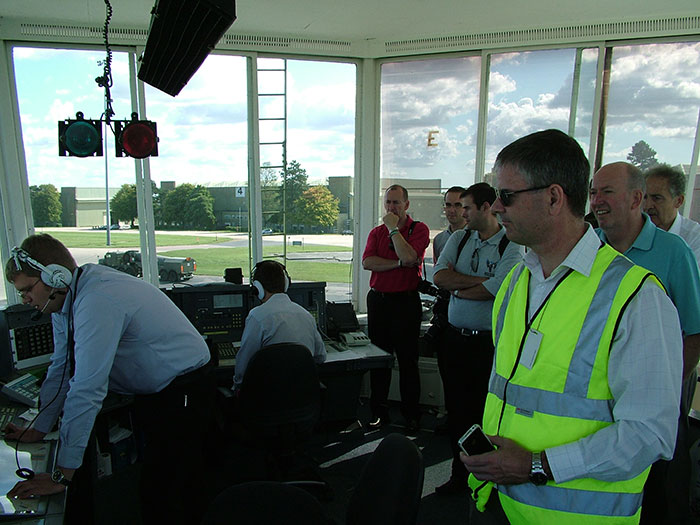 although they are still used today the HAS's became nothing more than very expensive hangers that would be incredibly difficult to demolish! Housed in HAS25 is a collection of museum artifacts in the custody of a dedicated group of volunteers together with a Hawker Hunter that is in the process of being refurbished. This Hunter was the lead aircraft in the record breaking 22 aircraft formation loop at Farnborough in 1958, a record that still stands today. Once completed it should be a very impressive exhibit. We were given a potted history of Wattisham from wartime to present day before wandering off to explore the exhibits including a couple of Gazelle helicopters and the nose/cockpit section of a 56 Sqn Lightning which had been based at Wattisham.
With our visit up it was time to be taken back to our aircraft and depart in turn along Wattishams long runway for the short flight back to North Weald. The weather was still great and it brought a fitting end to a very enjoyable, educational and informative day. I would like to say an enormous thank you to all of the many personnel at Wattisham who made this such an enjoyable visit.
I would like to make a special mention of thanks to our liaison officer Major Rob Smith RADC who I know put in a lot of work in his own time to make this such an efficient, enjoyable and interesting visit and also the Airfield Manager Andy Warburton who helped to slot our aircraft into a busy training day. I am very grateful to Wattishams Commanding Officer Colonel N Moss OBE who allowed us the privilege of visiting the base. With the thank you letter to the Colonel I included a cheque for £400 payable to the Army Benevolent Fund as a token of the NWFG's appreciation for such an excellent day.