8th September 2007
Saturday the 8th of September dawned grey and murky and seemed like it planned to stay that way. Marginal VFR conditions prevailed locally around North Weald but as the weather was supposed to improve to the west the North Weald Flying Group joined by a robin, jodel, and a Cherokee six decided to sortie on the first leg of its planned trip to Ireland, destination Waterford. Most aircraft had at least one IMC rated pilot in board so after a moderate re-shuffling of assigned legs, charts, gps units, all aircraft launched into the slightly murky sky.
Proceeding west through the corridor between Luton and the London TMA we encountered a cloud base between 1700-1800 feet so I felt glad to have a radar service from Luton who were most accommodating. Once west of Luton those who had IMCs climbed above the 3000 foot tops while those who didn't slugged it out below. Kenny Wemouth and Darren Draper of G-BZWH had a brief scare when they mistook one small village for another (understandable in the challenging conditions) but quickly sorted it out with some assistance from the Brize Norton controller after which they had no further problems, getting to Waterford after a re-fuelling stop at Swansea. Conditions improved markedly farther west with the overcast breaking up just past the Welsh coastline. G-CDMM went direct to Waterford while G-RARB, G-BOYP, and G-BXXK all stopped in at Haverford west for a pit stop and some fuel.
At the transfer point from London Info to Shannon there could be no doubt that we were approaching the Emerald Isle as we checked in with a friendly Irish controller. In stark contrast to England, the weather over Ireland was sunny with some scattered clouds and excellent visibility which gave us in MM some nice photo opportunities as we approached Waterford. We were told to orbit to the east for a bit of time which wasn't what we wanted to hear after a 3 hour flight but it was an understandable delay given that the controller had commercial traffic arriving and departing when we showed up. After a few minutes of orbiting we were told to proceed into the class C and orbit over Dunmore East until a slot in the pattern opened up, which happened before we even completed one circle. A minute or so later had me bumffichhing on the downwind leg for an uneventful arrival on runway 03 and parking at the Waterford flying club.
All our members had nothing but great things to say about the Waterford flying club, who threw open their doors to make us welcome even though we showed up while they were distracted when one of their members nearly burnt the place down in a misguided attempt to create toast. The wide open windows and gentle breeze eventually dispersed the blackened bread smell before the last aircraft arrived from Haverford west and were lined up at the flying club with a lot of friendly help of its members. Thanks in particular to Dick Cole who made 2 trips into town giving lifts even though he had no reason to go. The Waterford Flying Club couldn't have been more welcoming and helpful, thanks all!
We all scattered to the four winds (and even more hotels and B&Bs) with a general plan to meet in the town centre later on to have the craic. Several pubs and bars were tried with dinner included in the mix ending at T&H Doolans for some good local Irish folk music and of course pints of Guinness. It was not as lively as I personally expected but it was a friendly, laid-back atmosphere.
The next day it was back in the saddle for all of us on the planned leg to Galway. Most opted to do some VFR sightseeing and some decided to visit the Aran Islands off the west coast. For those who don't know what the Aran Islands are, think Father Ted: the wreck in the opening credits is on Inisheer. The scenery was amazing from the air with the old stone walls clearly visible and barely a tree in sight. In the winter these islands must be incredibly inhospitable with nothing to provide refuge from the North Atlantic storms that hit there first, but on the day of our visit the weather was clear and pleasant.
These airfields are run by Air Arann and are PPR, however they were happy to have us land there for nothing more than a donation to the local lifeboat fund as long as we gave priority to their flights' movements which we were happy to do. Air Aran flies into each island every hour or so several times each day so for them time is money. MM and RB landed on Inishmore while XK tried out Inishmaan. Some of us were concerned about the 500 meter runways and the fact that both under or over-shooting meant being one with the Atlantic Ocean but in truth we were stopped before we got halfway down thanks to the Cessna's short field performance and the skill of the pilots.
On Inishmore it was a short walk to the closest pub for a nice bit of lunch which included a seafood chowder that was so good it made the whole trip worthwhile. If anyone is looking for a remote location to get away from it all then look no further, Inishmore (the biggest of the Aran Islands) is about as quiet as you get. Before departing we had the opportunity to watch an Air Arann Islander in action. I'm dead certain this guy put the rear wheels down 6 inches past the threshold of 32, it couldn't have been any farther than that because he was stopped and backtracking barely past the turnoff. In any case he made it look easy, meaning it wasn't in the slightest.
After departure from Inishmore MM did a touch-and-go on Inishmaan but didn't stop to chat before having a butchers at the cliffs nearby which are as spectacular as Beachy Head. As they aren't chalky and prone to fast erosion the ruins of some old fortifications are still there which provided some great photo ops. After a couple of rolls of film (yes I still use film, get over it) it was direct to Galway, and after an extended downwind we touched down on runway 26 mid-afternoon just behind WH . Most of the group were told to taxi to a parking area on the opposite side of the runway from the terminal, so we had a bit of a wait to get a ride to the terminal in groups of 2 as they have no van. At least it wasn't a luggage trolley! Fuel on the other hand was practically instantaneous, as the fuel bowser was towed over to us barely after we had pushed back into place. This made a sharp contrast to Waterford where it took some over 40 minutes to get their fill of overpriced, smelly ancient dinosaur juice.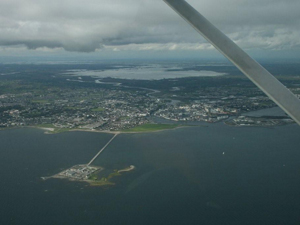 At Galway it was a short taxi ride into town to our various choices of temporary abode with again the general plan to meet somewhere in town for dinner, drinks, and varied skulduggery, this time the agreed destination was a pub called The Quays, which was down by… well, the quays. OK, 1 out of 10 for imagination but 10 out of 10 for atmosphere! The Quays is a great venue, managing to be eclectic and charming at the same time with good food, good beer, and it turns out some great bands. We enjoyed the excellent original tunes and imaginative covers of Peter Byrne and the Glass Onion Band, who played for nearly two and a half hours straight before calling it a night. Galway turned out to be a great deal more lively than Waterford. If you are looking for a place for peace and reflection this is NOT it, even on Sunday you couldn't throw a bottlecap without hitting 2 pubs, 1 bar, 5 clubs, and 10 intoxicated students.
Monday started with a much needed cooked Irish breakfast and a hot caffeinated beverage of choice before heading out to the airfield. At Waterford we went through the flying club for access to the ramp and access to their flight planning facilities (and sage advice) but at Galway we had to go through the security screening process although they were understanding and accommodating of our needs as GA pilots and we were through with a minimum of fuss.
Galway lacks a proper GA flight planning facility, however I was welcomed up to the tower and given access to a computer and printer for weather, notams, etc. The controller was busy but still made time for us and processed our flight plans in no time. After waiting for a commercial flight to unload we were ferried across the runway to the flight line this time in glorified golf carts that could hold a grand total of 1 passenger each and had been modified to go no faster than a slow walk for "health and safety reasons" as the driver told me. Mad, It seems to me that the increase in physical safety is outweighed by the huge decrease in mental health safety from these ridiculous regulations. In any case the delay was minimal as they ferried a constant stream of crew to their waiting craft and flight preparations started in earnest.
Weather for the return leg was similar to the trip out: not great VFR but doable at the start while steadily improving as we neared London. This time we had a good strong wind at our backs promising a speedy passage home. Again MM was making the trip direct while the rest all had stops on the way back. After departure some elected to run under the cloudbase while most elected to find a hole, of which there were plenty, and get above. I'm not sure which was more pleased to see 130knots groundspeed, my brain or my bladder. We were certainly chuffed to see much more of Wales than we had on the way out (sod all), although the unsettled air was less than ideal for those with stomachs unsettled by the previous nights' liquid delights. The glider pilots seemed to like it, a couple of which we encountered while they were taking advantage of the Monday afternoon thermals.
MM was first to arrive back just after 16:00 local with the rest of the groups' aircraft arriving steadily throughout the rest of the afternoon. The last to arrive back was RB which had elected to go to Weston in Dublin for another night on the tiles and didn't get back until Tuesday. According to John Strong they were routed out over Dublin at 1500 feet over the Liffey and then tracked down the coast, no doubt with some great views.
Given the awful flying weather this past summer I was fairly pessimistic about the possibility of the North Weald Flying Group's fly-out to Ireland actually proceeding, although that didn't stop me from buying the EI-1 chart and Ireland Flight Guide, so imagine our delight when the weekend forecast showed a stretch of good weather! Although it wasn't quite as good as forecast it was certainly good enough and we were happy to take advantage of it and have a great trip seeing some interesting places and enjoying lots of warm hospitality. I will definitely be going back.