5th September 2015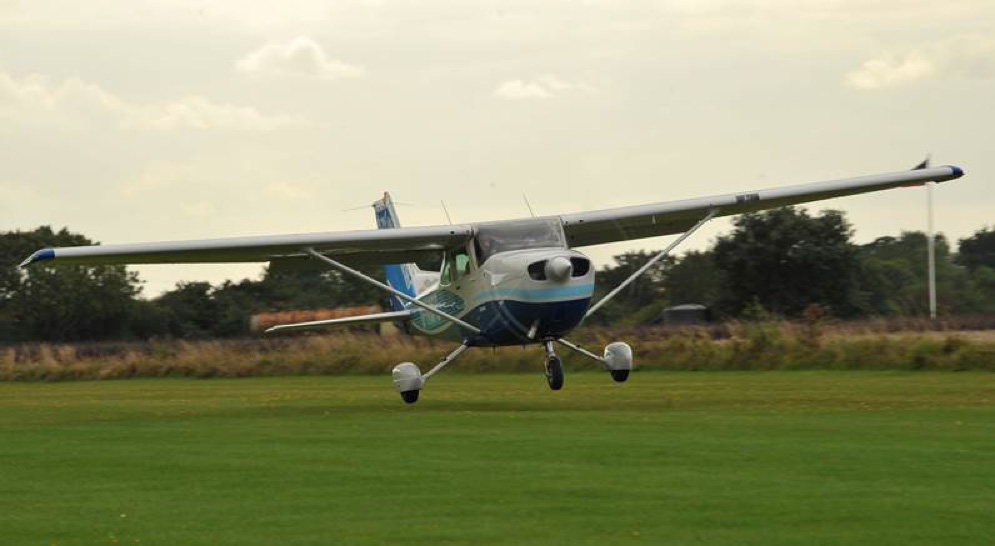 The 2015 North Weald Flying Group Farm Strip Tour
The first Saturday in September was the chosen date for NWFG's annual farm strips tour. Always a firm favourite on the calendar this one: allowing pilots to put their skills to the test, planning and executing a lot of short legs in a short space of time whilst operating in and out of short and unfamiliar strips, often with little in the way of facilities and usually non-radio. In other words, airmanship is all, and the perfect antidote to flying long legs between officious controlled airports.
This year it was decided to focus on strips to the south of North Weald, principally in Kent but also with one or two in southern Essex. Malcolm valiantly offered to take on the challenge of locating suitable strips and so began weeks of careful research balancing the desire to visit out-of-the-way airstrips which hopefully would be new to most, with the need to be sure we could operate safely with a group of aeroplanes of different sizes and capabilities and pilots of differing levels of experience and confidence.
To add to the fun, grass airstrips need prolonged dry weather if they are to be open to operate, and recent dry weather in order to operate safely. Summer 2015 will probably not go down as one to rival the Summer of '76, but even so as the day approached the regular soakings that pounded the land in the run-up to the fly out began to cause some concerns.
Cautionary PPR phone calls a week or so revealed that all of the selected strips remained in good order, nonetheless some last minute re-jigging of the list was required after it was discovered that at least one of the strips would be closed on the proposed day of the visit due to asinine activity: to wit, a Donkey Derby on the runway (moral of the story: it always pays to check your ASSTAMS first….)
On the plus side though, despite the headaches caused by the logistical juggling we had a superb level of support, with eventually ten aeroplanes putting themselves down to take part (that's all the NWFG aeroplanes, plus 'VB, plus three guests) – surely something of a record.
And so it was on the Saturday morning, with six airstrips PPR'd, ten planes prepped, fuelled and pre-flighted (including 'VB up the road at High Cross), we gathered in the Squadron for a detailed briefing and to wait for the forecast improvement in the weather to arrive.
And waited, and waited, and waited….. until eventually we gave up….
Well not quite gave up, perhaps, but decided that as it was already past midday the prospects of getting round half-a-dozen airfields, most of which were in the path of the grot that had finally, grudgingly drifted southwards from overhead North Weald didn't look great.
A few phone calls to airstrips to tell them not now to expect us after all, and initially the idea was to let those who wanted to go home do so, and leave everyone else to do their own thing. Over at Fox-Sierra, Kieran suggested a hop up to Fowlmere for lunch. The fact that it was Duxford airshow weekend soon put paid to that idea, but had he ever tried the pub at Nuthampstead? No he hadn't, so a quick call to the strip owner secured permission. Aviators are nothing if not a hungry bunch though, and so a few minutes later another phone call to the owner was made to ask if he'd be happy to accept….errr…..seven aeroplanes, and as the answer to that was in the affirmative, a further phone call to the pub to ask them if they could seat 12: suddenly we had the makings of NWFG's shortest ever fly out – the 2015 Farm Strip Tour!
In no time at all, three of the NWFG C172s, plus NUKA, plus Michal's Piper Dakota, Gordon's Robin, and Alex's Monsun were making their way out to the 02 hold for a quick departure followed by a left turn to Ware, staying below the TMZ as we did, before taking a bearing on the A10 which gave a heading that would deliver us straight to Nuthampstead. And for those who don't feel safe unless using such things, Nuthampstead also has the luxury of having the Barkway VOR positioned slap-bang on the threshold of Rwy 05.
Being so close to North Weald there wasn't a lot of 'en route' time, but what little there was afforded fine views of High Cross where Red One had eventually given up all hope of the weather ever improving and had gone home leaving 'VB parked on the ground….
Before we knew it we were all breaking into the circuit at Nuthampstead, and for a moment this sleepy little grass airfield became busier than Heathrow as seven aircraft streamed to land one behind the other. Parking at Nuthampstead is at the northern end, so fortunately with 05 being the favoured runway this allowed us all to land and then just keep rolling to the end to clear. A point of note is that there's an active aero-modelling community at the airstrip and for this reason you are advised to fly an initial circuit to warn them of your intentions – although with Malcolm and JR performing this function in Fox-Charlie as first to arrive, we kinda think the aero-modellers got the message after that and the rest of us followed straight in. There is also an active clay pigeon shooting site immediately next to the airstrip, so it pays not to venture too far off the centreline!
With everyone safely down and parked, and the airfield movements log completed, we then set off for a very pleasant stroll back down the runway before bearing right through the village and left at a T-junction to take us to the village pub: The Woodman.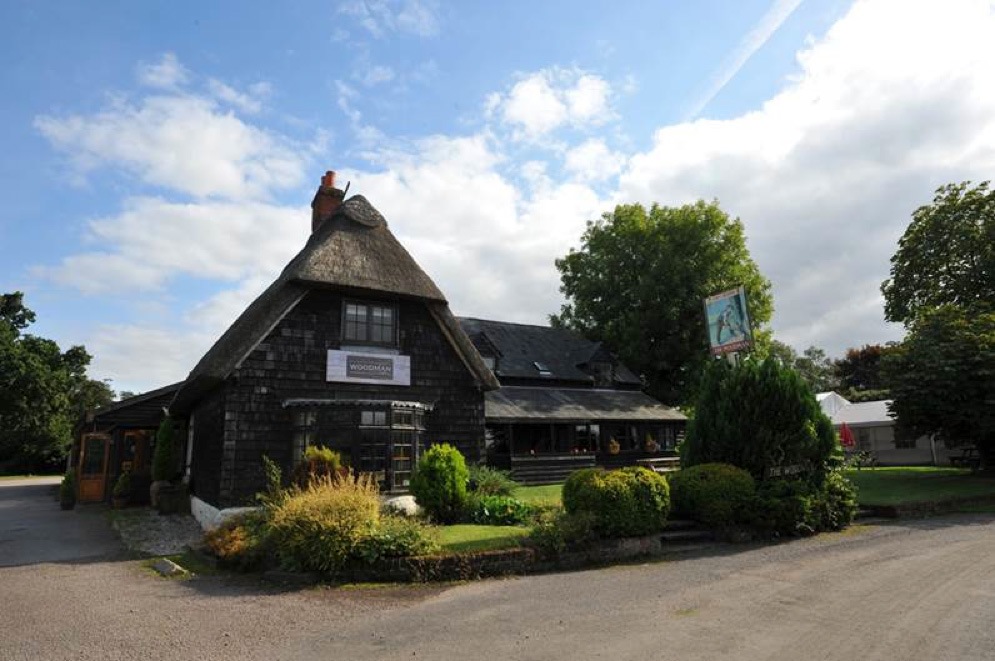 The Woodman is the perfect English village pub in its own right, but is also an aviator's delight. During the war, Nuthampstead served as home to the US Army Air Forces' 55th Fighter Group (P-38 Lightnings) and 398th Heavy Bombardment Group (B-17 Flying Fortresses). The Woodman quickly became a firm favourite with US servicemen, and the pub still displays many photos and memorabilia from that time. There are also two memorials in the pub's garden – both very deserving of a visit.
The pub's other attraction is that it serves great food, and I decided to stage my own 'missing man' tribute by tucking into some of the best moules frites I've enjoyed had in a long time….
In due course with the sun now shining it was time to stroll back to the airfield. The wind, which was fairly slack when we'd arrived, had now picked up to the point where it precluded an easy take-off on the reverse (23) runway. Nonetheless by backtracking the group, and through judicious use of Safetycom, we were able to organise ourselves such that we didn't get in each other's way – although under the pretext of wishing to take photos Kieran and I sensibly managed to hang back until everyone else had departed, before jumping in and pointing Fox-Sierra homewards.
And so all too soon all the planes were safely returned to base – although in the process I think we'd all proved that getting together for the day with a lot of like-minded people is really half the fun: the flying is simply the icing on the cake.