19th March 2011
The planned five day group trip through France and along the northern Spanish coast to Asturias airport was to be the most ambitious yet undertaken and was given the codename 'Operation Matador II'. Seven aircraft were due to take part with eighteen members and guests and as you can imagine had been a long time in the planning. Amongst the very long list of things to do, all the advance notifications had been made, airfields checked as to costs, parking, fuel etc and of course our trusty IBIS hotels booked for our four overnight stays. Each aircraft had also been issued with a full 'Op Matador II order' which contained flight plans, all the anticipated radio frequencies on route as well as the airfield plates for the primary stops plus two suitable diversions for each stop. That's a lot of paper! Of course all the planning means diddly squat if the weather is unkind. Close monitoring of the whole route by myself and Phil (Fish) Fellows for the five days up to departure and things looked pretty good. On the eve of the trip, amazingly everything still looked very good, almost too good if there can be such a thing. A text message to the participants confirmed it was a go!
Day 1
North Weald-Deauville-Poitiers-Perigueux
The group gathered early at 08.00 for the aircraft prep and the final weather updates. John did a sterling job of getting all the aircraft fuelled by 08.30 and with life jackets donned all the flying paraphernalia and luggage loaded we were all ready for the off by around 09.15 in perfect time for our flight plans. It was a shame, if we had realised what a faff refuelling was to become we would have taken John with us.
The forecast was for good weather with light winds but the remains of a weakening cold front expected to be found over the north French coast. With the seven aircraft off from 02 over a period of about 20 mins our routing took us down past the QE2 Bridge (where it's always satisfying to quickly slip by the queue of traffic on the bridge on its way to the tolls), Tunbridge Wells and then the SFD VOR before the quite long direct sea crossing to SITET and into Deauville via La Harve. The weather was great with super visibility and coasting out whilst speaking to London Info for the crossing to the boundary was drama free and the real start of the adventure. It was evident that MM's crew were having a few radio issues but with all credit to them, they carried on as planned. Approaching SITET we changed to Deauville approach and continued towards the coast. There are two large restricted areas around Le Harve so accurate navigation is important on the initial approach. In VB we decided to go the easier way around passing directly over Le Harve airfield at 3000ft although some took the slightly quicker routing and shorter over water time and coasted in earlier between the restricted areas, which is a bit more tricky. The remains of the cold front were very evident with a high overcast and a far bit of patchy cloud with an accompanying reduction in the viz to a quite murky 5-6k. However with a little manipulation by Deauville Approach and Tower and we were all safely in and parked on the main apron or the grass area behind.
Although the flight had been quite quick at 1h 35mins with a decent tailwind because of the continent being an hour ahead, by the time we had sorted the landing fees and cleared customs it was now after 12.15 local. Being very French the refueller had gone for his lunch despite us having been told fuel was available all day. With quite a long leg down to our next stop it was felt prudent to wait for the bowser so we decided to have lunch in the restaurant above the terminal. This was very busy due to the French Police and other agencies doing their training and preparations for the forthcoming G8 summit in Deauville the following week. Strange I've been around armed policeman for years, but this was the first time that I'd ever seen any of them knocking back beer over lunch. Very French!
There was a further delay in getting onto our next leg as MM had developed an electrical gremlin en route which had resulted in a flat battery. What this was we don't know as it hasn't repeated itself since, but it did require a ground starting unit having to be brought out and plugged in, and then a extended ground run to ensure the battery was recharging. The two Robins decided to miss out Poitiers and head straight for Perigueux.
The five remaining aircraft left Deauville a little split up due to the various delays, but all were away under the still overcast sky and turning south towards central France. The route was very straightforward and after 20 mins or so we were clearing the cloud and slightly murky viz into clear air and blue sky. We passed over the first of the many restricted areas which was the 'Mirage corridor' R149G which we knew wasn't active and selected various levels as we headed south. Nav was easy with plenty of landmarks and very little airspace to bother us. Le Mans drifted slowly beneath us with great views of the Cathedral and the world famous motor racing circuit as we headed into the more picturesque areas towards the Loire valley. The service provided by Nantes Info was excellent as we kept west of Tours airspace and crossed the next low flying corridor before making our descent towards Poitiers. We were routed in via a reporting point (N) for right base join onto runway 21. As is usual at so many places in France a very nice long runway, quite quiet but with excellent facilities and a very cheap landing fee and the absolute minimum of hassle to get out of, and more importantly back airside. A nice first floor terminal restaurant overlooks the airport and we managed a quick drink in there before heading back to the aircraft for the last leg of the day, the 100nm trip to our overnight spot at Perigueux in the Dordoyne.
The sky was crystal clear for most of this leg, with just the occasional heavy isolated shower along the route. The scenery turned very green with wooded rolling hills as we routed down passed Limoges and over yet another low flying corridor. The very helpful lady controller was very efficient in routing our gaggle in and we joined overhead the airfield and downwind for R11. A very pretty approach it was to, the airport sitting just outside the town and in a slight valley with wooded hills on either side. The Robins were already in and the crews gone by the time we shut down at 18.00 local time. By the time Phil and I had cleared up the back seat, which at the end of the day in VB at least always gives the appearance of a well burgled house and covered the aircraft for the night we were suddenly aware of being very alone on the apron. In true team spirit everyone else had b******d off to get to the hotel for a well deserved beer! After a very nice chat with the lady in the tower with us promoting Anglo/French relations and once again paying very reasonable landing and parking charges, we had a short light hearted discussion about 'NUKA' being clamped for non payment we finally headed off in a cab for town.
The old town of Perigueux is very picturesque and our IBIS hotel was ideally situated to it overlooking a stone bridge and a gently flowing river. After a freshen up we headed off en mass for a local recommended (by the cab driver) restaurant the 'Hercule Poirot'. Initially I was bit sceptical as I suspected it was the cab drivers brother that ran it but it proved to be a great find. We were all seated in a deep stone alcove and the suggested three course menu was excellent with some splendid local Bergerac wine complementing the food. After a late walk around the very narrow quite old cobbled streets, we headed back to the hotel for a quick nightcap and a good sleep after a long day.
A total of 4hrs and 40 mins flying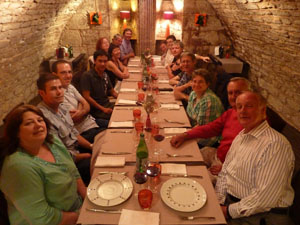 Day 2
Perigueux-Pau Pyrenees-Santander-Asturias
Day 2 dawned bright, and after breakfast and the first showing off of the brand new NWFG polo shirts (very smart too) it was off in cabs to the airport. With the aircraft prepped we mounted up and began our departures for Pau which is close to the foothills of the Pyrenees and was to be our lunch stop. The forecast was good with cloudless skies and clear viz until around Auch when some low cloud could be expected. Routing SSW we would be passing Bergerac and Agen, taking a slightly 'dog leg' route to avoid a large complicated series of Danger and Restricted area which being a Friday were likely to be active. Crossing over the Dordoyne river with its stunning scenery, pretty villages and stunning chateaux was really stunning. As we approached Agen we could see the low cloud layer ahead of us and we began a slow decent to get under it. Pyrenees info were very helpful in providing a service and were also very clear despite the terrain and our relatively low height at times.
The last 30 miles or so up to and beyond the LMB VOR wasn't terribly pleasant after the clear Dordoyne area as we now had low cloud and not great viz which had us down to around 1000 agl to remain VFR and we had to cross yet another low flying corridor, at least we knew there weren't any obstacles. Really good views of the villages and farms and animals though! Stewart B in NUKA just had to take advantage of his IR and we heard him request a radar vectored ILS into Pau. The controller asked him to confirm he was appropriately qualified (IMCs are of course not accepted) to which we detected a slight smugness in the 'affirmative' over the radio. Good on you Stewart we're only jealous!
Pau Approach routed us in via points NE and NA on the chart and soon another big runway came into view. This is a shared civil and military airport with busy commercial movements. Because the next leg to Santander was to be another long one with very few diversions we all needed to put in as much fuel as possible. Unfortunately this is where the system and planning breaks down as it just takes an age to get seven aircraft filled up and payment made, so our quick lunch stop turned into a marathon 2hr 40 min stop. Mind you as the sun came up Phil laid on the wing and took the opportunity to top up his tan whilst we were in the long queue. Luckily passing through into the terminal was easy and payment couldn't be made for the landing fees due to the office being closed for lunch. We are being sent invoices apparently. I love the French way of doing things!
Stewart was Capt Flight Plans for the trip and very efficiently filed all them all on the computer system for the whole group as this leg into Spain required them as we crossed the FIR boundary. Flight plans are also required
for all flights within Spain so Stewart had his work cut out from now on. After a very nice set lunch in the very modern terminal we returned to the aircraft again for a staggered departure. The routing out of Pau is quite tight due to a plethora of danger and restricted areas. This appears a lot worse on the chart than it is in reality. It simply means routing along the easily visible Ardour river below 1500 via reporting points all the way out towards the coastal town of Biarritz.
Biarritz approach was very accommodating and being just below the cloud base at 2000ft allowed us to route directly through their overhead with some great views of the town to yet another reporting point (SW) which is at the Spanish border and the edge of San Sebastian's airspace. We were told to orbit at that point until given permission to enter the airspace by San Sebastian tower. A change of frequency had us crossing the border into Spain but another orbit at point E for departing IFR traffic from San Seb.
It was now to be a straight routing along the northern Spanish coast passing San Sebastian itself and then Bilbao before reaching Santander for a quick stop and refuel. Well that was the plan. The scenery was fantastic with the towns and inlets drifting slowly by interspersed with miles of very rugged weathered cliffs beaten by millions of years of the Bay of Biscay's unpredictable weather. The mountains which can go over 4000ft are very close to the coast all the way along this area of Spain and my hope was that they were going to add to the already great views. However, this was not to be as they were covered in low cloud and mist and we were heading west with a total overcast at around 1800ft despite a forecast the day before of bright sunshine. This meant that we had to keep over the sea or just over the land in places but couldn't venture inland at all. We transited through Bilbao's airspace with no problem although Phil and I had to complete another orbit over the sea for departing airliner traffic.
Santander airport sits just inland in an estuary and we were soon positioning over the port and town for a left hand downwind join for R10. As is usual in Spain we were picked up by a 'Follow Me' car and taken to the eastern side of the main apron below the tower. There then followed an enormous faff to get fuel and file the flight plans. With the crews split up so that we could get the landing fees and flight plans sorted in the terminal whilst the others stayed behind for fuel we all ran into our own problems. As there was no other way in than through the usual passenger entrances some of us got wrapped up on the end of a recently arrived international Ryanair flight which meant queuing to go through the passport check. Once we were in there was no way out so we had to wait. Fortunately after several phone calls Stewart was once again doing a great job with the flight plans and the landing fees were being paid together. When we got back to the guys at the aircraft they had largely lost the will to live. Despite being told to the contrary before the trip that credit cards would be accepted they weren't, cash only, which when you consider the price of fuel this is just crazy as we were having to conjure up hundreds of Euros to pay for it. Fortunately we could, but the problem was compounded by firstly the refueller being new and being taught the ropes, that wasn't his fault but the incredibly long bureaucratic nonsense of form filling was enough to make you throw yourself into the Ryanair's engine intake and end it all, although they would probably charge for that! Oh and if you didn't have a VAT number you couldn't have fuel, so we just made one up for the whole group. That box was filled in and fuel was finally dispensed. That was repeated at each aircraft so it's not difficult to imagine the frustration and it rather took the edge off of Santander which was a pity.
The problem with the fuel was that again we had to take it on to give sufficient reserves, although Asturias was only another 100 nm on if we couldn't get in there is absolutely nowhere else to go other than come back to Santander, and we had already flown 1hr 40m from Pau. Leon was the only other airport and that was 60nm inland and meant crossing the mountains with a MSA of 10300ft, not really an option.
So with a rapid call for start and taxi to get out before the Ryanair 737 that was closing it's doors finally had us departing Santander and routing further west along the coast. We could hear the aircraft ahead descending to stay VFR. Below the cloud the viz was a good 20k + over the sea and coast but anything inland was again covered in cloud and mist and the further west the lower the cloud. Eventually we were sitting at about 1800ft over the sea and although we were enjoying the great coastal views we were counting down the miles to Asturias. Asturias sits on a plateau above the sea cliffs and as Chris Stratford later remarked there was an almost audible sigh of relief over the radio as the airfield was reported in sight by each aircraft in the line. The female controller was absolutely excellent in slotting all our aircraft in to the circuit and landing us quickly. The approach into Asturias was stunning as we came across the sea to the sheer cliffs just below the final approach, what a pity it wasn't a sunny day with the mountains as a backdrop.
The aircraft were all wrapped up for their two night stay and with instructions to pay for the landing and parking on our return we headed off into the terminal to wait for the bus to Oviedo.
The bus service was excellent and cheap and took us a short walk or cab ride in some cases to our next IBIS hotel. That night was spent enjoying a few beers as the next day was a day off. We headed for another local recommended restaurant which was very popular with the locals which is always a good sign, but I can only say was completely unlike the one in Perigueux and turned into a complete shambles that would have done Manuel in Fawltey Towers proud. I could write a page on that and that would just be the complaints. Enough said, that's one down to experience.
4hrs 40 min flying completed that day to dream about that night.
Day 3
Oviedo
Day 3 was to be a free day to explore the town of Oviedo. The weather hadn't really improved and the surrounding mountains were covered in low mist and cloud which was a pity as I had been reliably informed that it was really pretty. Dividing into pairs or little groups we headed off at our own pace towards the old town which is the main attraction. Very nice it was to with the old buildings, market and the central square with a very pleasant park close by. Even in quite a large town it's amazing how it's possible to keep bumping into people you know! Dinner was taken at the IBIS that night and a jolly time was had by all despite the pessimistic tafs for the following day.
Day 4
Asturias-San Sebastian-Nantes
After breakfast and checking out we headed off to the bus station for the 09.00 back to the airport. The mist and low cloud was lying over the mountains and it was gently drizzling, a great start to the day. The tafs were showing an improving picture along the coast but as we headed north through what should have been picturesque countryside it wasn't showing any signs of it. Arriving at the airport we headed into the aircraft handling area which is primarily for the exec jets. GA isn't big in Spain. Again there was a considerable delay in paying our very reasonable 30 euros landing and parking charges caused simply by our large number all arriving at once. Getting air side through the VIP lounge after passing through a security check was simplicity itself although it was a fair walk to the aircraft especially for those without wheelie cases. Fuel was ordered and although a bit quicker than Santander being the same company (CLH), it was the same weary saga and cash only, at least we were prepared. The weather was showing signs of a slight improvement and as Phil and I would have been last in the queue for fuel we decided to get out with what we had before we died of old age. Even with the 200nm leg to San Sebastian in front of us we still had enough to get deep in to France if need be. Lifejackets on for this one as we knew that we would probably be over the sea for most of the trip.
Climbing out from Asturias over the cliffs and over the Bay of Biscay followed by a right turn as instructed towards the headland that is point 'N' was simply stunning and would have been even more so if the mountains hadn't once again been cloud covered. Our route was to take us east along the same coastline as on the outbound. This time we would transit the Santander and BIlbao TMA's all the way to our planned refuel and lunch stop at San Sebastian. All I would say about that that 200nm leg is that although the coast was as stunning as on the outbound our views of it were somewhat closer than before on occasions. Banks of low cloud interrupted the flight and although the viz beneath was good the frequent drizzle didn't help. It certainly wasn't the best or most enjoyable flight I've had which was a real pity.
Two hours later after some nifty controller work slotting our arriving aircraft in for their approach and landings by using both directions of the single runway alternately we made the very pretty approach and landing into to San Seb. The airport juts into the sea and is surrounded by water on two sides and a town on the other as well as having some very high hills rather close by. A very memorable picture through the windscreen and one that made up for the hard work of the last two hours. Once again a 'follow me' car lead us to our parking area. About thirty minutes elapsed from first to last and I had fully expected to be told that one or two had dived into Santander or Bilbao en route but our intrepid aviators all made it in despite the less than ideal conditions. Well done all!
We were very pleasantly surprised to find another company dealing with the fuel, how much would we like, no VAT number as it was a private flight and of course we take credit cards. Hooray! sense at last. Once again a nice airport, very helpful and with the minimum of aggravation in getting in and out. Well worth another visit, although it is a long way from the actual town of San Sebastian.
Having refuelled the aircraft and ourselves and with flight plans in we prepared for the longest leg of the whole trip the leg to Nantes. This was to be some 2 hrs 40mins to 3hrs depending on the aircraft and was a little bit of an exploration as to route. The plan was to route across the border into France, pass Biarritz and continue north along the coast towards La Rochelle. This whole coast line is covered with danger and prohibited area, all of which have varying heights and may be active at different times. We could not find out any info in advance and were told we would just have to ask the various controlling French ATC areas. The problem with this is that if we couldn't transit then it would mean going well inland to avoid them which would add considerably to the route. A stop at Bergerac was the back up plan.
Taking off past the marina and out to sea was again really spectacular, seconds after clearing the runway we were given a squawk and told to contact Biarritz approach whose airspace is less than 5 minutes away. Crossing the border and their airspace was simplicity itself and we got an update on the first danger area, not active, great then northwards we went. Amazingly as we crossed the border the cloud melted away and we were left with a few puffs of cumulus here and there but otherwise bright blue crystal clear skies. Aquitaine Info was helpful with other traffic as we followed the absolutely miles and miles of wide white sand and dunes. Bordeaux was clearly visible as we cruised well leaned back at 3000ft to get a good view of the countryside. The wide estuary of the Dordoyne river came and went and soon we were passing the Ile D'Ol'eron an island just to the south of the bay leading to La Rochelle whist speaking to La Rochelle App. It was easy to imagine the wolf packs of 'U' Boats sailing out through this channel during WW2 to wreak havoc to the shipping in the North Atlantic from their big concrete pens that still exist today in La Rochelle.
Crossing onto the mainland at to the east of Les Sables D'Olonne it was a change to Nantes Info for the straight line up towards the airport. Routing in was once again quite straightforward despite being a large and very busy regional airport with reporting points to the east of the field and joining downwind for R21. The two Robins had arrived first as they are a bit quicker than the rest of us and of course get preferential treatment for being French!
Despite the first three of us to arrive requesting stand 'India' which we had been briefed to do by our handling agent the Aero Club Loire Atlantique we were all directed to stand 'Mike' by a rather shirty sounding ATC controller on the ground frequency. We were all in and began the process of refuelling again, not too much this time as we wanted to take advantage of as much relatively cheap VAT free fuel as we could at our next stop, Guernsey. Cutting this weary saga down to a manageable length isn't easy but we didn't see anyone from the Aero club, however an unrequested Air France bus arrived to take us to the terminal with the words from the driver, 'Don't worry now, it will be sorted out in the morning. Just turn up at the Air France desk when you are ready to leave', causing a slight element of discomfort in the back of my mind.
Cabs to the IBIS in the city and due to the now reasonably late hour it was straight out to a local restaurant which had been recce'd by Gordon and Chris. Another very good evening with some excellent food and some real joviality before returning to the hotel to get our heads down for the final day ahead.
4 hours 40 mins flying (again).
Day 5
Nantes-Guernsey-North Weald
Cabs to the airport again and this time into the big departures terminal to regroup before going out to the aircraft. The discomfort from those words the day before that had been playing on my mind now came to pass. Air France were demanding 189 euros per aircraft for 'handling'. A bill for 1323 euros (excluding landing and parking) was presented. Fortunately I had had a bad feeling from the start about this and had asked Malcolm to bring hard copies of all the arrangements he had made via email with the Aero Club regarding their 'handling' arrangements. These we duly presented to Air France. This part could go on as a write up of its own. The crux was that Malcolm, Phil and I explained our position, we didn't request Air France, we were parked on the wrong stand by ATC, despite confirming on the day of arrival and we weren't paying as we had only had a bus ride and we hadn't asked for that either. The supervisor was called, it was explained again. Then the Air France boss and the airport operations manager, it was explained yet again. 'You must pay' was the bosses response. 'No we're not' was ours in a nutshell. The airport manager at least was very helpful and understanding. The Air France boss was not and was doing a good impression of Mr Grumpy with a Gallic shrug. The Aero Club was contacted but not unsurprisingly nobody there was available. Just as we were about to go typically French ourselves and blockade the entrance to the terminal he concede and reduced the charge to 100 euros an aircraft, Still a defiant 'non' from the NWFG negotiators. A bit of a stand off ensued until as we had now been there for over an hour and our flight plans were getting close to expiring Phil suggested that we offer to pay 50 euros in cash per aircraft, just to try and get out of the place. After a lot of sighing and talk with the airport manager he conceded but only after saying Air France wanted no more to do with us! Still expensive but the money was handed over and finally we were out, the airport manager very kindly commandeering a bus for us to take back to the aircraft.
With that saga well and truly behind us we could concentrate on the trip up to Guernsey. Lifejackets on again with the sky bright blue and hardly a cloud in it a we made our getaway north towards the Channel Islands. This leg was a delight, fabulous views over the Brittany countryside before coasting out west of Dinard and calling Jersey Zone. With the Island out to our right we were given radar headings for Guernsey and then a change to Guernsey approach. In VB due to incoming commercial traffic we were given an orbit by ATC and then sent off on a tour of Sark which was new to me and offered some great views over this rarely overflown island. As we were given our clearance in we made the most of the flying and picked up the ILS to R27. We had great views over Guernsey and a very large cruise liner dominated the normally tranquil bay around St Peter Port. The winds was around 16kts right across the runway as we made our approach in. VB was the first to land and as we shut down on the grass parking area a bowser appeared in front of us ready to supply us with as much avgas as our wings could carry at £1.46p per litre. The very helpful refueller apologised profusely for the high cost of their fuel which really did make us smile as I handed over my credit card.
Coasting in at Bognor was interesting. As we crossed onto the land and approached the south downs the turbulence started, made worse by the broken layer of cloud that pushed us down to around 1800ft, it was too bumpy to go in it and too thick to get on top as it would have taken us into controlled airspace, so we had to sit it out. There haven't been many occasions when I have actually thought that I would be pleased when a flight was over but this was one. I think Phil still has the bruises. The last 25 mins was like being in a tumble dryer I should imagine and it was with some relief that we called North Weald.
By the time we were on the approach to NW the wind was 230 24G34kts and it felt like it. Still in with a nice bit of flying from Phil and the others all arrived over the next 30 minutes or so, amazingly still smiling after completing this marathon adventure.
3hrs 05 mins flying with an amazing 1hr 40mins from Guernsey.
I think I can safely say that everyone had a great trip. The weather in places wasn't perfect or even good really but it was certainly a great one for experience. Radio work, nav, controlled airspace, danger areas and decision making, all the elements were there and everyone coped admirably with the challenges and flew the wings off all the aircraft over those five days. It was also a very good example of how easy flying is in France and Spain. Apart from Nantes or should I say Air France it was really quite straightforward if one takes out the Spanish refuelling faff. Most of the other delays were purely the number of aircraft arriving and departing in such a short time and that was the paperwork, all the ATC controllers were excellent. If you need a customs airport from that part of France as we did then I would give Nantes a miss and try elsewhere.
I would like to thank all the participants for taking part, it was great to have your company over the five days and a real laugh on occasions but with hopefully a lot learnt and a very enjoyable time.
Again sounding like an Oscar winner I must thank, Malcolm Jarvis and Stewart Bradon for all their help in assisting with the organisation and planning, Phil (Fish) Fellows for putting up with me in VB for all that time and acting as our 'Met' man. Just as importantly Simon and George who went all out to ensure that the aircraft were ready for such a big trip and arranging the maintenance checks to fall perfectly just before the trip.
Thanks for reading this and I hope it has given you an insight into our 2011 group adventure and perhaps some tips for your own.