10th October 2006
Well the penultimate 'Fly Out' of our first year. The original plan was for four aircraft, with eight members and two guests to fly from North Weald to Goodwood for lunch and return via Headcorn for tea. With a good forecast after the early morning mist cleared, it was decided to venture slightly further afield to Sandown, on the Isle of Wight.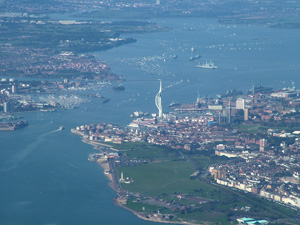 Goodwood is a lovely airfield but the cafe is rather small, with previous experience showing that as Sundays – with good weather – are always very busy, 10 more people arriving for lunch en mass may have overwhelmed the system. So Sandown it was, with the fleet prepared and fuelled, it was take off from R20. Alex Kenning and Paul Weeks in G-WH, Andrew and Paul Hutson in G-KK, Paul. 
Bazire and Kieran Hardiman with guest Nicci Rijkenburg in G-N.S, John Strong and Federico Salerno (first fly out) accompanied by wife Jennifer in our courtesy aircraft G-MM replacing 'Rhubarb'. Unfortunately Alex Potter had dropped out due to an ankle injury playing hockey and Julian Mitchell was overwhelmed with work.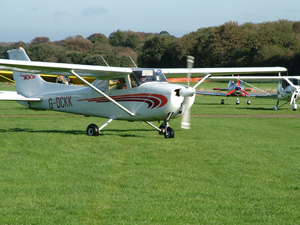 Routing south via the QE2 Bridge and Brands Hatch – and capturing some air to air shots of KK from NS – we were met with excellent visibility but some low lying fog and mist over the South East corner of the Gatwick Zone. With the sun quite low it gave a rather surreal and very wintry appearance. Routing along the South Coast the weather improved considerably, with Portsmouth on the starboard wing it was across the water and overhead Ryde to route direct to Sandown and join downwind into an extremely busy circuit for R23.
It appeared half of the GA aircraft crews in the south of England had woken up and thought, 'lovely day, let's go to Sandown!' NS was first into this lovely grass strip surrounded by gentle rolling hills, then KK, who had to go around due to one being slow to clear the runway, WH, who also had to go around because of KK ahead, followed finally by MM with no problem at all. The clubhouse was extremely busy but seemed to cope well with the numbers of people taking advantage of the fine weather, and I'm sure it's the first time we have paid a landing fee whilst standing at the bar though!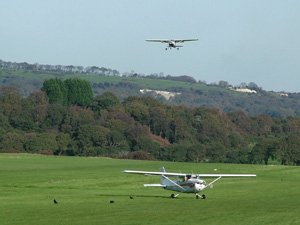 As Alex Kenning had made the reservation for lunch by phone from North Weald, we were sure we had discovered Alex's dark secret when we found our table booked in the name of 'Mrs Canning', but alas no, just lost in translation over the phone.
A very pleasant lunch was enjoyed by all, accompanied by a jazz quartet, another first for the North Weald Fly Out Group. It was then back into our aircraft for the return route along the south coast and tracking NE for a downwind join for R29 at Headcorn (Lashenden).
This was another very busy circuit which incorporated not only light aircraft but numerous parachutists and even a couple of hot air balloons lifting in the light winds. This was another very busy circuit which incorporated not only light aircraft but numerous parachutists and even a couple of hot air balloons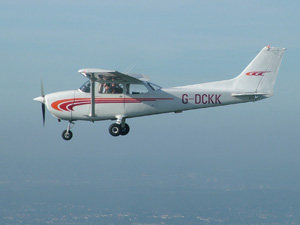 lifting in the light winds. With a top up of fuel for NS and MM it was off in the now failing light and falling temperature for the short hop back to North Weald, with a spectacular view of an autumn sunset over the Thames and London rounding off the day. Thinking that we may have to ask Alan in 'The Squadron' to line North Weald's runway with the WW2 paraffin goose neck lamps, and light them flamboyantly with his cigar, we were, actually, all back on the ground at North Weald comfortably within 10 mins of closing time (again)!
Once again, a very enjoyable day for all participating members of the North Weald Fly Out Group and one where I think we were very fortunate to have had such a fine autumn day.