25th April 2008
Friday the 25th April was the planned day for the North Weald Flying Group's visit to RAF Marham near Kings Lynn in Norfolk. RAF Marham is the UK's largest fast jet station operating four squadrons of Tornado GR4/As in various roles. Several months of letter writing, email exchanges and telephone calls had culminated in twenty two participants in ten aircraft gathering at 'The Squadron' for a 08.30 brief on joining procedures, notams and the visit programme by yours truly. Having been thwarted in our previous attempts at a fly out this year due mainly to the continual unsettled weather it was with some relief that the tafs for the day where for high cloud and CAVOK.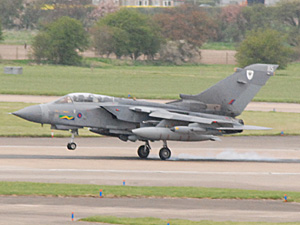 The group were scheduled to arrive at Marham between 10.00 and 10.15 local to slot in between two departing Tornado sorties and also avoid the Battle of Britain Memorial Flight fly past at nearby Downham Market. This necessitated an engine start of around 09.10 to get everyone in on time. Myself and cousin David Rickwood would be flying with Kieron Boost in PA28 Archer G-VB and planned to be the first to arrive to meet our RAF liaison officer for the day.
It was an impressive sight to see all the guys scurrying round to get seats occupied and waiting for their cue to start engines once G-VB was fired up. Taxiing past in VB we could see engines springing to life whist others had their heads in the cockpits completing the pre starts. Malcolm Jarvis and guest David Knott had made a swift departure in the C150 G-BH owing to it's slower speed whilst Andy Wilson and Andrew Hutson probably went and put their feet up and had a snooze with a nice cup of coffee in hand as they were following in the Yak 52 G-YAKR. Watching the long line of aircraft slowly taxing line astern along the peri track to North Weald's 02 hold in the morning light looked reminiscent of an old wartime movie.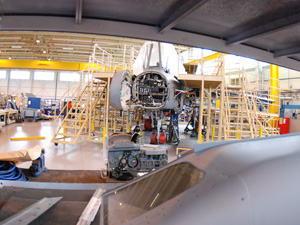 Routing out north-west around Harlow and up through the Luton Stansted corridor we soon had G-BH passing down our right hand side. A call to the new LARS service at Farnborough Radar on 132.800 revealed no one at home so we continued with a 0013 squawk whilst monitoring Luton Radar. Visibility wasn't great but the cloud base was generally high. As per the brief our initial call to Marham Zone was to be made east abeam RAF Wyton and this we did. We were due to route into Marham via Chatteris but were warned of parachuting taking place just north of the town and elected to take a more southerly route which was just as well as we soon saw the numerous coloured 'chutes opening in the distance. We were given instructions to report the airfield in sight and join left hand downwind for runway 24. We began positioning as such but scattered low cloud and poor visibility made it quite difficult initially to identify the airfield. We could hear the others approaching behind us as we began to drop down to the unfamiliar low circuit height of 500ft QFE.
With all safely in apart from Stefan Atrill and Alex Kenning who had returned to North Weald in G-JN with a vibration problem (quickly sorted with a bit of sticky tape over a split bit of plastic on the nose wheel fairing) we watched as the Tornado's thundered along the runway in turn with the yellow/blue flames of full reheat emitting from the jet pipes and leaving a trail of heat haze and the ground shaking as they climbed out to the west. As the last of our crews was paying the landing fee we heard the announcement over the loudspeakers that one of the Tornado's was returning with an engine failure. We watched as the aircraft joined downwind and carried out a perfect landing with no dramas. Well not from where we were standing anyway! With Stefan and Alex on their way we boarded the minibus to take us to the briefing room.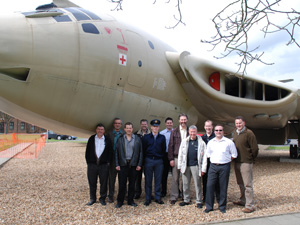 The OC Ops, Squadron Leader Stephen Beardmore struck an impressive figure in his flying suit as he gave us an excellent welcome brief and a very interesting PowerPoint presentation on the station and the capabilities of the Tornado's based there. We then split into two groups to begin a tour of the station. The visit included a tour of the deep maintenance unit which is run by and in conjunction with British Aerospace. Looking at the aircraft in various stages of repair and routine maintenance it made one fully appreciate that these are incredibly complex and extremely costly pieces of kit to keep flying, and that's before you stick a very highly trained pilot and weapons system operator in there, fill it with fuel and in theatre, hang various eye wateringly expensive modern weapons (including cruise missiles) from it. But hey, that's the price of freedom and reality since the aeroplane became a real tool of warfare before the second world war. Other visits included a full brief and a look around a Tornado of No IX Sqn, also ATC's radar room and the tower including watching one of the Tornado's make a wings swept approach at over 200kts.
The highlight for all was undoubtedly the visit to the Tornado simulator. This resulted in all of those of us who were fortunate enough to 'fly' it leaving on such a high that an outsider would probably have suspected the use of illegal substances. The £30m sim is run under a PFI agreement between Thales and the RAF/MOD. The cockpit sits in a dome about 10ft off the ground and is the real thing with weapon system operators position behind the pilot and nearly 360 degree vision around the aircraft. It is used for both procedure and tactics/combat training. We were incredibly fortunate to have been given the slots that we were. The experience of 'flying' the aircraft out of RAF Valley, dropping to between 100ft and 250ft at 420kts and rocketing through the Welsh Valleys in tight 90 degree bank turns before recovering to try and make a half decent landing at 170kts at Valley was an experience never to be forgotten, even for those who only(?) managed to do it from the back seat. A really big thank you to 'Dave and Huggie' the sim instructors who showed great enthusiasm and patience with the group.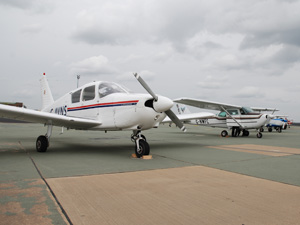 Returning to the PA28s and C172s a little later was a bit of a reality check after that, and so after our goodbyes we mounted up and got our start and taxi clearance. Once again an impressive line of aircraft waiting in line at the 24 hold with no doubt a lot of smiling faces behind the windscreens. Returning against a stiff SW breeze and the odd light shower we begun our approaches back into North Weald. All counted out and all counted back with plenty of discussion about the day in the bar afterwards.
A very big thank you to Group Captain Osborne the OC RAF Marham for allowing us this visit and all the personnel involved in making it so interesting and taking the time to explain things in great depth. Our liaison officers Flying Officer Nick Hill and Flt Lt Bill Priddy were excellent hosts and I am very appreciative for all their help not only on the day but in all the exchanges we had in the planning phase.
Certainly the best trip of its type to date I think, and an excellent turn out from the North Weald Flying Group and friends. Also good to see so many new members joining us on their first fly out.