24th March 2010
Monday saw the dawn break on the third attempt to visit RAF Cosford and its museum. The two previous dates had been cancelled, the first by the RAF who had got their opening dates slightly confused and the second by all the MOD's UK airfields being closed due to the Volcanic ash cloud. Now there's something I never thought I would write in a fly out debrief. RAF Cosford is only open on certain days for basic training and will only accept flying visitors during the week, preferably Monday to Windows 8 Standard Key Code
Wednesday. Given it was a Monday there was a very good turnout from the North Weald Flying Group and friends. Myself, Suzie Bazire and Phil Fellows were in our usual mount the PA28 'VB', FG was being crewed by Alan Vick and Pete McDonald, FC by Malcolm Jarvis and George Tunks, in MM we had Alex Khan and Nigel Golding. Nigel joining us on his first fly out. Simon Pimblet and Barrie North were in FA. Also joining us were Bob Chapman in his 172 'CC' and David Rickwood in the Eurostar G-SHMI from Gloucester. Bob kindly offered to take ex North Weald Flying Group member Alex Kenning along with him as his own aircraft had gone tech.
Well the TAFs were good and actually nearly right for a change. The day itself showed great promise with blue sky and not a cloud to be seen, actually quite warm and hardly any wind. A slight delay occurred for Malcolm and George due to FC having had an electrical problem reported late the previous afternoon which meant as we met up at 09.00 she was already protruding from the hanger with the cowling off. The engineers did a great job in getting her fixed which resulted in only a 30 minute delay in getting airborne.
The vast majority of the paperwork and the advance notifications had been completed in advance of the visit with the RAF and after a last minute brief before departure, it was a free routing to Cosford which is Windows 8 Enterprise Key Code situated to the north west of Birmingham. Most opted to go out via the western corridor and up towards Wellesbourne Mountford and Stratford upon Avon. Taking off in turn from runway 20 and heading out to the Lea Valley gave brilliant views of the City in the clear air. Around the corner at Princes Risborough and onto a north westerly heading had us threading our way past one of our previous destinations, the gliding site at Bicester. Then in quick succession the parachuting site at Weston on the Green and so as not to get ourselves radiated the large HIRTA (up to 6400 ft) aerials at Croughton. We then passed over the huge former USAF F111 base of Upper Heyford, its long runway and hardened shelters sitting forlorn and unused apart from rather a lot of stored vehicles.
With Stratford upon Avon on our starboard wing, we established contact with Cosford approach who instructed us to continue for a left base join for runway 24 and to report the airfield in sight. Halfpenny Green airfield was on our port side as the large metal structure of the main museum hanger could be seen in the distance reflecting the morning sun like a beacon.
With a change to Cosford Tower, we positioned for left base with ATC fitting us in with the RAF Grob trainers that were in an opposite circuit for the parallel grass runway. All looked good until we were at 500ft and about to turn short final when we were instructed to 'do a couple of orbits in your present position.' That was a little different and gave a rather better view of the surrounding countryside than expected. We had been warned to expect turbulence over the railway line which is on an embankment very close to the 24 threshold and they were right! After our somewhat interesting approach and with a reasonably brisk crosswind it was finally wheels on tarmac and taxiing to the beautifully tended and freshly cut grass area in front of the old original wartime tower to park.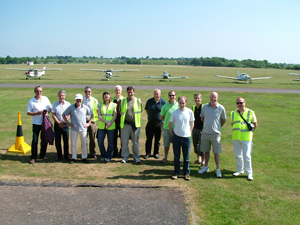 With all in and passes issued it was the museum cafe as the first stop for a group refuel. After lunch we headed off to explore the exhibits. There are four separate hangers with too many aircraft to list in detail here other than to say that the whole site has been put together extremely well with a fantastic collection on display.
The largest hanger houses the 'Cold War' collection and includes a Vulcan, Valiant, Mig 21, F86 Sabre, Lightning and many more. In this display there is also a Thor medium range nuclear ballistic missile that was based in the UK at several airfields as well as the submarine launched Polaris ICBM. Many of the aircraft are suspended from the roof as if in flight and the whole collection is a masterpiece in display planning. The whole exhibition has the latest modern interactive displays and information centres. Several 'pods' that seat about 15 people run narrated multi screen video presentations on different periods of the Cold War. The one detailing the events of the Cuban Missile Crisis is particularly sobering bringing home just how close the USA and Russia came to a nuclear war in October 1962.
The RAF Museum at Cosford is well worth a visit for anyone interested in aviation. Flying in is relatively easy providing you contact them in advance and send off the relevant requested information and insurance certificates in good time. Landing fees based on MTOW are also quite reasonable for a RAF airfield especially as they are discounted for museum visits coming in at £23.81 for a C172/PA28. ATC are very helpful but just be prepared for late notice instructions and perhaps being required to hold close to the airfield especially if solo students are in the circuit. We all had a great day and without exception the museum proved much better than anticipated. The day finished with a flight back in slightly hazy but still excellent flying conditions after what was basically a streamed take off from the North Weald Flying Group aircraft. With line up clearances being given as soon as the aircraft ahead began to roll and 'cleared take off' following as soon as the one ahead was wheels off it was a pretty impressive departure for our guys from a very welcoming airfield.
The wind had picked up quite considerably by the time we returned but still not a cloud in the sky. All were back in safely with yet another interesting airfield in the log book as well as a very entertaining, informative and enjoyable day out being had by all.
There is much more that could be written about the museum and operations at RAF Cosford and if you are interested all the details can be found on the RAF website on RAF Cosford's home page which also has links to the museum.
http://www.raf.mod.uk/rafcosford/