20th October 2006
Friday the 20th October was the culmination of some four months of letter writing, numerous phone calls, emails and faxes to put into place a 'Fly In' visit by our North Weald 'Fly Out' Group to RAF Brize Norton in Oxfordshire. Brize Norton is the biggest RAF station in the UK and is home to some 4,000 RAF personnel, some 10% of the total RAF strength.
Three Squadrons are based there, 101 with VC10s and 216 with Tristars, both in the air to air refuel/transport role. And last but not least, 99 Sqn which operates four C17 Boeing Globemaster aircraft in the heavy lift supply role, flying supplies into Afghanistan and Iraq in support of British Forces deployed there. Numerous charter aircraft also pass through in the 'trooping' role as well.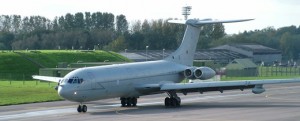 Well, after all this planning the TAFs were not being kind. Extreme low pressure was sweeping southwesterly across the country with a trough over the airfield at North Weald at about our departure time of 09.00. After an early morning meet at 08.00 and watching the low cloud and rain scud across the airfield during the aircraft prep it was clear that we wouldn't be going as originally planned. The forecast was for improving weather to the west and a lifting cloud base during the morning. A call to Wycombe revealed an 800 ft and slowly lifting cloud base, but Brize Norton reported clear skies and scattered at 1,500ft.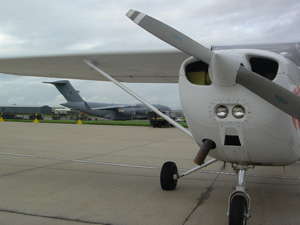 So 'Plan B' clearly needed to be implemented. This involved abandoning our VFR C152, G-BZWH and a change around from the original seating plan by placing our IMC rated pilots in the driving seat for the outbound leg at least. Brize Norton had also agreed that a radar vectored ILS wouldn't be a problem should it be required. So after a full briefing re routing and the entry into Brize, is was Paul Bazire ably assisted by Alex Lyne with Julian Mitchell as pathfinders in G-AVNS, John Strong with James Martin and Paul and Andrew Hutson in G-DCKK, Alex Potter, Alex Kenning with Ian and Richard Slater in G-RARB. Sadly Kieron Boost and friend Aiden decided they would give it a miss due to the conditions.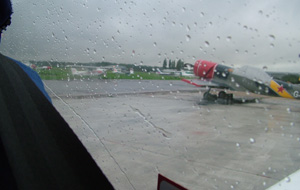 With an agreed separation of about five minutes per aircraft we taxied out to a rather wet and gusty R20, and off we went. Climbing out of North Weald with a right turn to intercept the 270 radial to Bovingdon VOR, we entered the cloud at 900ft as Alex was getting a Radar Service from Luton. Listening to the others we could hear we were in a nice well spread stream heading out west and as we cleared Lea Valley, we progressed up to the MSA of 2,400ft, just below the London TMA. The cloud became progressively more broken and we popped out on top into a blue sky west of Bovingdon. The weather began to clear and Brize Zone assisted with radar vectors towards the airfield. As we became visual with the field we were changed to Brize Tower and joined left base for runway 26, all 3,000 meters of it!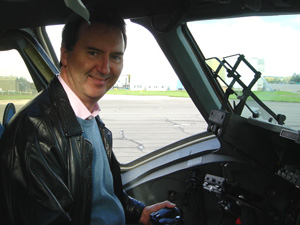 Landing long to avoid a very long taxi we were directed to our parking stand with a very smart marshaller in attendance. With all our aircraft safely on the ground we met up with our RAF Liaison Officer, Flying Officer Peter Barker who outlined Our first stop was to ATC where we split into two groups. Each group was given a very interesting talk in both the Brize Tower and the Radar room with the opportunity to view a departing VC10 from the ATC perspective. Peter Barker, an air traffic controller at Brize Norton (and also a PPL) gave a very helpful and informative presentation. But due to our slightly later arrival and numerous questions in the ATC, lunch in the Officers Mess was slightly rushed before we moved over to 99 Sqn and were given a tour of the C17's flight deck and load bay. Again very interesting presentations on the capabilities of this huge aircraft were given by the crew members, together with an opportunity to get up close and be shown the sheer size, systems and complexity of this amazing machine. With our scheduled departure time already well past, it was back into the bus for our aircraft. Start, taxi, take off and clearance out of the zone via Faringdon Visual Reference Point not above 1,000ft, and it was own navigation back to North Weald in a beautifully crystal clear autumn sky.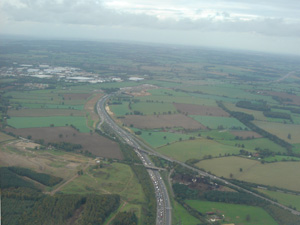 An extremely special, thoroughly enjoyable and very interesting day was had by all the participants, including a couple of our guys first introduction to the joy(?) of IMC flight in a light aircraft.
A very big thank you to all the RAF personnel involved for being so accommodating, very helpful and making it so interesting, and particularly F/Off Peter Barker who was nothing less than the perfect host