20th June 2009
Despite being lucky on the last couple of North Weald fly outs, the weather came back to bite us for the planned trip to RNAS Yeovilton in Somerset. With the day having been changed at short notice at the request of the Royal Navy to avoid conflicting with an exercise, we gathered early at 'The Squadron' to less than ideal TAFs with a low pressure area sweeping in from the west. A stiff south westerly wind was already blowing at North Weald and the 8/8ths cloud base was fluctuating between about 1,200 and 1,800ft. After prepping the aircraft a call to the very helpful airfield manager at Yeovilton revealed a very strong south-westerly wind gusting up to 28kts with CBs and torrential showers in the area.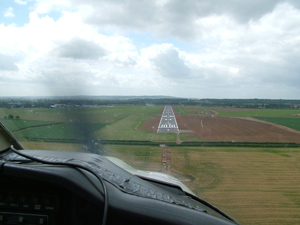 Yeovilton was clearly out for us, mainly due to a lack of suitable diversions in that part of the world if it turned rough towards the end of the route and with that sort of headwind it was going to be a long slog. Our own Andrew Hutson with Julian Mitchell as passenger had planned to fly into Yeovilton as one of a pair of North Weald based Jet Provosts joining us for the day. It was to be our first tie up with the jets, ironically they made it (given their much higher crosswind limit of 35kts thanks to shorter wings and higher speed) and had a great day exploring the museum. We began searching for a suitable alternative to head to for lunch, given that our choices were very limited by the winds and we had to look for somewhere with suitable facilities, and a more or less into wind runway.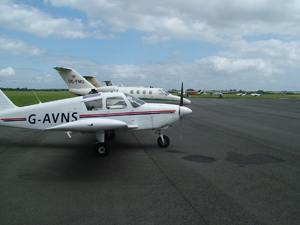 We finally settled on Oxford Kidlington and then played it by ear. With the cloud base now beginning to lift to about 2,400ft and becoming a little more broken, we departed R20. Greg Pendergrass with Richard Jonas (1st fly out) in BH, Paul Hutson and Alex Kenning in KK, MM had John Strong, Jason Shepherd and Matt Humphreys. Despite being last off NS with Paul Bazire and Paul Weeks quickly overtook BH and MM on the track out west and then a north west turn towards Oxford. Conditions were reasonable with good visibility but with a fair degree of turbulence. KK was first in with a left base join for runway 19, all 1,300 metres having been recently resurfaced to a very high standard. Landing long as it was necessary to vacate at the far end, we taxied past the large number of assembled very smart Oxford Air Training twins on the apron and were parked next to a Citation Executive jet. The weekday landing fee of £12 was paid (£5 at weekends) before a leisurely lunch was taken in the adjoining cafe.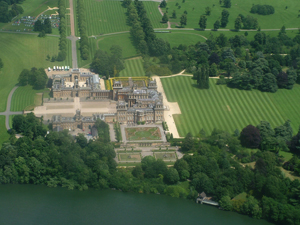 With the winds easing only slightly, the next stop was Sywell. Crossing the grass back towards R19 to avoid the resurfacing vehicles on the taxiway be departed for the short hop to Northampton passing the spectacular Blenheim Palace on the climb out. No dramas and very easily into a RH downwind join for the short R21L. The NWFG aircraft were all parked behind the 'Blades' aerobatic teams Extras. We had our afternoon refreshments on the balcony of the lovely art deco airfield clubhouse overlooking this beautifully kept all grass – if slightly soggy – field with a myriad of runways and collection of large birds all over it. The Blades were due to do a short display and most of the group decided to stay and watch the free airshow. Paul Weeks and I had an ever increasing number of work related calls mounting up on our mobiles and reluctantly needed to make a swift return to North Weald to sort them out before it got too late. The remainder of the group watched the 'Blades' display and then headed off to the east for another stop at Clacton. The winds were easing and the cloud becoming more broken for that leg of the day. After another stop to refresh themselves at this grass, relatively short seaside airfield with houses on either side, and it was a return early evening to North Weald.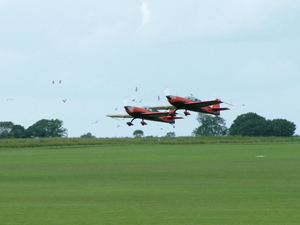 A disappointing day in terms of not getting to our intended destination, particularly after so much preparation, but a very enjoyable day in terms of actually getting to fly despite the weathers best efforts to stop us. Three airfields were visited, none of which have featured on our fly outs so far. No dramas, relatively easy routes and as always, very enjoyable comp.