28th May 2015
So.  Ever since our little jaunt down to Lands End in Fox Alpha a couple of years ago, a number of people (that number being… err…one at most ;-)) have asked 'How do you follow that?'  Well, on remarkably fine and warm and sunny day on Thursday, Young Malcolm and I teamed up again – this time to take Old Faithful 'transatlantic' to New York and Boston (sort of!).
OK so the 'New York' in question is a private farm strip in Lincolnshire inside Coningsby's ATZ, but that is its actual name and I guess given that the village has been there for donkey's years versus America which we know didn't even get invented 'til 1776, the Lincolnshire one probably has a stronger claim to being the official one.
Being inside Coningsby's ATZ and only about a mile south of their main runway does require a little cooperation with our friends in the RAF.  Malcolm, sounding the most like an ex-RAF officer out of the two of us, did the negotiating on the phone before we went, and then it was a simple matter of calls to first Radar and then Tower as we approached.  Because the strip is actually under the 1000ft fast jet circuit our final clearance into the ATZ was 'not above 500ft' which did have Malcolm and me wondering whether or not that was in fact strictly legal.  Fortunately it's pretty empty countryside round there, the only problem being trying to spot an unfamiliar grass strip whilst flying along below 500ft is not easy!  To further add to the fun you're very aware that any amateur meanderings will be watched on radar and visible from Coningsby's tower, and also very aware that creeping even a mile further north that you're meant to could land you in a whole world of poo…..
Nonetheless (and if I'm honest, much to our amazement) we managed to position ourselves onto where we thought final should be and lo and behold there it was indeed in front of us: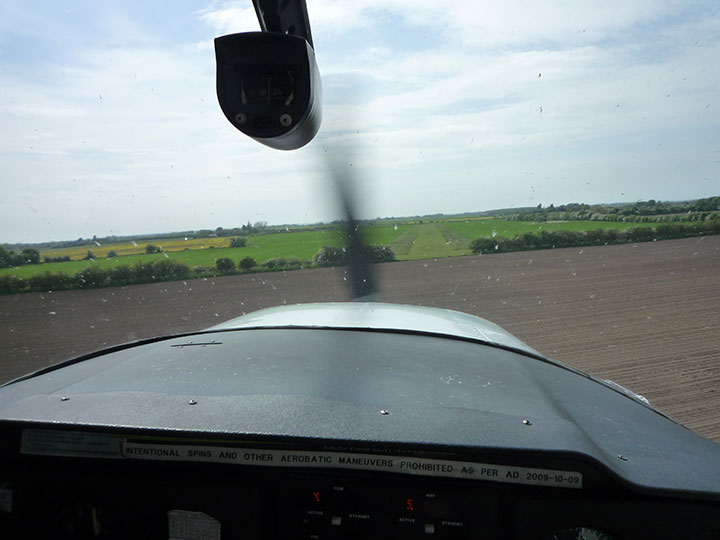 On finals into New York!  (Yep, somehow I always imagined JFK would look bigger than this too.)
An Englishman in New York…..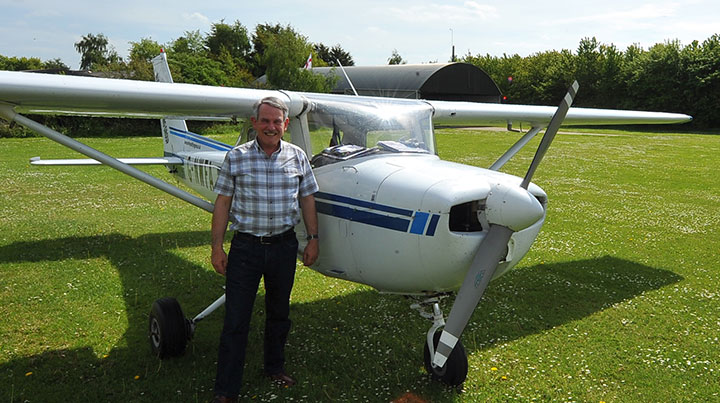 Fox Alpha and the….err… Big Apple… (sorry!)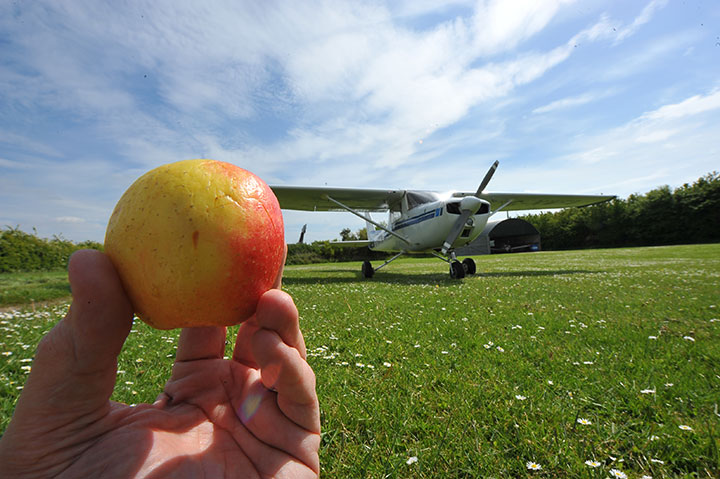 A lovely little strip to visit.  We were shown round the home-based aeroplanes – and an autogyro – in the hangar, given coffee and then shown round a couple of interesting artifacts in the yard: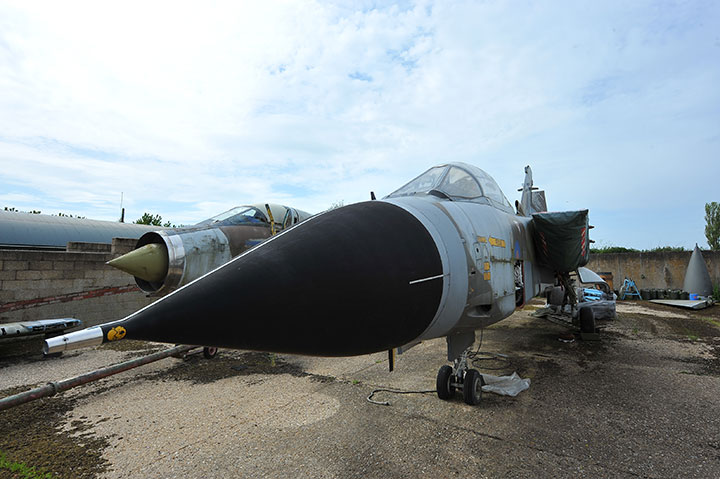 Funny the things that farmers accumulate!  He swore blind that neither of them had been nicked from Coningsby

 He also then asked if we'd be interested in seeing 'a couple of lorries' he had in his yard before we went.  Naturally the answer to a question like that is 'not really' but out of politeness we said yes.  Turned out to be not what we were expecting at all…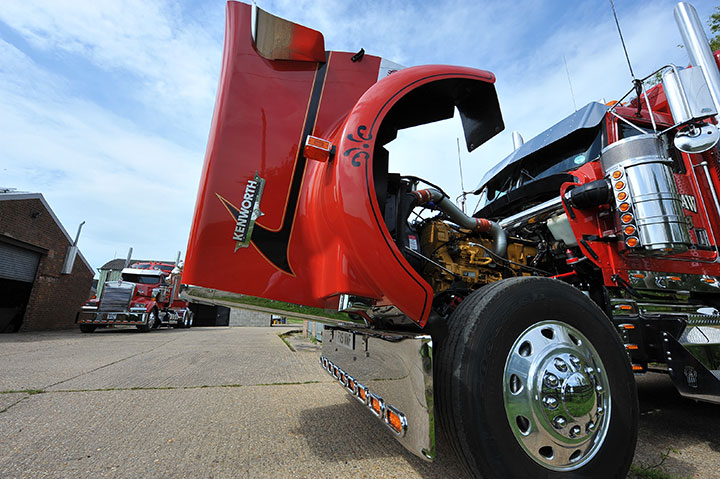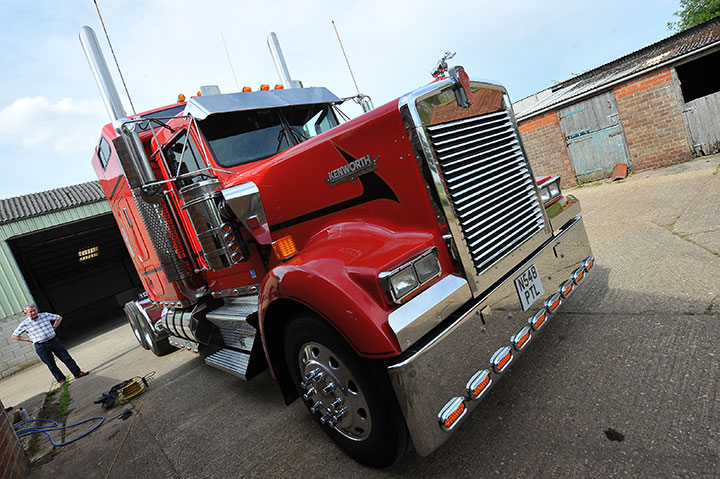 Well what should we have expected in New York?
Soon it was time to clamber back in and do the quick hop from New York to Boston.  A brief call to Coningsby tower whilst on the ground confirmed that we weren't about to climb into the path of something grey and expensive, and then we were off.  This view looking back as we climbed out shows just how close Coningsby is.  It's quite difficult to make out, but New York is the light green strip running left-right half way up the right hand side of the photo just above the yellow rapeseed field: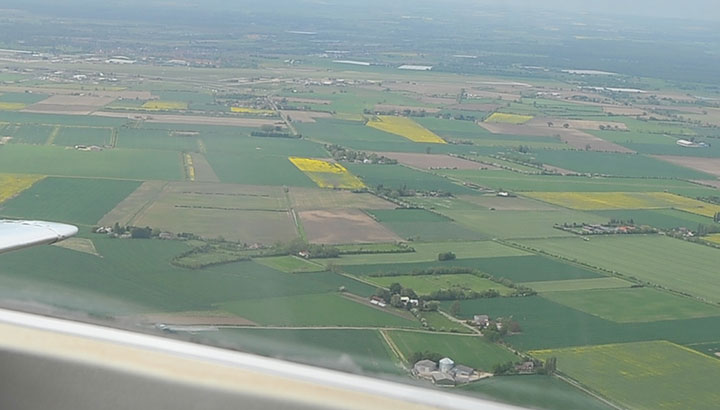 Boston itself was great.  600m of grass squeezed between a road and canal on one side and an unfenced rugby pitch(!) on the other and the approach is through a factory car park.  A very warm and friendly welcome though, and the pub next door to the airfield served up some great food.  This is us parked on the ground at Boston: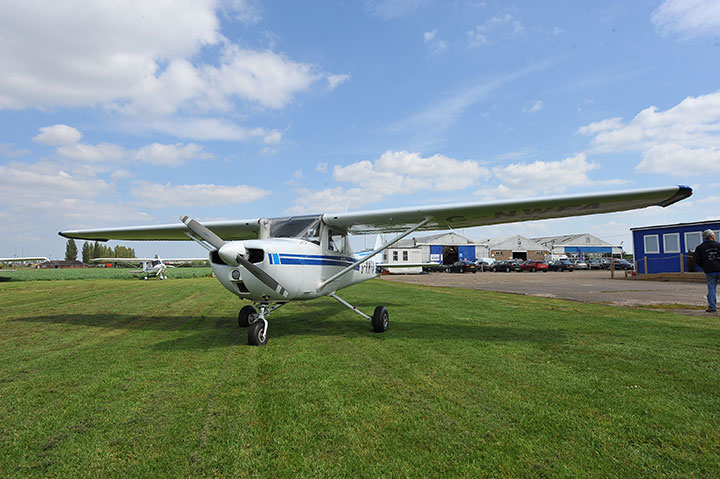 Duly refuelled on fresh fish and chips at the pub we then swapped seats and Malcolm flew the same legs in reverse – New York being significantly easier to spot the second time round when we knew what we were looking for than the first!
I'll include this picture taken on the way back because (a) it shows what a glorious afternoon it was, and (b) although you can't tell, we were talking to an actual American at the time!  For some reason the Coningsby controller handed us over to Lakenheath on the way back.  Guess how silly we felt trying to convince our American cousin that we were a C150 out of New York bound for North Weald….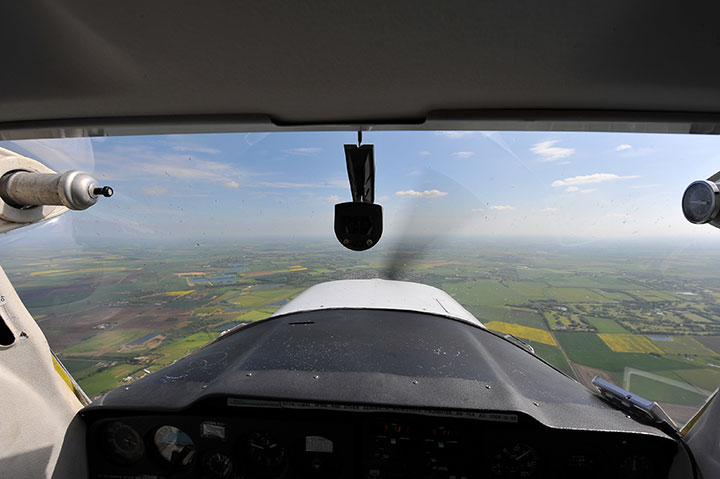 And finally, one of the slightly improbable log book entries that arose.  In this case the tech log: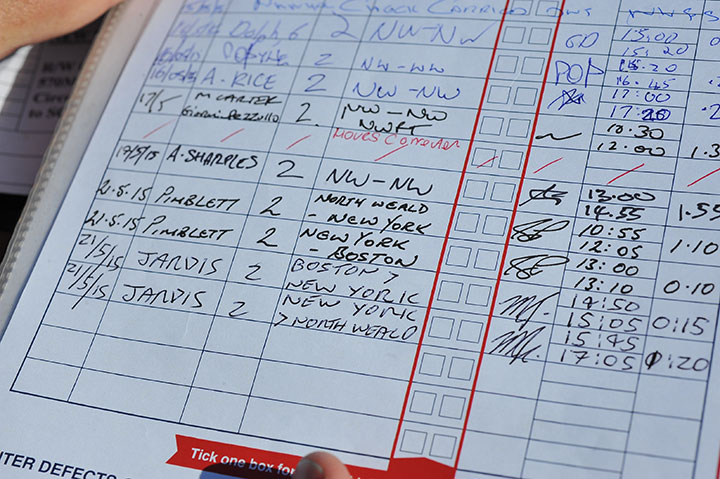 Breakfast at North Weald – coffee in New York – lunch in Boston – and back to North Weald in time for tea.  There's retired SR-71 pilots who can't even claim to have done that!