1st October 2006
So to Sunday the 1st October and our planned Fly Out to Kemble and Turweston in conjunction with the Andrewsfield Group 'Heenans Flying Circus'.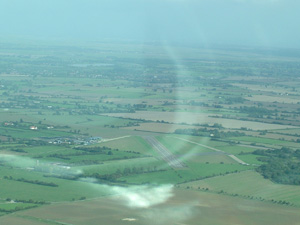 The group met at a rather dark, damp and overcast North Weald with a far more autumnal feel to the day than of late. The TAFs were not great, predicting good vis but occasional CBs with the associated strong gusts. To avoid the danger of any heavy showers getting us in a pincer movement in the Heathrow/Luton corridor, I felt it was preferable to go east where we had far more space to route around any weather problems that might arise and also more diversions available should it become really bad. For once this proved to be a good decision!
Whilst waiting for one of the heavy showers to clear, we decided on Old Buckenham for lunch, and then possibly Seething or Beecles for the second stop depending on the weather. A call to Old Buckenham revealed quite reasonable weather, a slightly brisk crosswind at 12kts, but a very acceptable 40dgs off runway heading and a few showers as forecast. They were also parachuting. As the clouds began to pass the crews were at cockpit readiness waiting for the clearing sky.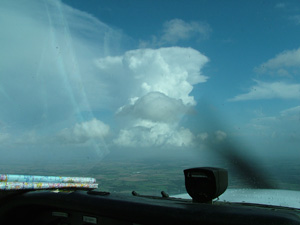 With a good experience mix, it was G-WH with Alex Kenning and Paul Weeks (on his first fly out), G-KK with Andrew and Paul Hutson, ourselves, Paul Bazire and Kieran Hardiman (also first FOut) with friend Ted in our courtesy aircraft C172 G-MM (very nice she is too) in place of 'Rhubarb', and Julian Mitchell and James Martin in G-NS. A left turn out from R20 and for us some VOR tracking practice. Lambourne then Clacton and then the 360 radial outbound, which would position us nicely to the east of Old Buck. This was home to the wartime B24 Liberator's of the 453rd Bombardment Group of the USAF who lost some 58 aircraft, and 366 aircrew in 17 months of operations. A memorial is on the airfield.
The route out was uneventful with excellent visibility and some very well defined heavy showers that were easy to route around. Tuning into Buckenham radio we could hear WH and KK being held out to the east to allow the parachutists to land. Landing was on runway 25, at 800m long and 18m wide a lot smaller than our recent flyout ut trips. R25 also has a considerable number of hay bales, several hundred tons of hardcore and other assorted junk not far off the threshold which gives a rather unusual perspective on the approach. Still, all in after a go around by MM due to NS backtracking. Old Bucks restaurant was very busy and lunch was taken outside in the sunshine whilst watching people throw themselves out of a perfectly good aeroplane!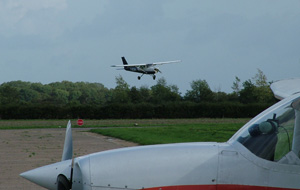 The wind was increasing to 16/18kts but the cloud was scattered with a high cloudbase. So off to Seething, another wartime Liberator base, this time of the 448 Bomb Group whose R24 was almost into wind. One can only imagine what this area of England was like during the war years with so many heavy bomber bases, at least three squadrons at each, and all in such close proximity to each other. Again, all in and into the very pleasant clubhouse for coffee. It wasn't long before the wind began to pick up and a monstrous wall of blackness closed on the field. Those of you that have seen the film 'Independence Day' with have some idea of the sky! After that cleared, another appeared and we spent nearly two hours watching the rain fall, the windsock pirouetting, the lighting flash and working out where the nearest station was before the sun finally slowly appeared to the SE. Phone calls showed a slightly clearer picture towards home, and with diversions carefully worked out it was off into clearing skies for the return to North Weald airfield. Several large and small very heavy showers were encountered on the route back and certainly much closer to each other than on the way out. However routing around them didn't present a problem apart from a bit of glare where the sun came through and the weather Gods were kind in not dumping one over NW as we returned to a breezy R20, all within 10 minutes of each other. There were the usual happy smiling faces at the end of our fly out day, although I suspect that for some at least it was a smile of relief.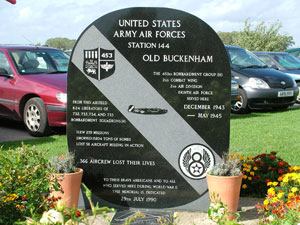 For me personally a very interesting day with additional factors to think about, weather, diversions, some good met experience up close and thinking about how to nicely ask the other half to drive to Norfolk, and find Seething airfield in the rain! The 'Flying Circus' and Kieron Boost decided to sit this one out. You can't really blame them!