4th October 2015
NWFG Mini Fly Out to RAF Bentwaters
Once upon a time, the Suffolk coast reverberated to the sound of fast jet activity as the twin USAF bases of Bentwaters and Woodbridge, together with the nearby RAF station at Wattisham, kept guard against the Cold War threat posed by the Soviet Union.
With the fall of the Berlin Wall and the subsequent collapse of the USSR the need for the Suffolk bases was removed, and all three duly closed in 1993, albeit with both Woodbridge and in particular Wattisham going on to provide a home for Army Air Corps and SAR helicopter operations. Bentwaters however fell into a deep sleep and, in part due to strong local opposition, there has been very little flying activity there ever since.
However, as anyone who has ever flown over that part of the world will know, the bases remain very much intact, with all of their infrastructure in situ. In part this is because the bases, and especially their hardened shelters and bunkers, were designed to survive a nuclear blast, so finding anyone with the necessary wherewithal to demolish them has proven somewhat difficult!
Five years ago a discrete enquiry via the new owners of the site revealed that there might be a one-off opportunity to visit, but the local opposition soon put paid to that. And in theory that was that, until in June I received an email from my original contact at Bentwaters, Erroll Frost, saying that the local council had granted permission to use the airfield for light aircraft on a limited number of occasions, and would I still be interested in attending a fly in? Having visited the base as a 'yoof' in its heyday back in 1973 (where I watched a display by the Blue Angels that is still etched in the memory) I hardly needed asking twice, and in no time at all the invitation was extended to allow four aircraft from North Weald.
Of course with four eager crews and four aeroplanes only two things could stand in our way: weather and serviceability. The latter reared its ugly head as the day approached in the form of FS getting bogged down in a longer than expected 50 hour check – easily resolved by Malcolm and JR commandeering G-BIFY which had only just arrived on the fleet. And having suffered a summer of appalling flying weather, lo and behold a high pressure system was moving in right on cue. The only problem was that this was early October and in autumn high pressure can of course go one of two ways: as illustrated on the Friday before we were due to fly when it was crisp clear and glorious, whereas the Saturday was all of those things above 500', but thick fog which refused to burn off all day below that. What would the Sunday be like? The forecast was suitably non-committal, so we decided to all meet at The Squadron in the morning and see how things panned out….
As it was the morning dawned misty but with more than a hint of blue and a real sense that the sun would do its stuff and burn off the worst of the grot. By the time we met at the airfield Stansted was giving 3500m and improving, and certainly it was flyable in the circuit. A quick phone call to Erroll at Bentwaters confirmed that it was a glorious sunny morning there too. The arrival of Phil in VB from High Cross gave confirmation that although a little murky it was perfectly flyable up there, and so the decision was made: as long as it was good enough to see round the circuit at both ends it didn't matter too much what it was like in between, and so we were on!
Bentwaters had given us a 15 minute slot to get all four aircraft in, and so Pete McDonald and I led off in FC at just gone 10:15. Initially routing out to Chelmsford, the viz , whist not brilliant, actually wasn't all that bad, and so from the Chelmsford overhead it was simply a matter of me pointing the aeroplane along the A12 and letting Suffolk come towards us. Pete, as a Proper Commercial Pilot with a Proper Commercial Licence, wasn't terribly impressed by this outmoded means of navigation, and perhaps even less impressed when I pointed out that my back up plan was keeping the Sun aligned with the leading edge of my starboard wing – but then again the Sun's batteries have rarely ever been known to fail….
Despite my antiquated approach to navigating, pretty soon Witham hoved into sight right on schedule, followed by Colchester (ditto) and in due course Ipswich (ditto). Monitoring Safetycom on the run in to Ipswich revealed that whilst our group was on schedule to be at Bentwaters within its slot, some of the next group of aircraft coming up from the south were if anything running ahead of themselves – a good incentive for us to keep the speed up.
Passing Ipswich the viz dropped slightly such that we didn't see Woodbridge until we passed through its centreline at about a two mile range, but then there, slap bang on the nose and in all its sun-bathed glory was Bentwaters!
The runway at Bentwaters has been a little truncated and is no longer the 10,000ft Behemoth it once was, but nonetheless it still offers a very healthy 5,000ft or so. Consequently, entering the circuit downwind to land on 25 (the reciprocal heading) presents quite a healthy little cross-country in its own right, albeit with a spectacular view of all the hardened shelters and associated Cold War architecture on the south side as we went.
A quick chop of the power, and then curving her in (this being an ex-military base, a fighter approach seemed appropriate), and then there we were: wheels kissing the ground as up ahead the marshalls beckoned to guide us in. Personally I always hate marshalling because I'm never expecting it and I never have a clue what the marshalls are trying to tell me to do, but somehow or other we managed to wing it and ended up….errr….parked exactly where we would have parked had we been left to my own devices! Oh well, at least it's nice to get that sort of level of service.
As FC's engine wound down the rest of the group turned up in short order and in best NWFG fly out traditions we all ended up parked together in a nice neat line. US airbases, even decommissioned ones, have a distinctive feel and character all of their own and so we stood for a while in the morning sunshine taking it all in and straining to get tantalising glimpses of the (still off-limits) far side where bits and pieces of retired fighter jets could be seen between the hardened shelters.
As we made our way over to the Cold War Museum we paused by the distinctive base sign for the obligatory group photo, before passing out through the main gates, still manned by volunteers who enter into the spirit of things and dress accordingly (although the Suffolk accents are a bit of a giveaway!).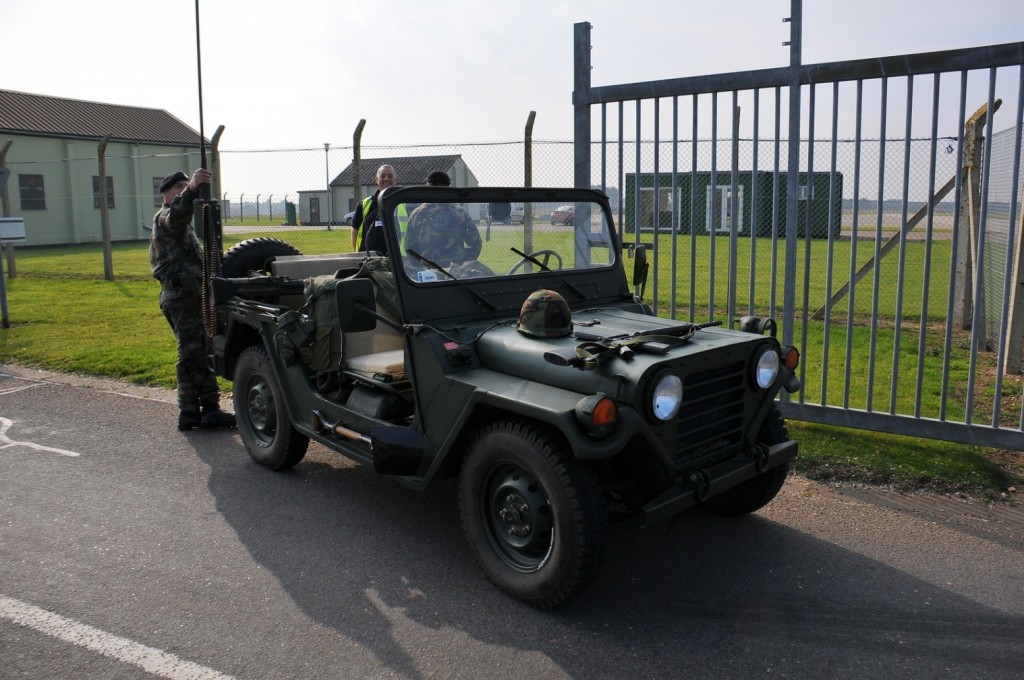 The Cold War Museum is an absolutely first-class experience in its own right and can be visited by road (selected summer Sundays only) even if you are unable to fly in.  Housed in the hardened Command Post, this would have been one of the most secure and critical locations to be found anywhere had the Cold War escalated.  Kept as original, and forming part of the experience, are the airlocks, decontamination shower rooms, and multiple security doors.  And right at the very heart of the building, perfectly preserved and previously only accessible to those with the highest security clearances (Red One for example, no doubt!) is the War Operations Room – staffed on the day by a former USAF operator who gave a very detailed talk about how the room would have been expected to function and the contingency plans for going into battle.
Other rooms in the museum are stuffed full of fascinating exhibits and exhibitions detailing the history of the Cold War – essentially covering the period from the end of the Second World War through to the closure of the bases in 1993: a period of history that has tended to get a little overlooked, but visiting the museum makes you realise just how much of it is woven into your own early memories. Rounding off the trip was a chance for the group to sit through a screening of the now notorious "Duck and Cover": hard not to smile when watching it, but hard too to get way from the fear of genuine danger that existed at the time.
Outside we were able to admire the museum's splendid preserved Phantom and Harrier, as well as grab some refreshments in the small shop-cum-café.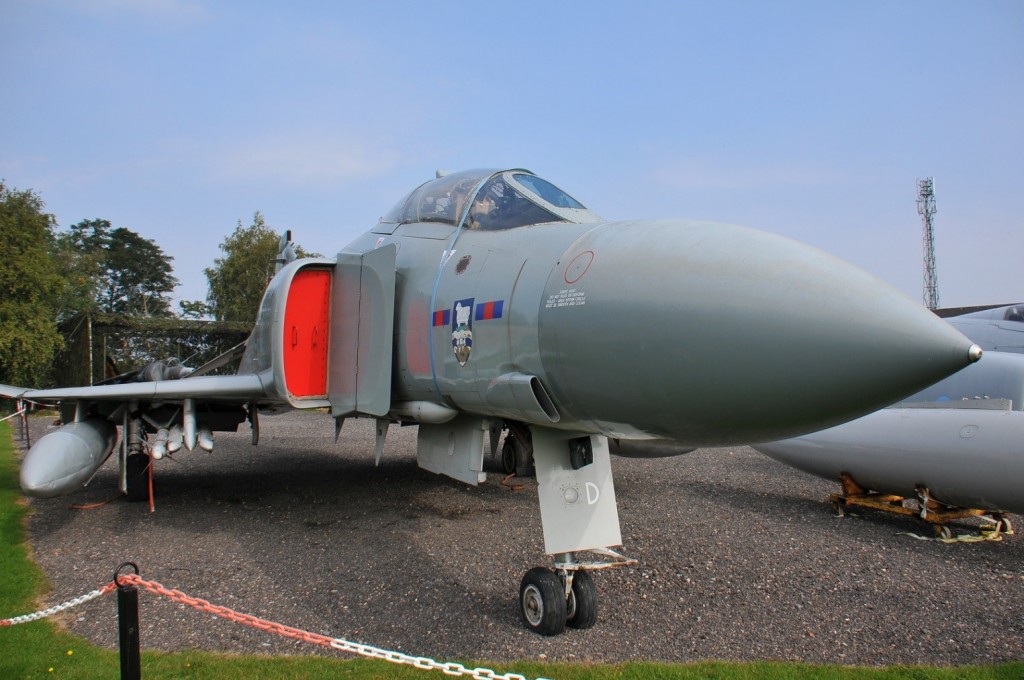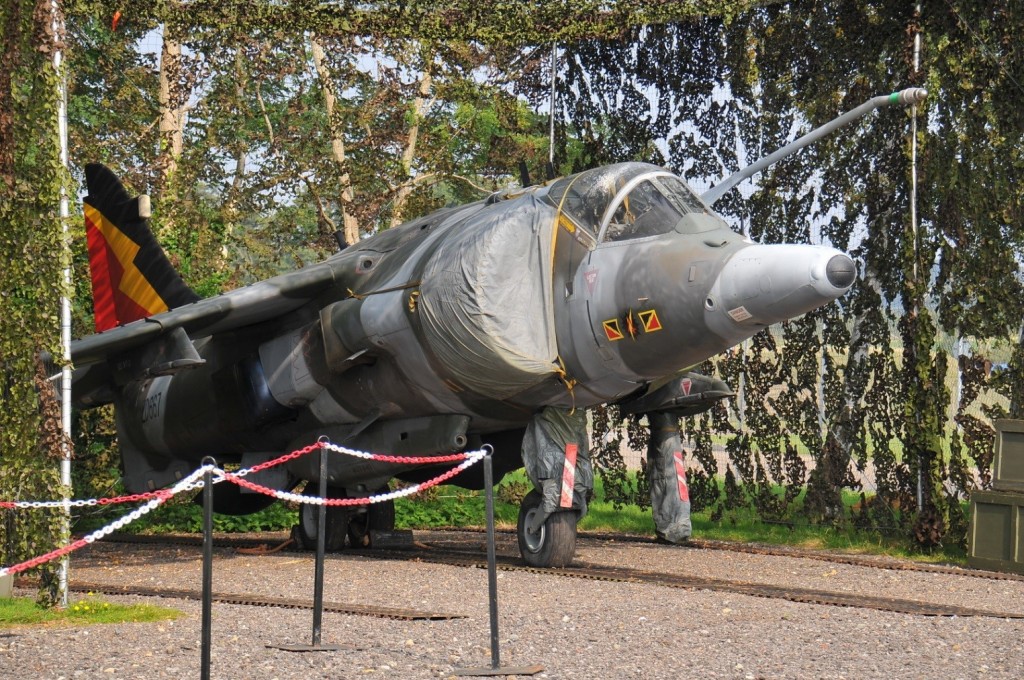 All in all a great day out, and a chance to visit (and get in the logbook) somewhere particularly unique.  Now that Bentwaters has succeeded in obtaining limited permission to host similar events, we can only hope that they are able to expand and develop the theme: a chance to visit the far side of the base would be excellent – as would the opportunity to get some former USAF personnel to once more fire up the BBQ and serve up the burgers and Buds ('Pilots Non-Flying' only, of course…).
My thanks to Erroll Frost from RAF Bentwaters for making the whole day possible, and to the pilots who took part for conducting themselves in an exemplary fashion.craft Shelters etc