13th June 2018
NWFG Fly Out, Elvington – April 2018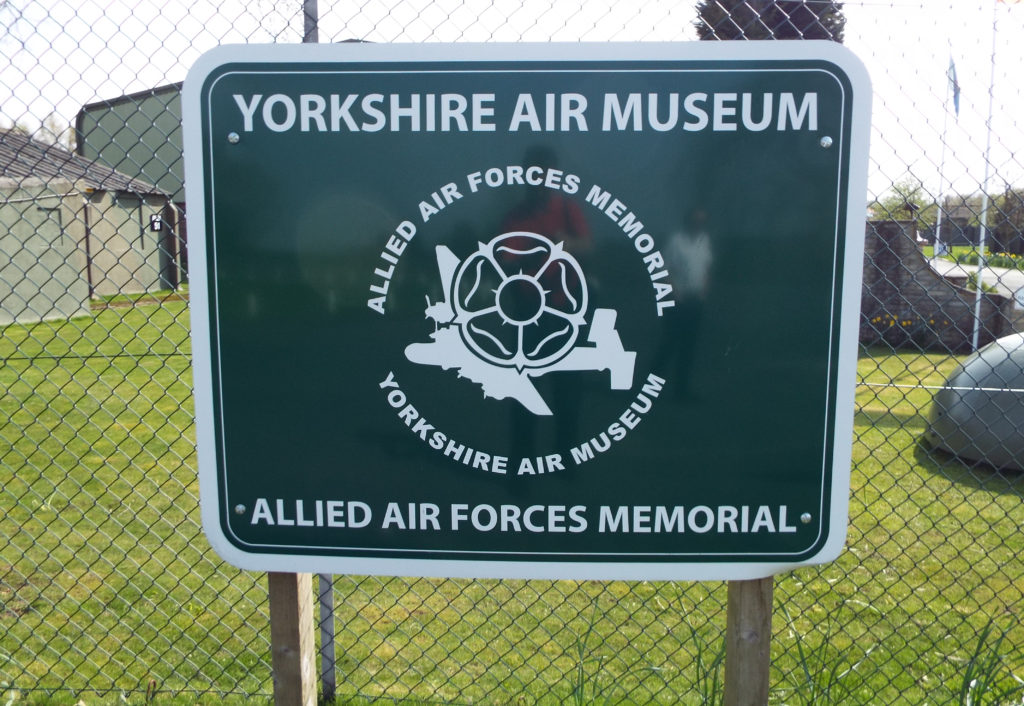 Funny how time marches on. The Group's last visit to Elvington, back in September 2012, marked the first public appearance of the Group's swanky new livery, in the guise of Fox-Charlie resplendent in her new colours. Younger viewers may struggle to believe this, but up until that point, the Group's favoured colour scheme had been various shades of faded – and fading – brown…
Fast forward five-and-a-half years, and not only are all the 172s now smartly painted in Group livery, but this, our first full fly out of the year, would mark the debut of smart new leather interiors for Fox-Tango and Fox-Golf (soon to be rolled out across the rest of the fleet), as well as fresh new engines in both Fox-Tango and NUKA (itself repainted since the 2012 trip). Quite impressive when you think about it, and probably as good a time as any to say a long overdue Thank You to George and Simon for their hard work and commitment behind the scenes to keeping the fleet smart and up-to-date (not forgetting the 8.33 update to all the radios), which ensures that as long as the weather agrees to play ball, all the rest of us ever have to do in order for a fly out to take place is turn up on the day, scoff a bacon sarnie, check the fuel and carry out a pre-flight.
Continuing with this break in the tradition which dictates that 'Thank Yous' are usually saved 'til the end, it's also worth recording a word of thanks to Paul, a.k.a. Red 1, who has been putting together our fly outs for some twelve years now; dreaming up new destinations, coordinating all the permissions, working out the rosters…. and then inevitably more often than not having to bin all that hard work when the TAFs arrive and the whole thing goes to rats. Rumour has it that, along with the Great Wall of China and the Panama Canal, Paul's pile of 'Flights Plogged But Not Undertaken' is one of the few man-made objects that can be seen from outer space.
And on that note, although we usually strive to visit new places on our fly outs, we found ourselves returning to Elvington this year for the simple reason that the planned destination, being a shortish grass strip, was deemed too soft after weeks of heavy rain. Elvington, in addition to being an interesting place to visit in its own right, offered the advantage of a thumping great 3,000m hard runway and an equally huge hard standing (of which more later) on which to park the planes.
Come the day and pilot incapacitation unfortunately ruled out Fox-Sierra, but nonetheless, we were able to assemble a healthy gaggle of six aeroplanes: the two Archers, three 172s, and Gordon and crew in G-GEEP. NUKA's crew were also joined by Alex Kenning who sat in for the trip after his Monsun went 'tech'.
For my part, I was teamed up in Fox-Golf with Peter Howarth – who bravely battled past 'swans on the line' (yes really) in order to get to the airfield via a combination of trains and bicycle rides after some lowlife had helped himself to Peter's car.
With the weather being surprisingly not revolting for once, the crews set about getting ready in the sunshine in preparation for a relaxed departure. There had been some mention of some sort of arrival slot time at Elvington, but whether or not I imagined that I'm still not sure.
The route is pretty simple – more or less straight due north after you've transited the Luton-Stansted gap – and has the advantage, in good weather, of offering virtually 'height unlimited' Class G airspace from north of Cambridge onwards; useful for hopping over the various MATZs etc that would otherwise get in the way, although as it turned out, being a Saturday, most of the military controllers had packed up and gone back to barracks for the weekend.
In Fox-Golf Peter elected to make the most of the good weather and the unlimited airspace and soon settled into a cruise at 6,500ft – marvellous. Despite the general sunniness, north of Peterborough an undercast began to thicken, but we carried on in beautiful conditions checking the (agreeable) METARS for Humberside, and sure enough, north of Scampton the undercast melted away affording us fine views of Scunthorpe (deep joy!) and the Humber, and its famous bridge, up ahead.
At this point, rather than head straight for Elvington, Peter flew a planned dog-leg over to Brough on the north bank of the Humber, where his brother keeps a small sailing boat in the marina, which I was able to snap a photo of for Peter to give to his brother afterwards as we flew past. I don't know why, but even today it always amazes me that you can hop in a plane at North Weald, fly for over an hour, descend from a lofty perch, and navigate yourself to pick out something as small as a sailing boat at the first attempt with pin-point accuracy (and yes I know I'm glossing over slightly all the times where, by comparison, we fly round and round unable to spot somewhere as big as Birmingham…)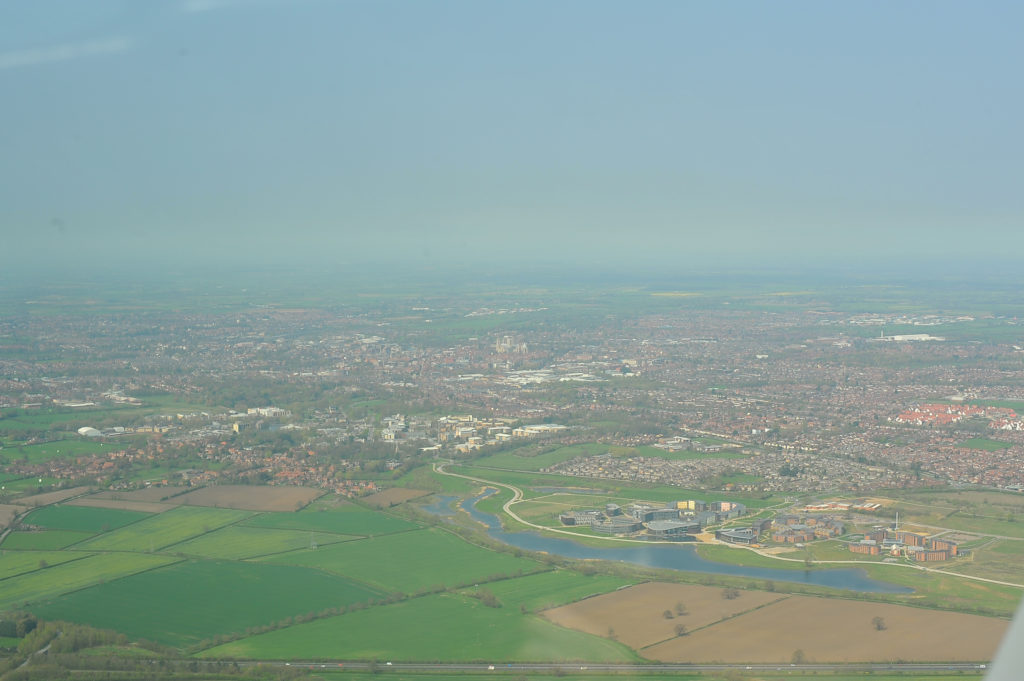 York and the York Minster as viewed from Elvington's circuit
Operation 'Das Boot' over, we then tracked north-west, and in next-to-no-time Elvington, and beyond it the fine city of York, hove into view. A quick Standard Overhead Join followed by a series of left turns soon had us on Final for Runway 26, where Peter pulled off a nice gentle landing. Having just missed the first turn off point we then carried on rolling in search of the next one, and rolled, and rolled, and rolled…. Did I mention that Elvington has a stupidly long runway? Eventually about halfway along we located the second turn off point, and then of course has an equally long taxi back to the hard standing. Being the last to arrive meant that everyone else had already headed off, but having quickly parked up and shut down, the airfield manager was on hand to give us a lift across the 1km of hard standing.
The reason for the huge runway and mind-boggling large hard standing is that in the Fifties the Americans upgraded Elvington to a standby base for the bombers of Strategic Air Command. It must have been a massive (and expensive) civil engineering project, but the facility itself never became operational and just a couple of short years after it was completed the Americans abandoned it.
These days though, Elvington is home to the excellent Yorkshire Air Museum, and this was the reason for our visit.
The museum is home to a splendid collection of aircraft, spanning pretty much the whole history of aviation, but with the accent very much on WWII aircraft and post-war jets. Most notably the museum houses one of only two remaining complete Halifax bombers – 'Friday the 13th' – which honours the Halifax crews based at Elvington during the war. Similarly the museum provides a home to three Blackburn Buccaneers, recognising the fact that much of the type's test flying took place here after the USAF moved out, and the airfield's wartime association with the Free French air forces is recognised by the presence to two Mirages – one of them the huge and very rare Mk. IV nuclear bomber variant.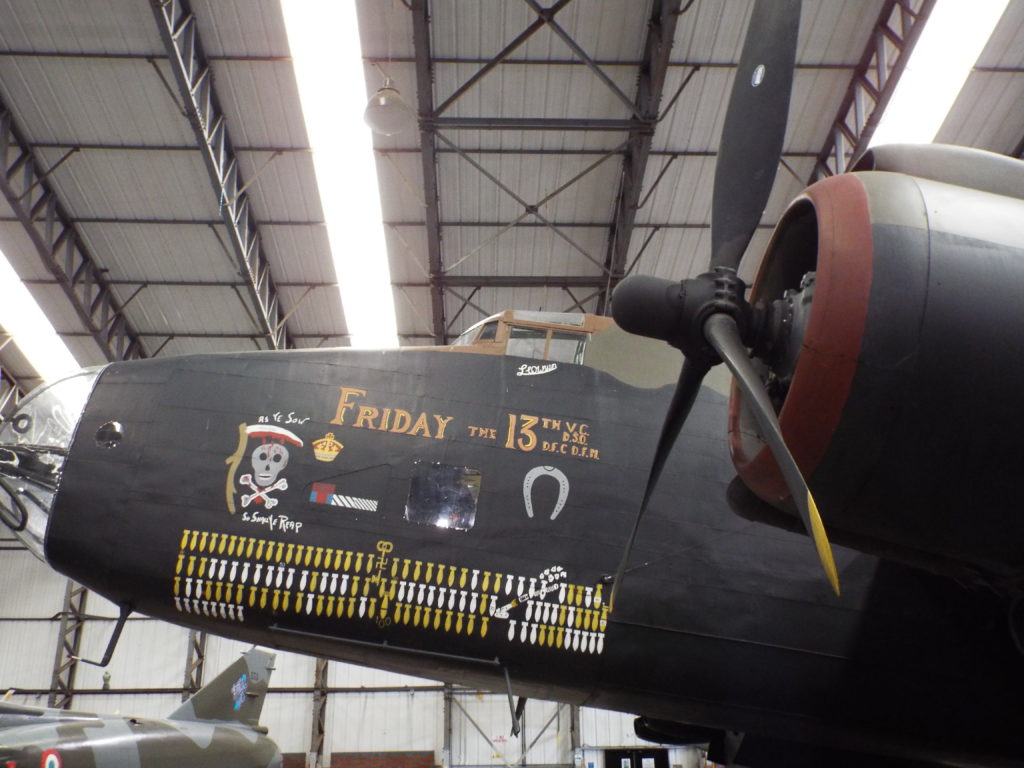 Elvington's Halifax
The museum hosts many interesting indoor exhibits whilst at the same time maintaining a good fleet of aircraft outside, including larger types like the Victor and a Nimrod. And although we were there on a normal museum day, quite a number of the aircraft are kept in 'fast taxiable' condition and every now and then charge off down the runway on the museum's Thunder Days.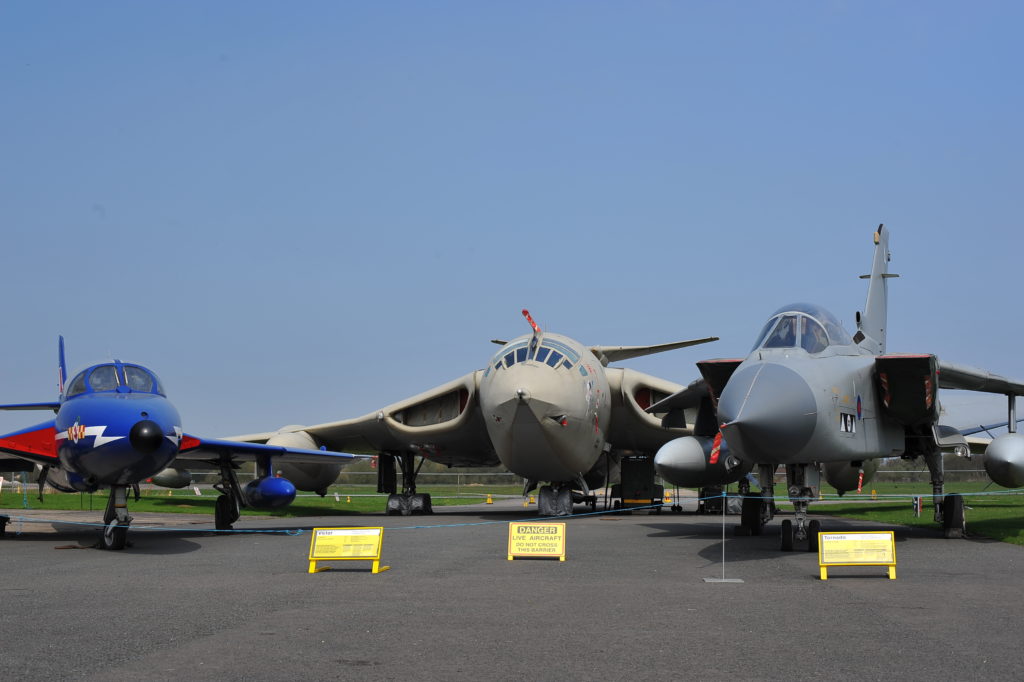 Part of Elvington's Impressive Collection
Having exhibits arranged outside allowed us that rarest of rare privileges on a Fly Out day – strolling around in the sunshine! Heck, I even enjoyed an ice cream! Having said that the enjoyment of the weird sensation of being outside in the sunshine was somewhat tempered by the museum's habit of playing George Formby records over the Tannoy system, which for most of us began to grate after a while – although rumour has it that Malcolm was later spotted in the shop discretely enquiring if he could buy himself a copy of the CD…..
Before finishing on the subject of the museum, it's worth mentioning their café which fed us all with good food at reasonable prices.
In due course it was time to think about heading back, and eschewing the offer of a lift, Peter and I decided to sample the long walk back across the hard standing – which certainly gave a full appreciation of its enormous dimensions.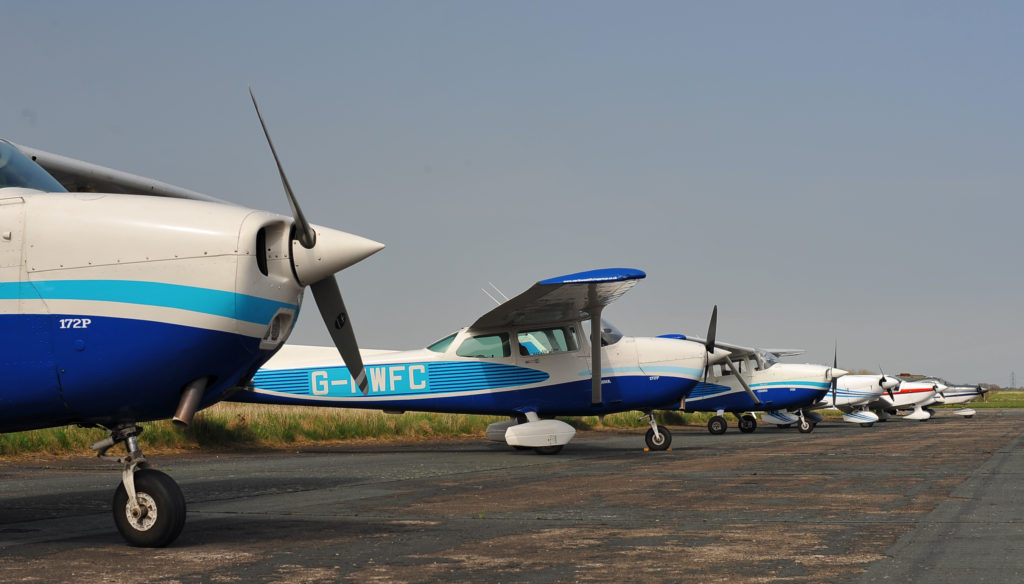 Part of North Weald's Impressive Collection…
Back at Fox-Golf it was time to kick the tyres and light the fires, and then we were off. Knowing from the flight on the way up that Coningsby and Waddington were off air, I elected to take advantage of the good weather and climb to FL095 – which in retrospect was a bit of a pointless exercise as the haze that was building up meant we couldn't see much anyway. In fact the haze quickly turned to murk and cloud – although that did give us the odd experience of flying along at just under 10,000' with a building Cb off to our right with its top already at a level above us! With no one really to talk to I filled the time by requesting a Training Fix on 121.5, and after a short delay the lady on the other end came back to tell us she had us 4nm NW of Sleaford – exactly right, but I was surprised she didn't give us our position relative to more 'pilot familiar' landmarks such as Coningsby (which we were just to the west of) or Cranwell (which we were more or less over the top of). Still, it's a facility that never fails to impress, or reassure. If you haven't used it before, check up on the procedure and then give it a go one day; the controllers welcome the 'live' practice.
One problem with being 'up high' is that it takes a long time and much forward planning in order to get back down a sensible height – in our case the need to be back down below 2,500 for the Luton-Stansted gap. Pointing our nose down as we passed over the top of Peterborough did the trick, and also saw a very satisfying increase in our ground speed – so much so that as we swooped down to shoot the gap we came galloping up with significant overspeed behind a high-wing single. Now overtaking is not something C172 drivers are usually called upon to do, so a quick cockpit conference took place about the correct side to pass (we both vaguely remembered that it's one thing on the ground and another thing in the air!). Fortunately, our grey matter didn't let us down and we scooted down the (correct) right side of our quarry – almost, but not quite, resisting the temptation to go 'dagga, dagga, dagga' as we did so…
Soon we and all the crews were safely back on the ground at North Weald, and planes were safely tucked way in their hangars again (another welcome innovation since the 2012 fly out).
My thanks to all the crews who took part, and to Elvington for accommodating us at short notice. It's good to have got the 2018 fly out season properly underway, and hopefully there will be further good adventures to be had in the months to come.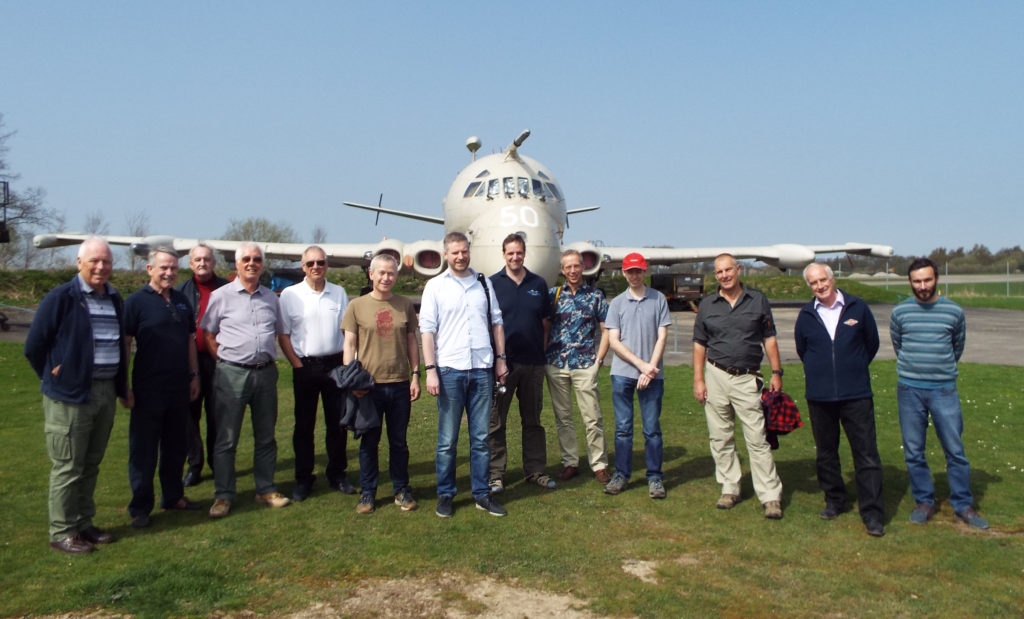 The Elvington Fly Out Crew