18th February 2006
Well it was third time lucky. After a slow start due to a heavy frost, lingering fog patches, and the occasional slow and very low cloud bank, seven club members and three of the planes lept (figuratively speaking) into the air around 12.15. En route, not to Lydd as originally planned but Shipdham just outside Norwich. This being due to the weather along the south coast being less than ideal. The weather was rather claggy on the initial routing out but began to clear as we approached Chelmsford. A climb was required due to several patchy areas of low cloud and as the airspace allowed we progressed upwards.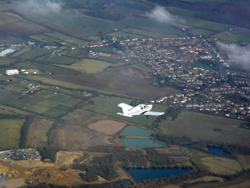 Routing via Ipswich and then up towards Norwich at 4,500ft produced some excellent views towards the Suffolk/Norfolk coasts. Cruise descent in towards Shipdham for an uneventful downwind join for 20. G-AVNS was on the ground first, followed by G-BZWH and then G-BRBH.
A light but incredibly cheap lunch was consumed in the clubhouse which houses a small museum in memory of the 'Flying Eight balls' of the wartime USAF. After which is was back into our mounts for a return around the cloud to North Weald arriving back late afternoon.