13th January 2012
The 2012 Fly Out season took an early first step and got underway on Friday the 13th of January. Fortunately none of our intrepid aviators were superstitious or certainly didn't admit to it. The year started as the last one finished with a successful night sortie. The planned first trip, a night fly to Coventry was scheduled for the 20th January but with the prospect of very good weather I contactedthe night flying members and arranged it a couple of days before. Operation Nighties 2 was underway.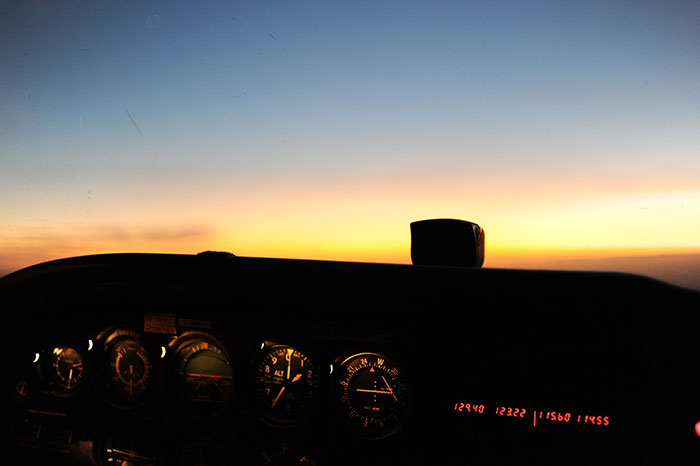 Andrewsfield was again to be the base for our aircraft that evening. As you may have read before these night trips are some what of a logistical nightmare in terms of aircraft and vehicle positioning and this was no different. Once again the participants willingness to help out and being very flexible with the numerous movements helps in the planning and implementation enormously.
Unfortunately the TAFs were showing lowering viz with early evening mist appearing followed by fog. That made it a bit chancy to go as far as Coventry which would have meant a return around 20.30 or later, just when the mist was supposed to be down to 3000m. The alternative was to go somewhere closer and make it a shorter evening. The difficulty is always finding an airfield that is open to a reasonable time and isn't horribly expensive. Lydd fitted the bill last time so it was a case of finding another stop where at least we could get a coffee. Biggin Hill, which we have not visited on any of the previous fly outs was a sensible distance and offered a good big airport feel which is always a bonus when night flying.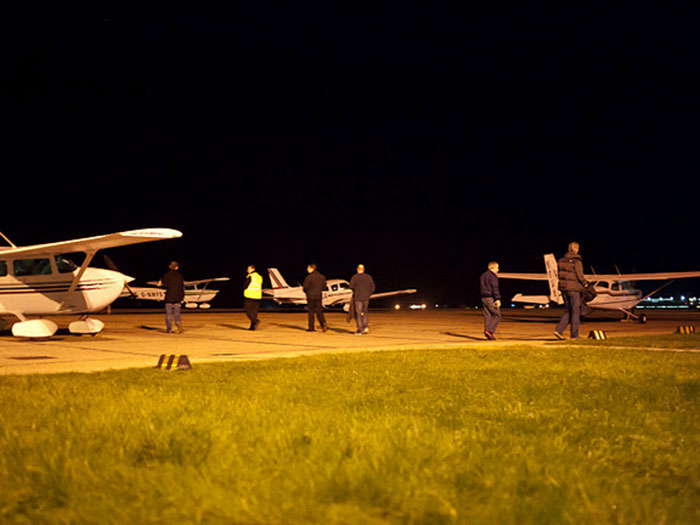 So it was to be despite nearly a £30 landing fee which is a pity as I'm sure more GA visitors would go if it was a cheaper. Four NWFG aircraft were taking part, myself and Robbie Meek on not only his first group outing but also his first night fly since completing his night rating were flying FS. Stewart Braddon and Kieran Hardiman took NUKA with Simon Pimblet and Malcolm Jarvis crewing up FC. Finally Jonathan Senior and Vrai Stacey were in MM. Due to the logistics all of the aircraft apart from FC with Simon and Malcolm headed off for Andrewsfield, departing just before 'night' and North Weald closing. The setting sun was a stunning backdrop as we headed around the Stansted zone.
With all the remaining crews now together we departed for Biggin in the darkness with a simple routing down past Chelmsford to Gravesend and then more or less direct to Biggin Hill. The air was calm, the stars were out and the viz was just brilliant as we cruised serenely south towards the Thames, only the occasional light on a ship or boat interrupting the total blackness of the river itself. The QE2 bridge with Canary Wharf as a back drop made a great view. In what seemed no time we were calling Biggin Approach and getting our joining instructions for runway 03. I could hear that NUKA and MM were being put into orbits on the downwind leg due to departing and arriving IFR traffic so we in FS slowed down to avoid getting caught up in the jam.
The circuit and approach gave a great view through the windscreen and with the bigger airport approach lighting makes it feel that bit more special to fly at night. Robbie pulled off an absolute greaser of a landing for his first night land away and we vacated the runway to pick our way around the unfamiliar blue taxiway lights to the main apron where we were marshaled onto our stand amongst the biz jets. This is the service you pay for I suppose and all in all for a 'special' visit it made it worthwhile.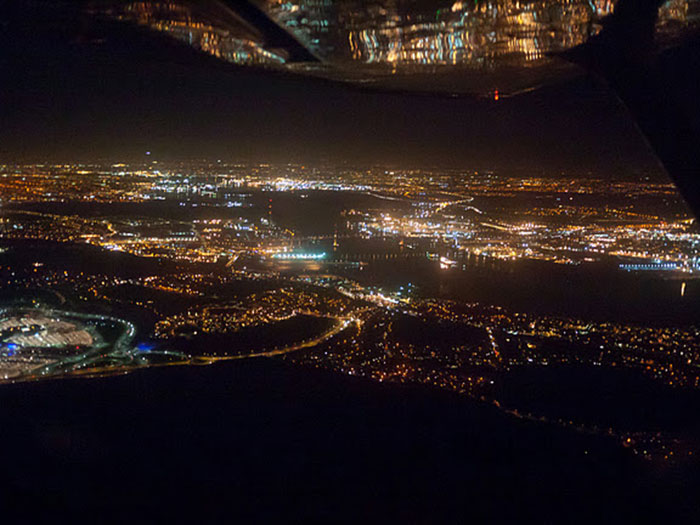 We regrouped in the waiting/cafe area for the usual group chin wag. The unbelievably long wait to get coffees made caused us to stay a lot longer than planned and made me slightly concerned about the weather on the way back. However taxing out and after receiving our departure clearance climbing back into the night air once again those concerns were soon dismissed. If anything it was even clearer. We had planned to route down the Thames, through the Southend overhead and then direct to Andrewsfield and with the clear air this presented us with some great views. From a very misty forecast we could now actually see Clacton whilst we were passing Tilbury!
Routing into Andrews field was simplicity itself, the runway looking very short in the blackness after Biggin Hills. We were soon all safely on the ground and putting the aircraft to bed by torchlight, in the by now rather bitter and already slightly frosty conditions, whilst bemoaning the forecast and how we could have comfortably made it to Coventry.