16th May 2014
Our latest group adventure took place on Friday the 16th and Saturday the 17th May. The historic City of Amiens in the Picardy district of France was to be our destination with an overnight stay planned for our 23 members and friends who were taking part. Needless to say all of the six NWFG aircraft were being utilised and these were being joined by the PA28 'VB', Gordon Horscraft and team in the 'GEEP' and a new comer, Simon James's Cirrus 'ZZDG'. With a huge amount of help from Malcolm Jarvis and his French based friend Ann all the ground work at Amiens had been done well in advance of our visit. Amiens had also managed to arrange for Customs to be notified of our arrival so that we could avoid the usual outbound customs stop at Calais or Le Touquet and fly direct to Amiens Glisey (LFAY).
Once again on a fly out amazingly the forecast looked very good and even more amazingly it actually was. A nice bright day as the crews gathered at the Squadron for the prep and final planning. The online filing of flight plans with the likes of Sky Demon and Rocket Route as well as the online submission of the GAR form has taken a lot of the last minute flurry out of our trips and made Alan and Lee's jobs in the office a lot easier on our cross channel fly out dates. Being the old dinosaur that I am I wandered down the corridor with my paper copies in hand to pass over to Lee Harris for filing on his magic lantern machine. 
The first half an hour was the usual hub of activity as the aircraft were checked and fuelled with rafts, overnight bags being stowed, charts, plates and GPS units being positioned and the crews donning their lifejackets for the sea crossing. The main reason we were unusually departing on a Friday is that Amiens usually have English on the radio during the published hours but only Mon-Fri. Surprisingly it goes to blind calls which are obviously only in French for the weekend. I was pretty sure we could all get out safely on the Saturday with our French calls crib sheet but I wasn't terribly enamoured at the thought of our nine aircraft all racking up at what could be a busy airfield with possible gliding taking place and trying to converse in French. We have had previous experience in murdering the French language on our St Omer trip but that was really quiet and I think we got away with it! Unfortunately the day before Malcolm had received a message to say that English would not be available from the tower so it was going to have to be French, but they would probably be at lunch for the usual two hours by the time we arrived. A cunning plan was hatched and Simon P and Malcolm who were flying our C150 'FA' set off well ahead of us armed with a transceiver. The plan being for them to be on the ground for the rest of the groups arrival and be able to pass the basic airfield info, particularly the runway in use as the wind was forecast very light and either runway could be in use and wandering around overhead trying to look for a windsock when there could be gliders operating probably wasn't a good option.

With FA ahead by about 30 minutes the rest of us mounted up and engines began bursting into life. A stream of aircraft headed out to A2 for a 20 departure and soon our mini Squadron was getting airborne and turning left towards Ongar and then on towards the Thames. The route was the pretty well trodden one, out towards Canvey, cross the Thames and over Kent towards the DVR VOR. The sky was clear and blue with great visibility and only a few fluffy cumulus. It was silky smooth and with the power set and perfectly trimmed we just cruised along with hands off almost like on autopilot. A real day to enjoy being above the earthbound mortals. Southend Radar was our first call and then as we crossed the Isle of Sheppy where we would normally go to Manston Radar for the leg across Kent and the first half of the crossing we lamented on the fact that they had just closed, possibly forever and left a big hole in the LARS coverage as well as another excellent and famous airfield being lost to the developers bulldozers. London Information on 124.6 it was to be and as usual they were very efficient but also very busy given their wide coverage. Dover harbour approached and we reported coasting out with our next point being the Boulogne VOR BNE, the French coast and Cap Gris-Nez already clearly visible on the horizon. London Info was clearly keeping a watchful eye, and as I reached for the PTT button to report mid channel the operator called us to change to Lille Info on 120.275.
With a hearty bonjour to Lille and contact established and now wearing a Lille squawk we continued across the coast into France and tracked towards BNE. From there it was a straight line to Amiens with no real airspace issues to worry about at our operating heights. As we progressed inland it was still very bright but a haze was starting to develop and at around 2300ft we found ourselves bouncing around on quite a deep inversion layer. After a call to Lille we climbed to 3500ft which got us nicely into the clear air but made the forward viz looking down a bit murky. However looking directly below we were treated to the lovely views of tree lined empty roads, stunning patchwork fields and pretty villages that typifies rural France. A bit of cloud popped up but wasn't really an issue as we started a gentle cruise descent towards Amiens. The Lille controller was probably getting a bit fed up repeating the same message when telling each of our aircraft individually to change to the Amiens frequency. 'Squawk 7000, call Amiens 123.4. All calls to be made in French only'. We had the message. With the city in sight it was easy to pick out the airfield or at least where it should be and as we changed frequency we heard the comforting voice of Simon P on the radio giving our aircraft the runway as 12 with a left hand circuit and currently no other aircraft around.

With our best attempts at French drifting through the airways we positioned for a left hand downwind join for the 1300 meter hard runway 12 which gave a great view of the city as we turned base. To avoid backtracking the main runway meant getting the aircraft down within the first 300 meters which given the reasonably stiff crosswind wasn't that easy. Several of us made it, those that didn't had to carry out a swift 180 to clear the runway for the other arrivals. With all safely in and with Malcolm J doing a grand job acting as marshaller we parked our aircraft in two nice tidy lines on the apron opposite the tower exactly as requested in our advance communications with the airfield. With aircraft unloaded of overnight bags, chocked and settled down for the overnight stay we started to head towards the exit only to be met by a rather excitable lady who had clearly emerged from the two hour lunch break like a bear with a sore head. With lots of stomping around, gesticulations and a raised voice my French for Dummies translation book was telling me that the instruction was clearly that the whole front row needed to be pushed right back to almost touching those behind. Quite why wasn't really clear as there was plenty of room for aircraft to pass. The easiest thing to do was just comply to avoid coming back and possibly finding the aircraft clamped in the morning. With some pushing and shoving we got it sorted only to see another rather scary woman approaching and taking the registrations. Any attempt at conversation was greeted with 'French only' as she to stomped back to the tower. Oh well, unusually not the warmest of welcomes and certainly a bit of a bubble burster for all my musing of how nice it is to fly in France, with the other exception of Nantes of course, but that's in a previous write up. Still with just 12 euros for landing and parking perhaps one can't expect a red carpet.
To avoid a long wait for a lot of cabs coming out for our large numbers and fearing our welcoming party may get them to go in the wrong direction or to an interment camp for wayward aviators we decided to try and take a bus into the city centre. Stewart B had done a bit of homework and we should have been able to get one at three minutes past the hour from the main road at the gate to the airfield. Well that wasn't totally correct and we ended up like a trail of refugees strung out along a dusty main road trying to reach the nearby shopping centre where the bus stop actually was. After a lot of faffing and Stewart accosting several bus drivers to ensure we had the right one we all piled aboard a bendy bus for the 2 euro 30minute ride into the city centre.
With everyone checked in to our very satisfactory IBIS Styles, with the exception of James Chan that is who had found himself his usual much cheaper flea pit, or as we are now suspecting a sleeping bag in a doorway somewhere, we headed off in small groups to explore the city. Amiens is of course dominated by a huge Cathedral and the river Somme both of which was only a couple of blocks from our hotel so these were the first stops. Although there are small parts of the old city remaining Amiens has suffered so much damage during both World Wars that many of the buildings are relatively new. One of the places well worth a visit especially at the time of year we were there is the Hortillonnages. This is a 300 hectares area of plots of land surrounded by a maze of canals fed by the Somme and just on the edge of the city centre. Many of these plots have small houses on them which are only accessible by flat bottomed boat. Most of the gardens are beautifully kept and our 45 minute boat tour in the sunshine looking at the diverse horticultural offerings together with a myriad of wildlife was a very pleasant way to spend the afternoon.

Dinner that evening was taken outside at the Le Quai restaurant in the old part of town right on the bank of the river. A excellent spot for a warm evening. Having done very well on our last few trips for a group dinner our expectations were high. It's always a chance and sometimes difficult to find a restaurant for 23 hungry aviators at short notice but the setting was great and the tables very nicely presented. Unfortunately the food didn't measure up to our expectations. Acceptable but memorable for the wrong reasons. However a very pleasant evening spent in the company of the whole group.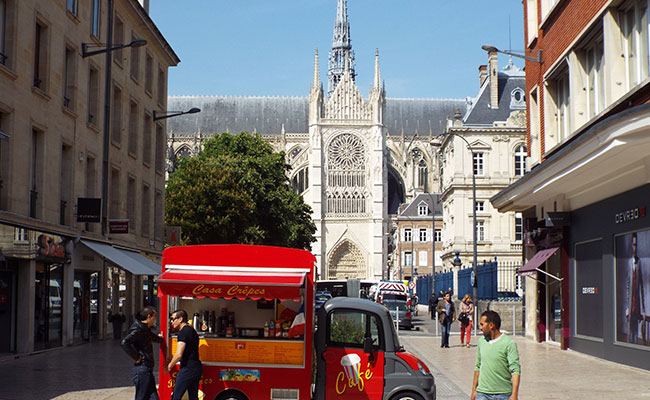 The following morning there was time for a decent wander around some of the city including a couple of colourful markets near the river before heading back by cab this time to the airfield. Strangely the tower is unmanned on both Saturdays and Sundays so it was a case of getting ready and going. Once again blind calls were to be made in French but this time it was a lot busier, it all worked out fine especially with a couple of helpful calls in English by a couple of the French pilots. We needed to call in at Calais on the way back for the customs ritual and planned to take advantage of a little lunch before returning to North Weald, so we set a NE course in turn for the 50 minute or so journey. The routing took us close to the edge of Amiens and on the main road to Albert we spotted the prison of 'Operation Jericho' fame where on the 18th Feb 1944 19 RNZAF, RAAF and RAF Mosquito's had precision bombed the walls of the prison in a successful attack aimed at releasing members of the French Resistance being held prisoner there and quite likely facing execution. The Mosquitos had taken off from RAF Hunston which is now the microlight airfield off the A414 north west of Harlow and it was easy to imagine them commencing their incredibly low attack passes in the very poor weather that day as we drifted by. The actual attack is surrounded in controversy but the skill and bravery of the pilots and navigators involved really can't be disputed. More can be read on the link below and there is a lot more info out there if you are interested. http://www.raf.mod.uk/history/bombercommandattackonamiensprison18thfebruary1944.cfm
Back to our thankfully undramatic and peaceful flight we headed back towards and made contact with a very uncharacteristically busy Calais tower. Some of the guys arriving earlier had to orbit at the various reporting points south of Calais, something that I had never experienced before. On final we could see why, the apron was full of aircraft and on taxing onto the very congested apron I counted 26 other aircraft, certainly the most I had ever seen there. Having had our passports checked by two French Customs guys we discovered in the terminal that Calais had been offering free landing fees all week to UK aircraft as part of a campaign to stop the customs facility being withdrawn. It had certainly attracted a lot on that day and had apparently being doing so all week. It's great to see that some airfields recognise that giving an incentive with some free or very reasonable landing fees to encourage GA in actually works and increases business for the café, fuel and all things aviation related, which is why it's particularly annoying when I hear that places like Shoreham now charge £34 for a C172. Why get ripped off when there are other just as nice places to go to? Sorry I start to digress into my usual rant on these subjects. That said the downside for us was that the restaurant was absolutely heaving with the staff run off their feet. Sadly after only managing just one drink and no food after waiting an hour we gave up and headed back to North Weald and left most of the others to enjoy their meals. Can't complain, lets hope that it helps with retaining Customs at a very straightforward, cheap and easy airfield so that we can make our stops there in future before disappearing into Europe. 
The run back to North Weald was simplicity itself in the continuing good weather. The familiar sight and ever impressive White Cliffs followed by the rolling fields of the Garden of England stretched out ahead of us. That tranquil picturesque view was soon shattered as the Thames and the Coryton refinery came into view and we knew we were nearly home. With us all eventually back onto R20 and with the aircraft nicely tied on their stands another very successful fly out had reached it's conclusion. Another new destination with good company and some great weather.