6th October 2007
Well, the North Weald Flying Group continues to gain cross water experience (I can't say ocean yet) with our latest adventure to Mitten Zeeland (EHMZ) in Holland. This followed closely on the heels of the very successful Guernsey and Ireland trips. Once again the weather, which has been extremely changeable this summer to say the least was kind to us on the day. The TAFS were showing a rapidly improving situation from the forecast early morning mist and fog. For those of us taking the more direct route, North Weald airfield to DVR (Dover) VOR and then direct to the COA (Costa) VOR well east of Ostend it meant a sea crossing of some 76 nm. We had a good mix on this one with our own John Strong joining us in his other mount, a very nice Diamond DA40 tdi G-ZANY otherwise known as 'the sledge' after a fuel starvation problem caused it to be forced landed in a field. John was joined by his buddies Gary and Keith. The HFC was also represented by Shane Hopping and company in their C172 G-BXXK. From the North Weald Flying Group we had Paul Bazire and Kieran Hardiman in G-NS, Paul Weeks with Paul Hutson in G-RB, Stefan Atrill took G-KK with Joe Keeton and wife Twyla on their first fly out day. Braving the autumn elements were Julian Mitchell and Alex Kenning in the trusty Koblenz raid veteran C150 G-BH.
With all that water to cross it was the ideal first outing for the new life rafts and GPS equipped emergency PLBs which are now available to hire from 'Flight Hire' run by Paul Weeks and Paul Bazire. All the flight plans and gen decs had been filed and with the usual organised chaos of the participants numerous maps, plogs, pens and rulers stowed it was all out to our aircraft for a 10.00 local off.
G-NS was first off from North Weald with a right climbing turn out from R02 into a rather typical autumn morning with a mix of scattered to broken cloud between 1,500ft and 2,000ft and visibility in the 6-7 km range. Not looking promising for a sea crossing in these conditions. The other North Weald Flying Group aircraft followed, craftily slightly afterwards so that they could hear us calling on the radio first. The visibility was very changeable and I was half expecting to hear a couple of the others turning back, but as we tracked out towards the Thames estuary a few glimpses of sunshine began to poke through the gloom. As the airspace allowed we began to climb and got on top of the broken muck that was below us into a beautiful clear blue sky. Continuing towards DVR we could see the Channel laid out ahead of us, the waves glinting in the bright autumn sunshine without a cloud in sight.
Reporting coasting out to London Information we began our long sea leg towards the Brussels FIR boundary which is also the start of Ostends TMA Class C airspace which requires a clearance to cross. There are also two danger areas just east of Ostend that again need to be transited to keep a direct routing to COA. With the engine well leaned and cruising at 4,000ft against a 25 kt headwind we could hear the others coasting out behind us.
So far so good. At ten miles from the boundary we changed to Ostend App and requested clearance. The controller was extremely efficient and friendly and cleared us direct to Costa at 4,000ft (although we did hear him later b*****king an unfortunate Cessna pilot who had changed altitude without permission)
Passing the expanse of Zeebrugge harbour we reached COA where we were handed off to 'Dutch Military'. From there we could see Zeeland stretched out in front of us and began a cruise descent towards the island. It's important to study the website photos of the area as the approach to R09 is offset (Pophamish) to avoid a campsite and there is intense glider and parachuting activity at the airfield so no overhead joins. A call to Mitten Zeeland radio got the response 'G-NS roger, 09' and that's it, don't expect any more. Routing well to the north of the airfield to position for a downwind join took us over some lovely villages and an incredible number of people sailing dingies on the wide calm waters. A smooth touchdown at the markers for the displaced threshold on the wide (slightly damp) grass runway had us taxing for fuel before parking up opposite the restaurant to watch the others arrive.
With everyone in safely and with the 18 euro landing fee paid we retired to the restaurants patio area to enjoy our lunch in the bright sunshine. Very nice and reasonably priced it was too, if a little slow on the service side. I think I will have to take a dictionary next time as the menu is only in Dutch. We are still debating whether the 'Slagroom' is a local delicacy or an extra service!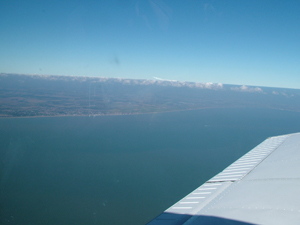 John Strong and crew headed off into town by cab to explore whilst the rest of us enjoyed the usual banter and chat. With thirsty pilots and aircraft refreshed it was time once again to take to the air. Leaving in a well spread line we returned by the same routes taking in excellent views of the cross channel shipping. Ostend approach were again very accommodating although it was the usual 15 minute weekend wait to try and speak to London Info as we crossed the boundary. Kent was still covered in cloud which then became rather darker and lower as we crossed the river and tracked back towards North Weald airfield.
Once again all back safe and sound, it does appear that KKs exhaust broke somewhere on the return leg, although the crew were unaware of it and it didn't present them with a problem. Another very successful day for the North Weald Flying Group, as always plenty of good company who are up for a bit of a challenge, another 'country' ticked off and a very pretty and welcoming airfield that will definitely be on my personal list to return sometime soon with a bit more time to explore.
A big thank you to all the North Weald Flying Group participants who made it a very enjoyable day as always and to our friends at the HFC for joining us once again.