24th May 2012
A long weekend from Thursday the 24th of May to Sunday the 27th of May was planned as a little birthday celebration trip for our long standing member Phil (Fish) Baggins Fellows, aka Red 2, who as having reached the old age of 50 thought it would be a 'grand' idea to take a couple of aircraft down into deepest France. Phil has a particular weakness (well one of many) for Champagne, which as many women have found does not make him a cheap date! The point being that the highlight of the trip, well when not flying of course, would be to visit at least one of the Champagne Houses in Reims to see how this tipple is produced. And so it came to pass…………………..
Phil and I with my wife Lin were flying in 'VB' and we were to be joined by Jonathan Senior and Malcolm Jarvis in 'FS' with the Robin G-GEEP carrying Gordon and Joanne Horscraft and Chris and Pam Stratford. Axel Waldecker and John Reynolds were due to join us on the Saturday flying the loan C172 CFMM down to meet us in Reims. Despite trying to be optimistic and gathering at 'The Squadron' on the Thursday morning it was clear that we were going to be delayed by the weather. Clear sky but with the viz down to 3-5k in haze, fog over the Channel and north French coast we sat it out for an hour or so before deciding that the best option was to cancel for the day and reconvene on Friday when the forecast was very much better. So it proved………..
Day 1 With a planned getaway at 09.30 we had tried to gather early to pack up the aircraft but a serious accident on the M25 had gridlocked the surrounding roads. That had made not only all of our group late arriving but the runway hadn't been inspected and there was nobody to man the tower. This put us around an hour late, although after the usual faff we were finally ready after the GEEP's crew off loaded some luggage into 'FS' to lighten their load.  Our first stop was to be Rouen for Customs before flying down through central France to Nevers for lunch. Our planned Thursday night stop was to have been Tours, but with that cancelled the idea was to pick up the original route of the second day from Nevers. Once again the cancellable rate at the IBIS Hotel in Tours saving the whole group a fair bit of cash! Bright blue sky and clear air beckoned. Flight Plans were in and Gen Decs done so it was time to don the lifejackets and mount up. What a contrast to the previous day, The sky was clear, the air smooth and amazingly the sun was generating a bit of warmth as we cruised over Essex and Kent supposedly locked in drought when all we could see were huge swaths of water from full rivers and lakes. We were routing down towards LYD where we would coast out direct to KUNAV at the FIR boundary and then onto DPE the Dieppe VOR. That route is a fair time over the water and the GEEPs crew decided to take the shorter over water route towards Boulogne. From London Info we changed to Paris North as we approached the FIR boundary and as we went further south the viz improved even more. At 6000ft over the Channel we could see the French Coast from 30 miles out. Coasting in over the port of Dieppe we then had a short 30nm inland run to Rouen. A listen to the ATIS and then a change from Paris Info to Rouen Approach as we approached their airspace had us commencing a cruise descent for a downwind left hand join for R04 giving a great view of the City and the River Seine on our right hand side. We had slipped well ahead of the GEEP with our shorter crossing and could hear them approaching from the east as we turned final towards the 1700m concrete runway. Rouen was of course familiar after our very successful fly out weekend in Oct 2011. 1 hour 50 mins after leaving NW we were on the pumps to take on enough fuel for the next two legs and then into the large modern, but very quite terminal to pay the 12 euros landing fee.  As with all things in aviation and the delay at the start we were now behind schedule and after 'FS' arrived decided it was best to have lunch at Rouen. The very nice restaurant with a huge window overlooking the airfield was open and we all enjoyed a very pleasant and reasonably priced lunch whilst looking out at our aircraft sitting on the apron in the bright sunshine. Needless to say that took a bit longer than envisaged as well! As I said on the previous write up for Rouen this is a great place to visit and is an ideal stepping stone to move on from the usual cross channel trips of Le Touquet and Calais. The next leg was to take us south towards Chartres, routing around Paris to the east of Orleans before taking a SSE course along the Loire towards the beautifully named Nevers Fourchamboult in the Burgundy region, a leg of some 160nm. Just south of Rouen is the large French Air Force (Armée de l'Air) base of Evraux and to avoid their airspace would have meant quite a dog leg. Departing Rouen we headed towards the EVX VOR right on the airbase and requested an early change of frequency to Evraux approach to try and obtain a clearance through their overhead. The military controller seemed slightly surprised by three G reg aircraft appearing at once but was more than accommodating in allowing us all through the overhead at 3000ft as long as we didn't mind the military C160 Transall Transports in the circuit below. No we didn't mind and had a great view as we routed through.
Clearing the airspace it was over to Seine info for really the whole remaining leg to Nevers. There was quite a headwind and to save some time we managed to get a short cut through Orleans airspace before picking up the very long, wide and meandering Loire with it's picturesque towns, villages and Chateux's nestling around valleys and rocky outcrops. There was hardly a cloud to be seen but it was rather bumpy around an inversion layer at about 3500-4000ft. The others stayed below but we climbed up into the smoother air above, just sitting back and taking in the great view from 6000ft with the mixture leaned so far back it was almost at fuel cut off. Nice and economical though. Our next big swath of airspace to negotiate was that around the large Avord Airforce base which also has a multitude of Restricted Areas up to differing heights. This is home to the Arm'ee de L'Air E3 AWACs. Apparently as well as being a store for some 60 Air-Sol Moyenne Portée Nuclear air to ground stand off missiles it also has Mirage 2000N delivery aircraft on a rotating readiness basis as part of the French Nuclear deterrent so we thought that it may be a little more tricky to negotiate. One of the joys of flying in France is generally how easy it is, calling up Seine Info for a change to Avord approach for a direct transit to Nevers proved this once again with the answer, 'No problem, stay with me, Avord is shut, cleared to transit direct, height at your discretion report changing' That was all splendid then and we entered the airspace with a Seine squawk and continued our cruise towards Nevers. With the headwind we had experienced by the time we were positioning for a straight in for a long final for R12 at Nevers it was close on two hours flying. A great views as we approached over the buildings to land on their 1600m runway.  Nevers is yet another great French small airport, lots of space, beautifully kept with a lovely art deco terminal building with the tower on top, rather like Shoreham but very much quieter. It would have been nice to have had a chance to visit the town which has a very interesting history going back to Roman times. Unfortunately we only had time for a coffee stop, which I'm ashamed to say had to be taken in the local MacDonald's as the airport cafe was shut. However in negotiating the two busy main roads including a dual carriageway to get there I was stunned to find drivers actually voluntarily stopping to allow us all to cross. Fearing an ambush by a rogue Renault or a man eating Citroen we crossed pretty quickly and kept our eyes on the drivers, but there was not even the sound of a horn from other cars stopping behind. Very odd and most un French behaviour as anyone who has sampled Paris or other major cities will testify.
Suitably refreshed it was back to the aircraft for the last leg of the day. We couldn't hang about too long as our next stop was Dijon Longvic which closed at 19.00 local and we had around another hour and 15 minutes flying to get there. Climbing out across the town we turned left for more or less a straight line towards Dijon. This took us over some beautiful unspoilt countryside with only small hamlets and farmhouses below. Some 30 miles out of Nevers the ground starts to rise quite steeply with various points over 2600ft above sea level. Again the sky was clear with only very distant towering cumulus building up in the afternoon heat well to our south. Routing over the sparsely populated high ground of forests, lakes and deserted meandering roads was a true flying pleasure and all too quickly over as we could see the expanse of the city of Dijon basking in the sunshine below the last ridges of high ground.
A call to Dijon approach had us positioning for a left base join for R01 with a request to report the field in sight.
Given that this is a large Airforce base with two runways one of 2400m and the other 1800m together with a whole myriad of hardened aircraft shelters and assorted support buildings that wasn't as easy as it sounded. It was only that we could work out where it was(or should be) in relation to towns, roads and canals that we could confidently position. Expecting to take the first exit left after landing we touched down on the numbers only to be told to taxi all the way to the end which was rather uncomfortable with the afternoon sun beating through the windows. It was quite a long taxi to the civil terminal and we lined up at the pumps behind the GEEP to refresh our now thirsty aircraft to save some time in the morning. FS arrived some 10 minutes later and the staff were very helpful given it was now about 5 minutes to closing time and called us some cabs to take us into the City. A total of 5 hours great flying over the three legs that day, Arriving at the IBIS hotel just on the edge of the City Centre it was time for a freshen up and a very well deserved beer. That evening was spent strolling through the old streets of the City behind the Cathedral in the warm evening air and finding a place for the group to eat al fresco. A suitable place was found on the bustling beautifully lit Liberation Square. Sadly not the most memorable meal but pleasant enough and a great opportunity to recount the days highlights with our fellow travellers. After another 10 minute stroll back through the narrow streets it was time for us to collapse into bed back at the hotel for a well deserved rest. Most of us anyway, certain members who weren't flying the leg the next day were later seen quietly disappearing back into the night air like a scene from Twilight.
Day 2 The plan was for a leisurely breakfast before heading off to explore Dijon and then regrouping around midday to take cabs back to the airport. Exploring the old town with it's wooden beamed buildings it was clear that the city has retained varied architectural styles. Many occupied town houses in the city's central district date from the 18th century and earlier and many have tiled roofs of glazed terracotta in amazing patterns of green, yellow and black. All too soon it was time to wind our way back through the flag draped main street to meet the others at the hotel. Needless to say there was a delay in getting enough cabs to take all of us back to the airport and when we did arrive it took a little while to sort out the three lots of fuel and landing fees. With confirmation that Axel Waldecker and John Reynolds were on their way in the C172 G-CFMM to Reims via Abbeville to meet us we loaded up our aircraft once again. The next leg to Reims Prunay was to be around 1hour 25 mins and although quite a straightforward routing it did cross a number of Restricted Areas. Taxing out together we took off in turn making a climbing right turn which took us just east of the City giving us a great view in the continuing stunning weather, the viz even better than the day before. Routing NNE took us over even more beautiful scenery with high ground, deep green forests and rolling hills below us. Dijon told us to change to Bale info but on calling we were greeted with a clever recorded message obviously triggered by the carrier wave telling us they were closed. We tried Seine who were the next sector well to the north but they told us to change to Bale as we were out of their area. No matter Seine accepted us and we had a very pleasant cruise up towards Chalons-En-Ch, the rolling hills giving way a multitude of different coloured fields stretching as far as the eye could see. Being a weekend all the restricted areas were not active. Approaching Riems it was clear we were over the Champagne grape growing region with the huge swathes of vineyards below. Phil was at this point becoming totally over excited! A call to Reims was met with a deathly silence, check the frequency and call again. Nothing, call again, still nothing. A change to box 2 didn't help and then we heard the GEEP calling, again with no response. Then the penny dropped, having a read through the plate again what we had overlooked was that with our late departure from Dijon we were now arriving at Reims out of ATC hours whilst the controller went to lunch, very French. This meant blind calls in French only and we had to be careful as the site is also used for gliding. With nothing at all heard it was clear that not much was going on so we joined overhead for a good look at the airfield and the windsock. We could see a couple of aircraft starting to manouver on the ground and I can only assume that the pilots were so horrified at there proud French language being murdered over the airwaves that they very kindly began calling us in English. The GEEP was in first on the 1150m hard runway which looked shorter than it was due to a very displaced threshold on R07 because of the main N4 road right by the airfield perimeter and the curving approach required for noise abatement. The lively crosswind made it a little more interesting as well. Yet another lovely airfield, we were parked on the grass right outside of the main terminal and the guy in the office spoke excellent English and was very helpful. The aircraft were unpacked and covered and we retreated to the shade of the airfield hotel for suitable refreshment whilst waiting for Axel and John to arrive from Abbeville. Once they were safely in some 30 minutes later we headed off for a rather expensive taxi ride to our next IBIS hotel. Again a great location and with a tour of the Mumm Champagne Caves booked for later that afternoon we didn't hang about for too long before heading off again. The tour was very interesting and well worth doing if you find yourself in the region. The underground tour finished off with a rather splendid tasting of two of the Mumm Grand Cru Champagnes and with 25 million bottles below us we thought that Phil may need to be tranquilised to get him off the site. A very pleasant evening was spent in the very busy City centre with I'm pleased to say a very nice meal being enjoyed by the whole group. We even persuaded Jonathan S to join us and have his own plate of Escargot as he had been squirming as Phil and I had feasted on them the night before. The evening went very quickly and after a couple of nightcaps at an outside bar most of us headed back to the hotel. However the creatures of the night once again slipped away into the murky shadows, this time luring the unsuspecting Herr Waldecker with them.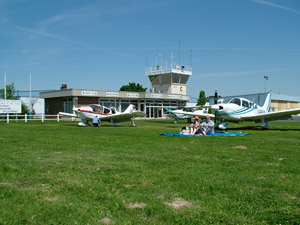 Day 3 Once again it was a beautiful morning and we headed off to explore Reims. Very different from Dijon but very nice with wide avenues lined with trees, the whole city being dominated by the Cathedral of Notre-Dame de Reims. Reims has a long and bloody history from Roman times until WW2. Much of the city was devastated during WW1 and this is very much portrayed by the more modern architecture. Very much another place worth visiting and reading up on in advance. Having spent several very interesting hours on the tourist route we headed out to the airfield. We had loaded up with supplies for a picnic at the airfield and after prepping and loading the aircraft laid VBs cover out on the grass for a very civilised lunch in the brilliant sunshine. With the very reasonable landing and parking charges paid we headed off for our next stop which was Calais to clear customs before the Channel hop back to North Weald. Calais was notam'd as having no ATC for two days but with a brilliant sunny Sunday the prospect of going to Le Touquet instead with probably dozens of aircraft in the air and on the ground didn't really appeal. Departing from Reims Prunay gave us a fantastic view of the city and reinforced the dominance of the Cathedral on the skyline.  Once again the routing was quite straightforward more or less straight NNW towards the Boulogne VOR before turning north to Calais. This time the Paris airspace was well out to our left. The routing took us past a large number of closed Airforce bases with some of them appearing quite recent. It's obvious it's not only the UK cutting back on defence spending. Hardly a cloud in the sky and whilst we were sitting happily in the cruise at 4000ft the slippery GEEP appeared alongside us for a quick photo op before slowly passing us. However having changed from Paris Info to Lille we took the advantage by asking for a shortcut through Lilles airspace which allowed us to cut the corner and go direct to Calais. The wind was a bit brisk but we all arrived in within 20 minutes of each other after an enjoyable 1 hour 30 mins flight. Flight Plans in, coffee in the cafe, lifejackets on and then back in the aircraft for the last leg. This was very straightforward, direct to DVR and then towards DET staying well clear of Southend due to the airshow. 55 minutes after leaving Calais we were touching down at North Weald very satisfied with a very interesting trip. The weather couldn't have been more perfect, the company was excellent, all the aircraft had behaved apart from losing the carb heat in VB on the last leg and we had seen a lot of new places in France. With a total of around 8hrs 50 mins flying this had been quite a long trip over three days but I was just grateful that we had managed to do it and although we had missed one whole day and overnight stop it had worked very well. Thanks very much to those that took part is was great to have your company. It also reinforced what have I said before, flying in France is generally very easy and offers many great places to visit. It's very GA friendly and the people and staff at the airports I personally have always found extremely helpful and accommodating. If you haven't already, give it a try.