17th February 2018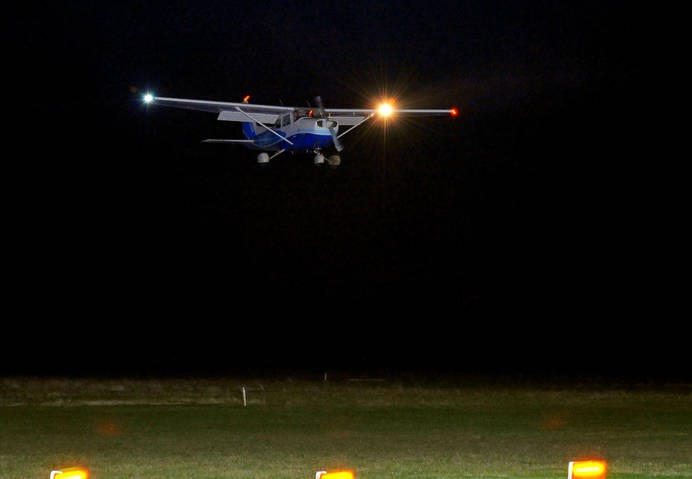 Although I managed to get in a few night trips in early November in terms of the group trips it had been a very frustrating few months in the run-up to Christmas. The planned dates that we had for the group refresher nights just after the clocks changed where our participating night rated guys fly with an instructor to get their night currency back had all fallen victims to poor weather. Our complication, of course, is that with no runway lighting at North Weald we need to end up at another suitably equipped airfield at end of play. This means that not only do we need a good night for our actual night flying but also a good morning the following day for the recovery of the aircraft. It became a matter of keeping an eye on the weather and trying to get enough guys together at short notice and grab a day. Fortunately, we finally managed an evening of circuits at Lydd for a few of the guys on the 11th November utilising our PA28 G-NUKA and C172 G-NWFC. The logistics of these night flys is 'interesting' to say the least with our aircraft and pilots needing to be juggled so that our pilots, aircraft and cars are all in the right place for getting home and the recovery the following day.
The end of 2017 proved too troublesome with the weather and 2018 kicked off with a completely mixed bag which prevented any nocturnal flying activities. However, whilst watching the weather it looked like Saturday the 17th Feb was looking doable with good weather for the following morning after some early mist and low cloud. Now that is always a worry at this time of year as the temperature often doesn't rise enough to shift it but I thought let's give it a go anyway and hope for the best. At least if we can't get back to North Weald no one else will be wanting the aircraft. The other complication is that realistically Southend is really the only choice for returning to at that time of the evening as its open every day and just as importantly offers a great train service back in our direction direct from the airport. Needless to say even though its normally complicated enough, throw in engineering works for Crossrail and the trains only going as far as Billericay after which it was buses then it becomes a whole lot harder. With only five of us taking part after a bit of jiggery-pokery a plan was hatched.
It needed to be a simple trip as the places to go for GA night flying are becoming a bit spaced out unfortunately and one of our favourites, Coventry now closes at 18.00 which rules that out as a decent stop. We also didn't want to get back too late given the additional complications with the trains and buses. Lydd it was to be, with a 19.00 closure departing North Weald at 17.30 with official 'night' at 17.49 that gave us a decent fly in the dark and a brisk but not too quick turn around there to get out by their latest departure time of 18.45.
Meeting up late that afternoon for the aircraft prep it was going to be Malcolm J and Vrai Stacey in C172 G-FC and John Reynolds was joining me in PA28 G-VB together with my other half in the back to 'see what all this night flying fuss is about'. It was a lovely evening with a clear sky and as the sunset approach the light changed to that beautiful deep orange glow with the high contrails reflecting the light and looking like a painting in the sky, even if the temperature could only be described as 'brass monkeys'! With ourselves all set, torches around our necks and small red lights attached to headsets it was time to start up and head out to the R02 hold.
The route to Lydd was planned with a bit of a dogleg to maximise the flight. Routing was to be Ongar, QE2 Bridge and down to Tunbridge Wells before turning SE to Bewl Water and on towards Lydd. With FC already airborne several minutes before we slipped off the runway with a climbing turn to the right into the darkening sky and into our own privileged world high above the myriad of lights from thousands of sources together with the long snaking lines of car head and tail lights on the main roads as the commuters headed home.
At Ongar we said goodnight to North Weald Radio and switched over to Farnborough Radar for the next leg. The Thames and the QE2 Bridge were already in view in the clear air and the long line of vehicles on the M25 pointed towards it like a beacon. With the sun completely below the horizon, the darkness quickly increased as we carried on south in the totally still air. We don't have the opportunity to do much night flying over the winter months but when we do it still gives me a buzz after all these years each time we are up there as to how it is so completely different to our normal daytime flights. We had a great view of the City as we flew south and with City Airport runway lights clearly visible lamented that it was a pity that couldn't be a stop for us.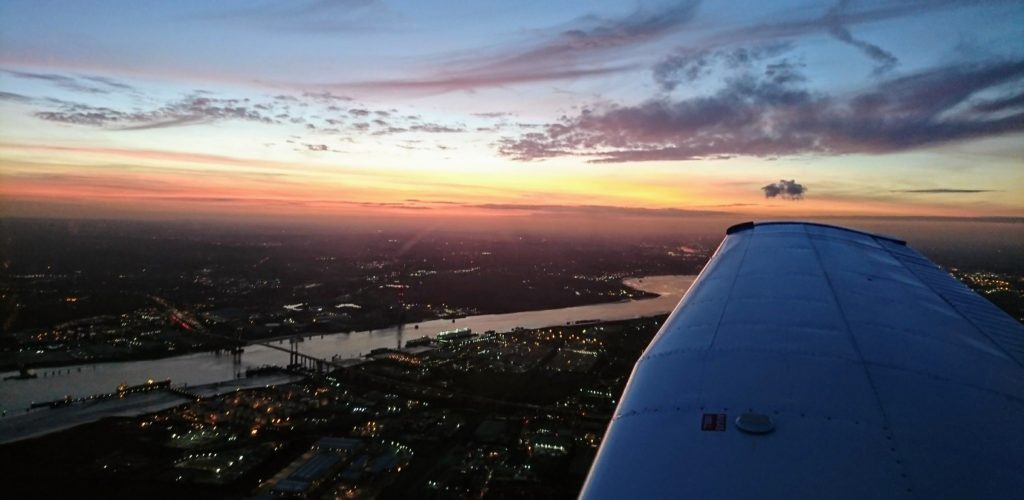 The Thames and QE2 Bridge as darkness approaches.
The traffic on the M25/M2 and M20 is always a sight to behold at night and one can't help wondering where on earth do all these vehicles disappear to? With Tunbridge Wells below we turned south-east towards Lydd and could make out the large dark area that was Bewl Water off to our right.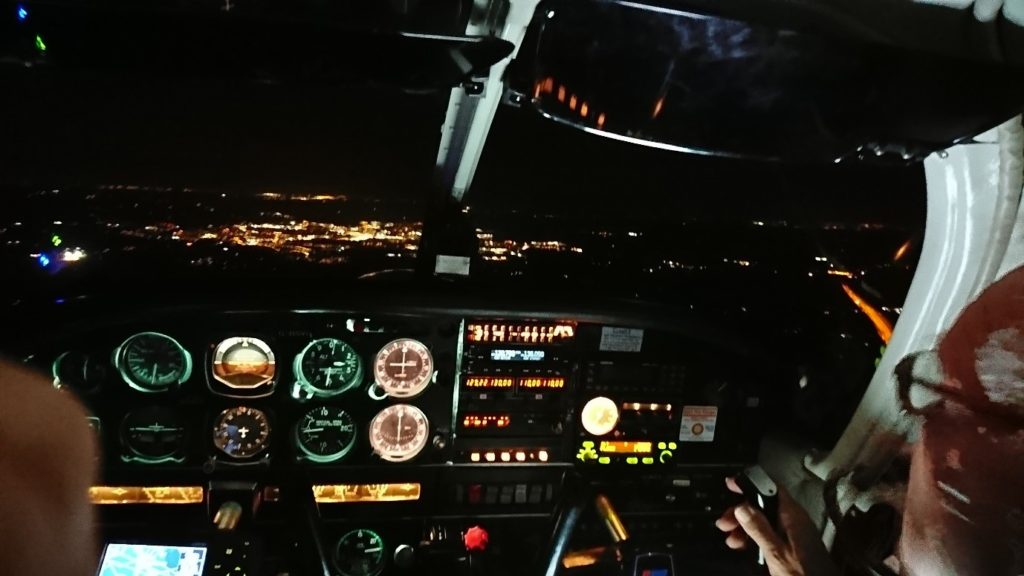 VB's cockpit with 15nm to run to Lydd.
Now completely dark the much more rural areas of Kent towards Lydd resulted in much larger areas of total black below. At 20 miles from Lydd we said goodbye to Farnborough and listened to the ATIS to find unsurprisingly R03 with a right-hand circuit was in use. Changing to Lydd approach we could hear FC entering the circuit with another aircraft doing circuits. Given a 7066 Squawk we were asked to report at 4 miles where we would be given our join. The lights of the French coast and occasional lighthouse flashes were visible in the distance. Anyone who has flown at night will know that distance perception completely changes and things seem much closer than they are and it was easy to think that the lights around the Dungeness Power Station complex were immediately ahead of us rather than 10 miles away. We reported at 4 miles and with the aircraft doing circuits on final for a touch and go we were cleared to a left base join for 03. With the other aircrafts strobes flashing brightly ahead we descended and configured on left base, the cowling and wing landing lights sending bright beams of light searching into the night ahead. With the always exciting view of a lit runway in the dark coming nicely into the windscreen, we slipped perfectly on to final with the white/red PAPI's showing exactly what they should at that point. Slipping down the final approach our wheels were soon kissing the tarmac and we vacated a very dark 'Charlie' and headed towards the Apron. Taxiing at night requires a lot of care and it's essential to follow the yellow lines and keep a very good lookout. Fortunately, it wasn't difficult as it was only FC that was on the forward line. We had heard on the radio FC being directed to park near the aircraft steps and I had to bite my lip and not say 'but Malcolm's not that short' but of course thought better of it!
With the £22 landing fee paid there was time for a quick chocolate bar out of the vending machine before we headed back to the aircraft in the cold night air, however it was worth it to get a view of the stunning stars above. After a quick walk round and visual fuel check by torchlight, it was back into the cockpit for pre-starts and then a listen to the ATIS before requesting start for our next leg to Southend. FC was a few minutes ahead of us and as we taxied out for power checks at 'Charlie' Malcolm and Vrai were getting airborne. With checks complete we were cleared to 'Delta' where we were given out takeoff clearance with a left turn out. Lining up with the 1500m of runway lights ahead is always a great experience and with our wing and belly strobes flashing their alternating intense pools of light on the runway we accelerated and lifted into the darkness. Climbing out from 03 takes you towards the sea and the blackness requires constant monitoring of the instruments on the climb out until some sort of reference is obtained from the surrounding lights on the ground. We were soon in the cruise at 2400ft with the lights of Ashford ahead of us. Having been told to report at Ashford, we duly did and requested a change to Southend Radar on 130.775. With a goodnight to Lydd we had a listen to Southends ATIS which revealed R05 in use and changed to Southend. We were told to route towards Sheerness for our clearance. The lights and countryside were stunning in the clear air and as Southend sounded quite quiet to have a bit of instrument practice I requested a radar vectored ILS for 05. Southend ATC were their usual helpful selves and we were duly vectored with our radar headings towards the ILS. Slipping nicely onto the localizer before picking up the glide scope I reported 'localizer established' and was directed to call Southend Tower on 127.725.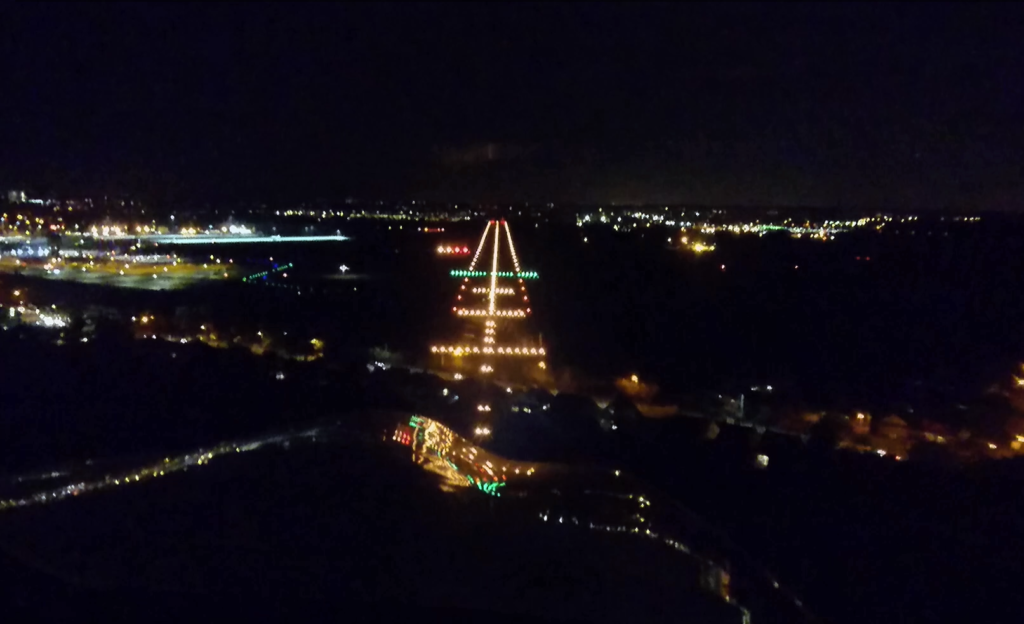 Short final at Southend (R23 from previous trip)
Fully established and with our landing clearance there was time to take in the great view of Southend's beautifully lit runway although I always think this must look really short from a loaded Easy Jet Airbus approaching at twice our speed! Over the threshold and coming into the flare the intense pools of light from the strobes reflected into the cockpit once again and there was a real temptation to say let's go on to somewhere else, but really it was a case of being lucky that we had managed to fly on such a great night. Vacating at 'Bravo' we headed down to the north apron where we were greeted by the marshaller with his illuminated wands looking like a Jedi warrior waving his light sabres in the distance. A flash of the landing lights to acknowledge we had seen him and we were guided perfectly into our parking space next to FC and an Airbus A319 of 'Niki'
With the aircraft wrapped up, it was the long walk to the GA Terminal where on the train home, well part of the way, we reflected on what a great night fly it had been. Small, simple but with two stops and always a great experience, it's just a pity that we can't do it more often. Lights at North Weald in the future? One can but hope…