19th May 2007
Saturday the 19th May arrived after a long period of very unsettled weather over the UK with low cloud, high winds, rain and even some thunder, so it was with some surprise to find half decent tafs for our fly out day. Our destinations for the day were to be the Museum of Army Flying situated on the edge of the historic flying station of Middle Wallop in Hampshire, and if weather permitted the Redhill aerodrome just inside the Gatwick CTR. With all the necessary final fly in arrangements made with the Army Air Corps and Middle Wallop ATC the previous week, together with an airfield joining brief from the duty controller the previous day, it was with some relief to see that we could go.
The crews met up at North Weald Airfield at 10.00 for preparation and briefing. As the airfield ATC was actually closed we had been instructed to follow a set joining procedure with blind calls and to watch out for any number of activities that my be taking place on the airfield, including Ferret racing and Whippet fanciers, or was that Ferret fanciers and Whippet racing? Whatever it was the instructions were quite clear 'landing is entirely at your discretion; the fire service will be on standby and available'. Suitably reassuring should one of us end up with a diced Whippet in the air intake or a Ferret up the exhaust pipe.
The North Weld Flyout Group crews for the day were Paul Bazire and Julian Mitchell in 'NS', Paul and Andrew Hutson in 'MM', John Strong, James Martin and Matt Humphreys in 'KK' and Alex Kenning and new member Greg Pendergrass in 'BH'. We were also joined by the welcome return of Kieron Boost in his PA28 'VB' ably assisted by Aiden Gaule. John Tchorzewski was also due to take part in his Robin but having flown in from Crowfield with a very airsick passenger, he decided wisely to call it a day at North Weald. All prepared and fuelled it was off from a rather breezy R20 and battling the headwind and a fair degree of low level turbulence to head west towards Bovingdon.
From there our route would take us around the Heathrow CTR and down towards Reading, then Basingstoke and a direct routing into the Middle Wallop MATZ. Whilst passing close to Henley on Thames and getting an excellent view of a Polo match in progress it needed a double take (and a quick orbit) to confirm that there was in fact a Sea Harrier parked close to the edge of the pitch. A helicopter was also close by. I'm sure the Harrier is not flying but I would be interested in knowing why it's there. I know Polo players generally sit just slightly right of the UK average wage but that's a bit OTT!
Calls to Boscome Radar revealed no one at home and we entered the MATZ and ATZ with the required blind calls to 'Wallop Tower'. Overhead at 2,000ft, checking the windsock to confirm a runway 27 landing, and then descend dead side to 1,500ft and join downwind RH at 1000ft. Wheels smoothly onto the beautifully maintained grass runway and thankfully not a Ferret in sight. With our aircraft lined up at the far western side of the airfield we met up with occasional fly out participant Capt Rob Smith (who had made the AAC contact for me) and friend Rich. A hop over the fence took us into the Museum of Army Flying where we headed for lunch first (as usual), before enjoying another hour in the very interesting museum with lots of exhibits from Army Flying.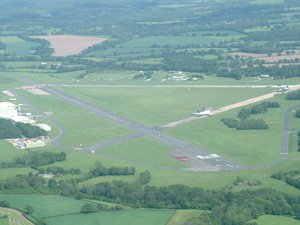 The history of the airfield itself was fascinating going back to when it played a key role during the Battle of Britain and just like North Weald, was home to Spitfires and Hurricanes. It was bombed no less than 14 times between June 1940 and July 1941 resulting in considerable damage and casualties. It later became a night fighter station where many experimental interception devices and techniques were devised and practiced, as well as being home to probably the most famous British night fighter pilot Wing Commander 'Cats Eyes' Cunningham DSO DFC. It continued to play a key role in RAF operations before being handed over to the AAC in 1958 for training Army Pilots, a role still carried out today. Mounting up once again it was quickly off to avoid a monstrous, and probably the only shower cloud in the south of England approaching from the west. It was with the rain beating on the windscreen that we all made a rapid departure to the east and onto Redhill airfield. Routing between Heathrow and Gatwick was simplicity itself with the M25 being clearly visible. A call to Redhill Tower resulted in directions to report at the M25/M23 junction and join right base for Redhill's grass runway 26. Redhill had been set as a bit of an afternoon challenge given the perceived difficulty of its location and Redhill's complicated joining procedures. In reality it was incredibly easy and straight forward, although the £20 landing fee is a bit on the steep side and certainly won't encourage another visit to Redhill anytime soon.
After tea it was airborne once more for the 35 minute hop from Redhill airfield following the M25 around and passing the QE2 bridge before arriving back into North Weald late afternoon. Another fly out day deemed a success by the participants with another interesting visit and an unusual airfield in the log book. And lucky with the weather yet again.