6th January 2008
After one false start on the 6th Jan due to weather, the North Weald Fly Out Group managed to complete their first outing of 2007 in near perfect winter weather. It was the reasonably conservative destination of Lydd given the expected weather and short daylight hours at this time of the year. Three from North Weald Flying Group were taking part, Andrew and Paul Hutson with guest Leonardo in G-KK, Alex Kenning with new member Matt Humphreys and sister Amber in G-RB and Paul and Suzie Bazire in G-NS. After three weeks of absolutely crud weather with low cloud and very high winds which had even managed to overturn the C175 G-ARFG at North Weald, the tafs were near perfect for the day.
The group assembled at North Weald Airfield and met up with Shane Hopping and seven other members of his gang from the Andrewsfield based 'Heenans Flying Circus', for our first joint group fly out. HFC were also putting up three aircraft a C172, a Cherokee and a Jabiru.
The planned route was out to the Thames and for those that wanted a scenic view descend to low level and follow the Kent coast clockwise around to Lydd. So after pre flight checks and fuelled up we boarded our mounts and all taxied out to R20 at about the same time. Quite impressive it was too with the six aircraft lined up on the taxiway in line astern, although I suspect the controller in North Weald Tower will probably sue for having suffered repetitive strain injury by writing Lydd, Lydd, Lydd……… every time he answered the radio to us.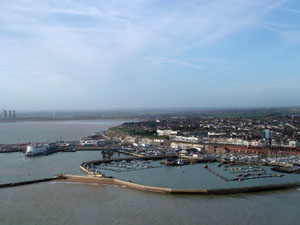 Routing out was straight forward in excellent visibility, if very slightly hazy in the morning sun. Over the Thames and then descending whilst calling Manston Approach for a FIS. The route around the coast would take us very close to Manston and necessitate crossing the extended centreline of their R28 which has an ILS approach. The Manston Approach controller was very helpful even if he must have wondered what this stream of aircraft were up to as they called in quick succession. Routing along the coast line at 600ft and about a quarter of a mile offshore gave excellent views of the seaside towns; passing Reculver Castle it was very easy to imagine the wartime 617 Squadron Lancasters practicing for the dropping of Barnes Wallis's bouncing bombs over this very stretch of water and the level of piloting skill required to have finally delivered the bombs to the German Dams by flying over water at 60 ft, and at night.
Saying goodbye to Manston and continuing around the coast the white cliffs of Dover soon appeared and then we were past Dover harbour and routing down to Lydd. Suzie and myself turned G-NS inland and climbed to 3200ft to position for some pre booked instrument practice on Lydd's new R21 ILS. As we were cleared for our ILS it was obvious the controller was under a bit of pressure with not only all of our aircraft arriving but probably at least another six others as well. We could hear aircraft being held at 4 miles as they positioned for an approach. The controller coped admirably and extremely efficiently. With NS established on the ILS we were finally cleared to land and were the last of our group to arrive.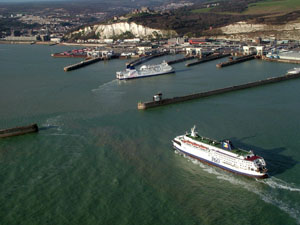 The owners of Lydd (London Ashford International) have spent a vast amount of money on improving the airport facilities, installing the ILS and a huge new apron etc. It is very much improved and is a nice convenient trip for southern GA, especially since they lowered the landing fee.
The group lunch was taken in the very busy restaurant and then for the North Weald Flying Group, it was a direct route back to North Weald. The Flying Circus decided to make the most of the weather and headed for a stop at Southend.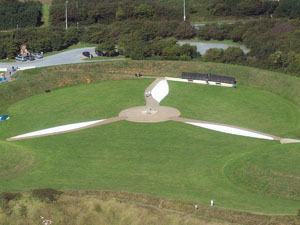 A very enjoyable day as always and thank you to the 'Flying Circus' for joining us; it's always a pleasure to join up with a like minded group. Also to new member John Tchorzewski who flew into North Weald from Crowfield but was unable to join us in