30th January 2010
Saturday the 30th January was the date for our postponed fly out to Lydd and Manston. After the continual bad weather of late, two nice hard runway airports were the only real choice to avoid the boggy grass of some smaller airfields. Full ATC at both also gave the opportunity for some members to get in some R/T practice. Not unsurprisingly the TAFs the evening before didn't paint a terribly good picture with frequent snow showers forecast well into the day for the south east, particularly around the coasts. It did however look like we would be able to do something so we met up at North Weald as planned. Well, Windows 7 Home Basic SP1 Key Code
almost as planned, the M11 had been closed north of Harlow which resulted in huge jams on the northbound motorway and resulted in several of our number being seriously delayed. No matter, with the far more accurate forecasting method of using the old technology Mark 1 eyeball the weather was absolutely perfect, a classic fine winters day, blue sky, light winds and nigh on perfect visibility. The plan was to fly out to the Thames and then drop to as low a level as was individually comfortable and follow the Kent coast all the way around to Lydd taking into account any active danger areas and of course staying legal!
A quick rejig of the plan was necessary as unfortunately a couple of the guys had last minute technical problems with cars and central heating and had to drop out. So after some de-icing it was time to mount up. The Archer 'VB' was raring to go with its new engine and myself Phil Fellows and Suzie Bazire would be starting the running in process. Bob Chapman in his C172 'CC' made a quick getaway due to other commitments and was to meet us for lunch at Lydd. G-FG was crewed by George Windows 7 Home Basic Key Code Tunks and Malcolm Jarvis with Stewart Braddon and Darren Foss flying G-FC. Ian Burrows and Dan Nicholson on his first fly out were in G-MM. G-KK was crewed with Pete McDonald, Barrie North and Kaushik Koley also on his first group outing. Our own newly re engined 150 G-FA was going to be given a good run with Simon Pimblet and Helen Saunders.
Take off and heading out towards the Thames, passing the cars queuing for miles on the M11 was a picture of what winter flying should be about with smooth air and excellent visibility. Reaching the Thames and the Isle of Sheppy we dropped to various levels and flew along the coast getting a very good view of the seaside towns and the rather dark and unwelcoming waves that were rolling in to shore. Passing Reculver Castle and the stretch of beach where the original Dambusters bouncing bomb was tested brought us in sight of the 747s and MD11 parked at Manston. Our route would take us through Manston's R28 centreline at low level and they were very accommodating, changing us to the Tower for transit.
South of Manston and passing Ramsgate Harbour the air became a bit choppy at very low level but still low enough to get a good view of the people walking on the beaches waving at the passing aviators! As we approached Dover the cliffs appeared, rising from the grey sea, a resplendent white framed by the bright winter sunlight, an iconic image of Southern England. Level with the cliff tops but climbing to pass Dover harbour with is busy ferries had us on the last leg passing the Channel Tunnel terminal at Folkstone and towards Lydd.
The sun had obviously brought half the GA pilots in the south out and we entered a very busy circuit for R03 with a brisk crosswind from the left. Parking on the main apron we then made our way through the myriad of corridors to exit the airside terminal. Having paid our landing fees we regrouped for lunch and the usual group chin wag. It may be in the middle of nowhere but Lydd is always a good stop for lunch despite the panoramic views of the Dungeness nuclear power station. Big hard runway, full ATC, very nice facilities, a reasonable landing fee and good well priced food.
Suitably refreshed, it was off to Manston for our second stop. This is another of those airfields that has a fascinating wartime history with numerous tales of RAF and American aircraft almost shot to bits staggering into the first airfield in the UK that they reached after crossing the North Sea after their raids. This was one of the reasons that such a large runway was laid during the war to act as an emergency landing ground, being some 61 metres wide and over 2,700 metres long it was the largest runway in the south of England. Despite being quite close flying time wise from North Weald, it was a first visit for most of the guys. Again full ATC and directions to join left-hand downwind for R28 with a couple of us having to slot in behind a Citation on a long ILS approach.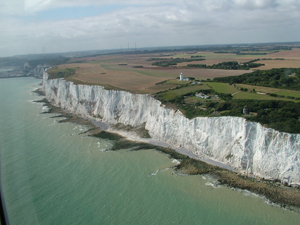 With such an enormous runway it can be seen for miles and just doesn't seem to get closer as you approach. No need to get on the numbers with all that concrete in front of you. As can be seen from the picture, a C172 is almost lost on it. Parking is at TG aviation which is very nice but has no real facilities for visitors apart from a lounge. Meeting up with Simon P who had brought FA direct from North Weald after being delayed with a starting problem, we had a a leisurely cup of coffee out of the machine before mounting up for a direct return to North Weald. With that runway I'm sure you could climb to 1,500ft by the end if you really tried! Once again a nice cruise along the Thames and up towards North Weald with the sun just getting a little low in the west but without any of the visibility problems often associated with that at this time of year. Not a sign of the forecasted snow showers and all back in safe and sound after a very good, relatively easy, but interesting couple of stops to get the 2010 season going. Putting the aircraft to bed was done in double quick time given it was now plunging towards zero outside. Let's hope we are as lucky with the weather on the forthcoming trips.