2nd December 2006
Well, Saturday the 2nd December, the last Fly Out of 2006 and the end to a very successful first season for the North Weald Fly Out Group. Leicester airfield was the destination, not too far given the time of year, the limited amount of daylight hours and of course the weather. Once again we were lucky, the long tafs looked good and eleven members and guests met at North Weald at 09.45. The cloud base was low and the wind strong initially but within 30 minutes or so some nice blue gaps began to appear and we mounted up.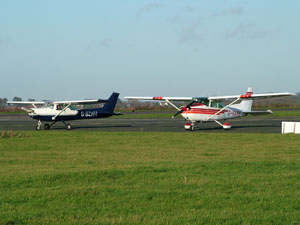 The crews for this trip were, Kieran Hardiman, Federico Salerno and wife Jennifer in G-AVNS, Paul Bazire's every move being watched by the eagle eyed and newly qualified ATPL daughter Suzie, with the long suffering flying widow Lin Bazire in the back seat of G-DCKK. Paul and Andrew Hutson were flying G-RARB with new member Adam Hird making up the crew. Last but not least Alex Kenning and John Strong were taking G-BZWH along for some well deserved exercise. Routing after take off from R20 was a right turn out and then low level to Ware before climbing and routing North through the Luton/Stansted corridor. The route up was very uneventful with excellent visibility and a chance to sit back and enjoy the view over the now very autumnal landscape.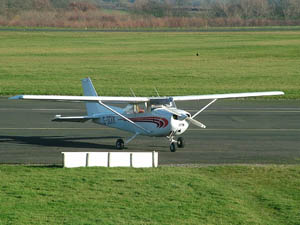 In just over 50 minutes flying the airfield came into view and it was downwind joins for runway 28. The wind was reasonably strong at 210 14/18kts but presented no problems on the nice wide 900+ metre tarmac. Leicester East as it was known was a wartime airfield in the standard three runway pattern and the remaining other hard runway (22) was put into use just after we arrived, at only 490m its not quite as appealing.
Leicester East was used as a base for conversion training of bomber crews so unfortunately doesn't have the same battle glory history as some of our other visits for me to write about.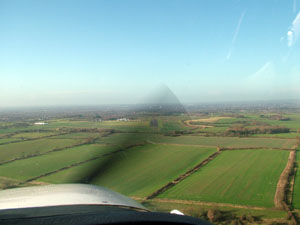 The old control tower is now the restaurant/club house which overlooks the airfield. We all enjoyed a chat over a pleasant lunch whilst marvelling at Andrew and Alex consuming the most gargantuan of baguettes with all sorts of things hanging out, the overall weight of which must of had an effect on the CG!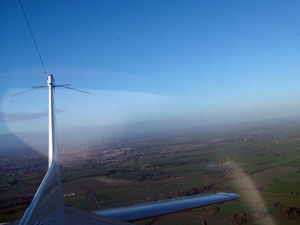 It was time for the return, and a reverse routing back to North Weald, again the conditions being kind with excellent vis. A very straight forward and enjoyable day as always, unusually no dramas, weather or diversions to deal with, so a fitting end to the Fly Out season.