16th December 2007
With the Fly Out to the old Red Arrows base of Kemble having been cancelled on the 8th December due to the appalling weather over that weekend we had another try on Sunday the 16th. The sky was clear that morning and the TAFs reasonable with various levels of visibility forecast along the route. We were a little light on numbers, probably due to the short notice and proximity to Christmas, however five aircraft were due to participate. Paul and Suzie Bazire in the overflow PA28 G-NS, Derek Baker on his first group fly out in G-KK with two friends, Greg Pendergrass and friend in G-FC, while John Strong and Richard Jonas were teamed up in G-MM. Andrew Hutson with dad Paul were also joining us, but instead of their usual 172, were taking Andrew's other indulgence a bright red 'paraffin parrot' or should I say one of the Jet Provosts (at 23 minutes to Kemble, it was going to be a trice quicker than us!).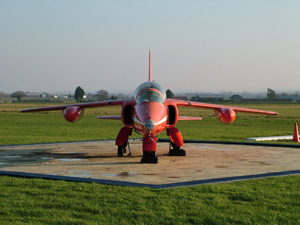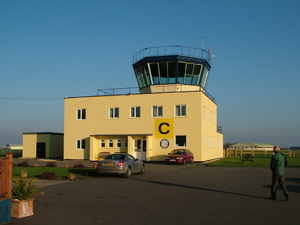 A few different routes were chosen with most of us skirting south around the Brize Norton Zone although Greg was planning to go right over the top if they would let him. With everyone briefed and ready, it was out for the pre-flights and fuelling. Whilst Suzie and I were doing the walk around of 'NS' I found the right brake caliper to be leaking fluid. A quick return to check on the computer if another aircraft was available drew a blank. However the sound of new NWFG member Dan Whittaker starting 'JN' with its new engine and prop prompted a quick sprint out of the Squadron, after a brief negotiation, (no weapons were used), Dan agreed to give up the aircraft and join us in the back seat for the trip to Kemble. Thanks Dan and welcome to the fly out group!
Taking off on Runway 02 and a left turn out revealed the usual problem at this time of year, a combination of a low sun and haze made the visibility less than perfect. Routing west along the Luton/Heathrow corridor and with 0013 set on the transponder we listened in to Luton Radar, commenting on how it seems a bit strange that the operator is now at Swanwick near Fareham in Hampshire. The poor visibility continued and once clear of the 2,500ft max area we climbed and on passing 2,500ft popped out into a perfectly clear blue sky.
With no response to calls we routed through Bensons MATZ and changed to Brize Radar for a FIS and heard Greg being changed to Brize Zone for his direct transit. So it pays to ask, they can only say no. The circuit at Kemble was extremely busy with numerous aircraft in the circuit. Descending back into the haze we could hear the others calling for joining instructions. Due to the amount of traffic and poor visibility Suzie and I decided to orbit out to the North to let everyone else sort themselves out and for the Hutsons in the JP who were coming in behind us to have a clear run in. That caused its own problems with a thick band of low cloud three miles out and turning back brought us into a wall of white haze where we could only just make out the airfield at about about 3 kms. Slotting in downwind for 08 we were all soon safely parked on the grass outside the immaculate tower. Landing fees were paid (£56 for the JP, Gulp!) £15 for us lesser mortals. Lunch was then taken in the re-opened AV8 restaurant. The Sunday roasts can be recommended, especially as they do a half portion for those not wishing to overfill their tanks before the return journey. Service was pretty quick despite it being quite busy.
With all our participants suitably refreshed it was off for the return leg. It was decided to give Turweston a miss due to the lack of time, so straight back to North Weald airfield. Kemble is a very nice airfield and its good news that the injunction against it calling for its closure has been dropped for the time being. We did however pay particular attention to avoiding the noise sensitive areas. Routing back was basically route reversed but in clearer air as the sun was now dropping behind us.
No dramas on the way back and the sun was getting low and the light beginning to fade as we approached North Weald. All back safely with a nice and relatively easy trip to finish off our highly successful second season of fly outs.
One thing worth mentioning is the 0013 transponder setting if you are in the Luton/Stansted area and monitoring one of them. Luton blind called an aircraft that was squawking 0013 1 mile north of Halton to advise them of a possible conflict with an Augusta 109 helicopter in the opposite direction. Particularly useful in the poorish conditions and as the tragic collision in Staffordshire that very afternoon proved, we can all do with a little help sometimes, no matter how good we think our lookout is.