27th August 2006
Well, trip number 8 for the Fly Out Group and the most ambitious to date. A very good turn out at North Weald for our planned trip to Jersey, the largest and most southerly of all the UK Channel Islands, all of which are surrounded by Class A airspace. Julian Mitchell with girlfriend Rachel, Paul Bazire with wife Lin were crewing our newest addition, C172 G-RB, otherwise known as 'Rhubarb' given its reg and colouring. The Hutsons, with friends Arthur and Stuart were in G-KK, James Martin and Shane Comins on their first Group outing, (a good one to start with guy's!), accompanied by Jame's wife Alex in G-NS. Kieron Boost with wife Lesley and trusty Spaniel 'Biggles' departing from High Cross farm in PA28 G-VB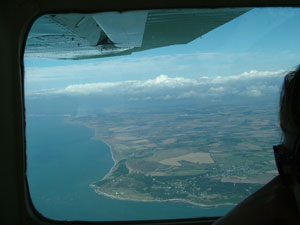 The TAf's were good although the forecast for Jersey was CAVOK with few at 500ft. A check by phone confirmed that this was indeed the case. The endless paperwork was done, aircraft fuelled and packed, lifejackets donned and the hired liferafts stowed for quick access, and we were all mounted up ready for engine start up just after 09.00. Alex Martin made the comment that the only reason the girls had been invited was to carry the stuff! Not true! We really love your company, and answering questions like, 'What's the big thing that goes round and round at the front for?' gives us the opportunity to show off our technical knowledge! Only joking ladies we love having you onboard. 'Could you pass the camera and the drinks across please?'.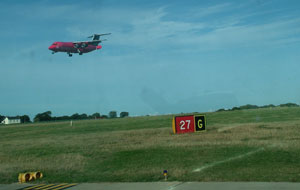 So take off from North Weald's Runway 20 in a light crosswind and bright blue sky, KK, RB and then NS, a left turn out and routing down and south around the Gatwick Zone. London Information was reasonably quiet and we continued along the South Coast with RB being in visual contact with VB near the Mayfield VOR.
The planned route took us out to the southern tip of the Isle of Wight at Ventnor and then the 48nm sea crossing to ORTAC, the nav point at 50N 2W which makes the NE corner of the Class A airspace, enter the zone and then fly south over water for a further 47nm to Jersey. The cloud had increased but was well broken and our party were all flying at different altitudes, KK and NS just below the cloudbase at about 2500 and RB just on top up to 4000ft.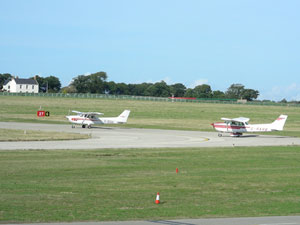 Tuning into the Jersey ATIS revealed that the 'few' at 500ft had now become 'scattered' with CAVOK. Not really good news but nothing to concern us too much. That was all about to alter when we changed from London Information (who had passed our details to Jersey), to Jersey Zone to hear them talking to Kieron and reporting broken cloud at 500ft and that Special VFR was not being accepted into Jersey, with Dinard in France (40 miles S of Jersey) being suggested as an alternative, although the cloud was expected to clear.
OK, decision time, (the girls coming in handy for finding the alternate plates in Pooley's). Alderney was then offered and would accept diverting GA aircraft. So, entering the zone, Alderney it was, with our merry band and several others all diverting into R26 of this 880metre airport sitting above the cliffs. A touch of Deja vu for Julian and me from the last fly out! No landing fee was payable due to the diversion, and we quickly established that the weather at Jersey was rapidly improving. So a further flight plan needed to be filed, although ATC did kindly say that they would expedite them so there would be minimal delay.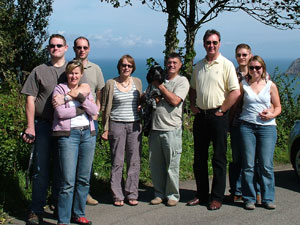 Back on board and the 30 mile hop over to Jersey. Jersey Approach gave us radar vectors approaching the island to maintain landing separation from the other aircraft; with the weather being a bit 'claggy' and a clearance of not above 1000ft approaching the island it was quite difficult to spot the airport at 277ft above sea level. However, right base for R27 and cleared to land! It was VB followed by KK, RB and NS who finally parked at the Jersey Aero Club some hour and a quarter later than planned. Aircraft were refuelled, and Avis did an excellent job of delivering our four hire cars to the club within 10 mins of being telephoned. It was then off through the tree lined winding lanes to the north of the island for a pub lunch at Les Fontaines Tavern, then each to their own for a brief tour and to meet back at the Aero Club for a 16.30 walk out, apart from Kieron and Lesley who were staying for a few days.
Jersey Aero Club were very helpful and the very reasonable landing fee of £12+ handling of £10 was paid and it was out to the aircraft for the return. With start clearance, and taxy to Holding point G for R27, we received our squawk and routing out of the Zone. I find there is always an extra buzz to flying when mixing with 'proper' ATC and the 'big boys'. Waiting at the hold and hearing 'G-RB after the landing 146 line up and wait' whilst a BA 737 moves to the hold behind you is just so sexy for a humble PPL. Routing out and being passed from Tower to Approach and then Zone allowed us to progressively climb. The return journey was very straightforward in excellent clear weather, although looking at the clock ticking towards 19.00 was interesting. Still, arriving back into North Weald on a straight in approach for R31, with wheels on tarmac at 18.58 still gave us two minutes to spare! An exceptionally good day was had by all, and thank you to all of the participants for making it so enjoyable. To me this is the type of day that adds that extra something, and negates all the other frustrations that we encounter from time to time in flying, particularly the weather. A new destination, new challenges, greater experiences (and throw in a diversion) with good company who enjoy the same buzz make it all worthwhile, and hopefully show what the idea and aims behind the 'Fly Out' group are all about.