29th July 2011
Friday the 29th and Saturday the 30th July were to be the second overnight stay fly out of the year. This was a lot shorter than our Spanish adventure at just one night but the Isle of Man is a lot closer than Asturias. The plan was to leave North Weald and stop at Welshpool for coffee and then Caernarfon for lunch on the way out, taking in the Welsh mountains en route. Return on the Saturday was to be via the British Aerospace factory airfield at Harwarden just outside of Chester. Owing to a lack (any) hotels having a short notice no penalty cancellation policy we had booked into various hotels in Douglas just a day or so before when the weather looked like it was going to make it a doable trip. Hire cars had also been booked and surprisingly even with Avis they had to be cancelled 48 hours in advance otherwise the cost would be payable. Just the sort of things that make me reluctant to go on flying trips without accommodation at the trusty Ibis hotels or equivalents that we have used elsewhere very successfully over the years.
It turned out that none of the members on this trip, myself included had ever been to the Isle of Man before which made it that bit more of an adventure. The forecast was still quite reasonable a day or so before, although by the preceding evening it had deteriorated slightly, but not to any great extent that it looked like the trip would need to be cancelled. The Common Travel Area GAR forms were duly filed with North Wales Police the day before and we were all ready to go. Myself, wife Lin and Phil Fellows were crewing the Archer 'VB', Darren Foss and Richard Rumbelow were in 'FC', FG had Pete McDonald, James Chan and new member Willy Wagner onboard and NUKA Stewart Braddon and Jonathan Senior. MM's crew were Linda Winstanley, Vrai Stacey and on his first overnighter the recently married Axel Waldecker, although how he got a pass from Mrs Waldecker is a mystery! MM were making it a three day trip and were going to take a slightly circuitous route out via Gloucester and meet us later in the IOM.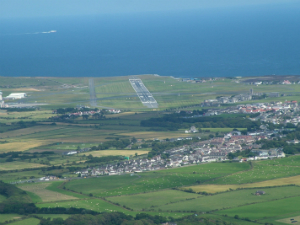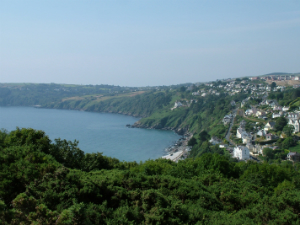 Having assembled early at North Weald it was a typical UK day, the weather bore little resemblance to the forecast and the sky was full of dark grey low cloud just piling across the airfield. Phil managed to get VB in from High Cross with a bit of scud running and reported less than favourable conditions. A look at the actuals and TAFs with a few phone calls to places en route didn't make thing that much better. It was clear that for the morning at least Welshpool nestling as it does between high ground wasn't an option and Caernarfon just across the straights from Anglesey wasn't much better.
Things very slightly started to improve after an hour or so and as the time had been eaten away and the planned stops not on it was a case of activating the plan B. This was to fly out directly to Hawarden and then onto the IOM. With IMC/IR qualified pilots in the seat for the first leg we knew that Hawarden were suitably equipped and happy for us to make radar vectored ILS approaches if required. After a call to the ports unit at North Wales Police to check that they were happy for us to depart to the IOM direct from Hawarden had us mounting up. After take of from 02 and a left turn out we routed around Ware and up the well trodden gap with an initial cloud base around 1500ft. By the time we reached Puckeridge the gloom had increased and it was now quite dark, the cloud base was also lowering towards 800 to 1000ft with the horizontal viz rapidly decreasing. To maintain VFR would have meant going back so as it turned out the others who were going out via the west all made the same decision to carry on IFR and upgrading to traffic services with Farnborough climb into and maintain the IMC conditions for as long as it took. Well for us in VB it took about another 1hr 30 mins. Routing up towards Daventry and then towards Stoke on Trent we had excellent radar services from Cottesmore, Coventry, East Midlands and then Hawarden. We managed to see the ground for about five to ten minutes up near Stafford before going back into the murk. We knew that it was going to be clearer near Hawarden itself but due to the high ground elected to carry out a radar vectored ILS into their runway 04. It's always handy to have the approach plates in a folder just for this eventuality. We popped through the cloud at about 1500ft with a great view of the long runway from the slightly offset instrument approach. Very useful and very good practice. With NUKA already there and FC and FG coming in close behind we picked our way around the long taxiways to stand N on the far NE corner. BAE make the wings for Airbus aircraft at the factory and the site is massive but also very welcoming to GA with efficient and very helpful ground staff marshalling us in. A reasonable landing fee of £20, some interesting exec jet aircraft in the hanger and a view of two MiG 21s and a MIG 23 which have all seen better days. The recommended portakabin 'cafe' just outside the wire was something of a letdown, not much food available, a somewhat stony faced young woman behind the counter and the 'outside dining area' table and chairs probably presenting a health and safety issue. As we were still wearing our yellow airside jackets I'm surprised we weren't mistaken for bin men by the North Wales Police Ports Officer who came out to check us as the seating area had a very attractive extra large commercial wheelie bin as a back drop. How the mighty have fallen, excellent French and Spanish dishes in beautiful classic surroundings on the previous trip to dried up pies and crusty chips by a dumpster on the next. Rubbish weather, poor food in poor surroundings, it could only get better!
Well it did, but slowly. With our flight plans filed it was a call to start to Hawarden Tower and who with the light winds gave us the option of using R22 which nicely avoided a very long taxi. Climbing out and turning right towards the North Wales coast the weather still wasn't that much better with a lowish cloudbase and mediocre horizontal viz. With a traffic service from Valley Radar we coasted out for the 60 nm sea crossing just west of Prestatyn to avoid Liverpool's airspace and climbed through the thin layer of cloud into a clear blue sky. As quickly as it had gone dark and horrid earlier it now rapidly cleared into a beautiful day with the Isle of Man coming into view at 40+ miles away. With instrument flying hat firmly on after the flight up it seemed a shame to waste the opportunity of taking advantage of the facilities at Ronaldsay and we requested a radar vectored ILS which they were more than happy to provide. Ironically this took us out of the nice weather and into cloud again close to the island. However as we popped out of the cloud on the offset ILS for R08 the view of the airport and the Island itself was lovely.
After landing we vacated right to taxi to Manx Flyers who we had booked in with several days before. If you are planning a trip I would suggest you use them, although they are on the 'wrong' side of the airport the are considerably cheaper than the handling on the north side main apron. Our handling and overnight parking came to £25. They were very helpful and loaned us their old Escort estate so that we could drive around to pick up our cars from Avis in the main terminal. Fuel, both Avgas and motor is expensive despite only having 5% VAT so don't plan to load up Channel Islands style with much cheaper motion lotion.
We were spread around various hotels in Douglas and after checking in wandered off for an explore of the seafront. As the IOM isn't really noted for its culinary delights apart from kippers we found an Indian restaurant that could take 13 of us for dinner. A jolly evening it was to with quite reasonable food to complement a couple of beers.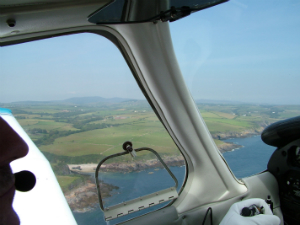 The following day was spent exploring the Island and very pretty it is to. The roads are quite and meander through villages and open fields. As one gets further inland they open up into fast winding sweeping curves through the fields and hills and one can see why this is home to the TT racing each year. We stopped at various port towns along the way including Peel and Port Erin before heading back to the airport for a mid afternoon departure. Well some of us anyway as NUKA and MM's crews were making the most of it and staying another day. If we had just stayed in Douglas I think I would have come away with a rather jaded view of the IOM as it is rather faded Victorian glory, however the rest of the Island is well worth a visit.
As we couldn't make Caernarfon on the way out we were calling in there on the way back and our Gen Dec had been amended accordingly. The weather over Anglesey was looking very reasonable which is generally a bad sign as it's bound to change, and so it did. Routing out over the Irish Sea south towards Caernarfon a wall of cloud was visible in the distance starting around 10 miles from the coast. Dropping below it we were down to around 1500ft over the sea and as we crossed the coast the viz got worse and the cloud lower. Listening to FG's crew on the radio behind us we turned and ran along the coast where the cloud was still low but the viz much better and then routed up the Menai straight into Caernarfon where the cloud-base was slightly higher. FC had left earlier and were already in as they wanted to add an additional stop at Wolverhampton on the way back. Whilst we were refuelling we had another visit from a North Wales Police ports officer who checked all of our docs. Just as well we had done the paperwork correctly.
After a quick cup of coffee we were ready for the return leg. The Welsh mountains were visible now but had a huge layer of cloud on top and with Valley radar closed and no traffic service available in that area the only choice was to route back up the Menai Straight and around the north Wales coast. As we departed Caernarfon and headed north again below the cloud and into the murk again we heard FG's crew call up to return to the stand. During the power checks a mag problem had been found which resulted in the crew abandoning hope of flying and returning by train to London, a journey that took some 6 hours. However the aircraft was fixed by a local engineer by 10.00 the next morning. Fortunately with two crews still on the IOM MM's crew called in on their way back and Axel flew FG back to North Weald.
Back to our return trip, in Phils words 'this weather is poo' was a fair description really as we headed past the Menai Bridge and Bangor and still hadn't improved as we routed by Llandudno and Colwyn Bay with no option but to stay over the water close to the coast as all the hills and mountains inland were covered in murk, rather reminiscent of the Spanish coast on the last big trip. Turning in near Hawarden the weather completely cleared with hardly a cloud in the sky and brilliant viz. A bit choppy on the way back but a complete contrast to the Welsh end. We got back into NW around 18.00 with another adventure completed. FC followed a little while later and the other aircraft came back safely on the Sunday. It was a pity about FG's problem but this was the first real tech issue on any of the fly outs over the years they have been happening so not a bad record really.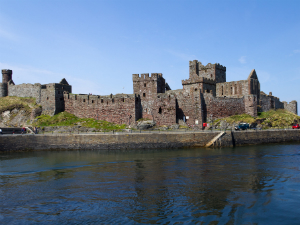 Another really good fly out despite the weather's attempts to thwart it and an interesting new destination discovered which is well worth another visit. A good time with good company as always. Thanks to all those that were involved and especially to Axel, Vrai and Linda for changing their plans to help in the recovery of FG.