10th August 2013
For various reasons, getting organised fly outs together in 2013 had been proving ridiculously difficult. The roll call of 'Trips Planned and Then Cancelled' has proven to be a long one. Still, based on our Bruntingthorpe experience last year, we knew that the secret, at least as far as good weather goes, is to make sure that Captain Bazire has to go off on errand somewhere whenever there is flying to be done – and so it proved again this year for the Farm Strips Fly Out.
With Paul otherwise disposed, into the breach again ably stepped Jon Senior, whose planning and organisational skills were to be neatly augmented by Malcolm's PPR-arm-twisting skills. For those who have not been on a Farm Strips Fly Out before, the format consists of a whole load of pilots turning up at North Weald without a clue where they're going (no real different from any other fly out then) with the identity of the first airfield to be visited being revealed at the Squadron, with then the next being given on successfully landing at the first, and so on. Five out-of-the-way airfields would be visited in all – hopefully most of them being new to most participants. To assist us Jon had prepared A4 hand-outs for each field to be visited giving the airfield plate, any notes from the owner/operator, and an aerial colour photo; all very carefully and neatly done, although personally I deducted marks for failing to make use of a laminating machine…
Unfortunately, despite Captain Bazire's absence it wasn't all plain sailing: FS was in the workshop and out of action, ditto VB, and FG was socked-in by some pretty unforgiving weather in southern Germany. Nonetheless, we were able to muster together crews for NUKA (Jon plus Kieran Hardiman and his son Rory), FC (Malcolm and John Reynolds), and XK (Vrai, Nick Allum and Matt Duffy), whilst bringing up the rear, literally, were myself and Barrie North in FA. Also joining us for the day was North Weald resident C172, G-BOYP.
With everyone gathered together, and planes checked and fuelled, it was time to set off for our first destination: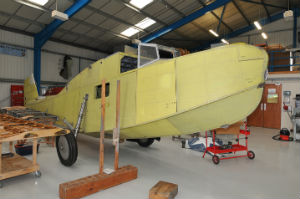 Audley End
Situated at the top end of the Stansted zone, and pretty much diametrically opposite North Weald, there was a bit of a discussion as to whether to route round the eastern or the western side of the zone and whether to speak to Farnborough or Stansted. In the end we settled on routeing round to the west, with the first aircraft, NUKA, to speak to Stansted and let them know what we were doing, whilst the rest of us followed on behind on Listening Watch; this way we would avoid clogging their frequency, but be available to be talked to if necessary. This worked well, although with XK being non-Mode-S equipped they had to speak to Stansted anyway and sensibly took advantage of this to ask for, and get, a direct transit.
Before long we were all coming in to land on Audley End's Runway 18 (i.e. into the upslope), with great views of Audley End House and grounds on the right and the market town of Saffron Walden on the left.
Audley End is home to Vintage Fabrics Limited who specialise in maintaining and restoring a whole range of interesting aeroplanes in possibly the most immaculate hangar you will ever encounter. The highlight for me was a Supermarine Walrus amphibian which is under restoration to fly: when it does it will be the only one flying in the world, and apparently the fuselage spent much of its life after the war converted into a sort of makeshift caravan which the owner used to tow behind his car! Also in the hangar was Paul Bonhomme's Red Bull aerobatic mount, which Hardimans of all ages were particularly excited to see had just been painted up to represent 'Dusty the Crop-Sprayer' from the Disney film 'Planes'. All in all, well worth a visit, and the owners are only too happy to let aviators wander round their hangar and answer any questions.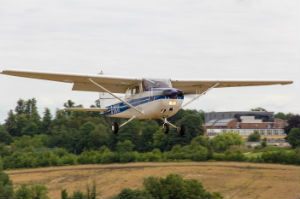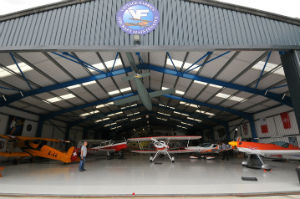 Main Hall Farm
Our second location was a grass strip found approx. ten miles north-west of Cambridge. In fact on looking at the chart it was apparent that it was most easily to be found by flying north up the M11 and then turning left along the A14 at Cambridge, which is what we in FA elected to do – this was meant to be seat-of-the-pants farm strip flying after all!
We did have a moment of fun in FA as we departed Audley End (this time on Runway 36 to take advantage of the downslope). Just as we got airborne the passenger window burst open – not entirely unusual in a C150, but when Barrie tried to pull it to he discovered that the catch itself had parted company with the aeroplane. Valiantly grasping what remained of the stub he managed to pull the window shut long enough to make himself heard so that he could negotiate a transit with Duxford and inform Cambridge of our intentions (multi-tasking at its best by young Barrie!), before we decided it was a nice warm day anyway and we could live with the window open for the remainder of the leg into Main Hall.
At Main Hall itself we were met by the airfield's very friendly and enthusiastic owner, Charlie Papworth, who kindly dived into the back of his own Cessna and emerged with tie-wraps and gaffer tape. In no time at all we had FA's window 'fixed' – although comments from some of the 172 drivers such as 'Better quality now than when it left the factory' and suggestions as to other bits of the airframe we might like to tape together whilst we were at it were not appreciated…
Main Hall is a nice little strip, reputedly the first ever airfield to open in Cambridgeshire, and being 750m long and level would make an ideal introduction for anyone looking to sample smaller out of the way airstrips. It is also distinctive in having high tension electricity cables buried under the threshold – paid for at some considerable cost a few years ago by the owners; apparently up 'til then they just used to land under or over them(!)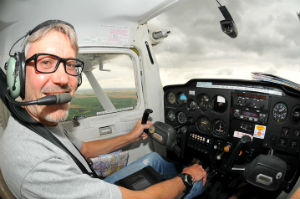 Great Massingham
And so on to Great Massingham, which is just to the north of RAF Marham. Not really a farm strip this one, as it is a disused wartime RAF station with three concrete runways – although ironically it was the only one where were encountered farm traffic on the runway (fortunately we had been warned so we knew to watch out for it!). It also achieves the seemingly impossible feat of managing to be 295ft above sea level – despite being in Norfolk.
Although reduced in size since its wartime days, when it provided a home for Mosquitoes, Blenheims and even B17s, nonetheless its main runway still offers 900m of concrete, which offers no great difficulty for GA pilots despite being fairly narrow. Taxiing around a short section of peri track brings you to a parking area adjoining a paddock full of horses – a fact somewhat overlooked by XK's crew who much to our disappointment denied us a fine Comedy Moment when they inadvertently pushed their plane back until its tail was almost but not quite touching the electric fence.
Joining us at Great Massingham was our old friend George Tunks, who had flown up from his new home at Beccles in a 172. A short five minute walk across the fields took us into the immaculate and picturesque village of Great Massingham itself, where a very splendid lunch was enjoyed at The Dabbling Duck pub. Huge portions of excellent food in great surroundings, and all for just £20 a head – definitely recommended.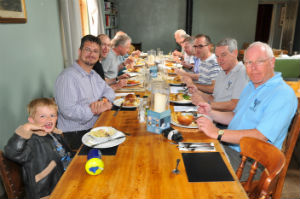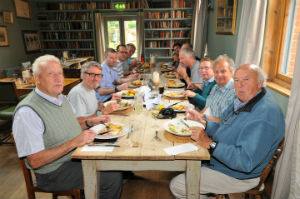 Marshland
Waving goodbye to George the rest of us then flew the short hop to our next destination: Marshland.
Although Marshland has figured on a farm strip fly out before, it's always worth doing if for no better reason than you actually get to land below sea level ('six foot under', to be precise). Also, approaching from the north east, as we were this time, you simply need locate the right drainage channel and then just follow it all the way in to the runway threshold.
Proving that pilots are rubbish at listening, we'd arranged that FA would depart Great Massingham well ahead of everyone so that I could be on the ground to get photos of everyone as they arrived. Naturally no sooner had FA taxied out than everyone decided they'd given us quite enough of a head start and so jumped in a followed us – meaning that with FA's general lack of horsepower/afterburners etc., we all arrived at Marshland at pretty much the same time. Oh well, there's always next year I suppose!
With Marshland itself basking in glorious and deserted isolation, before long we were all climbing back in the planes for the transit to the last airfield of the day.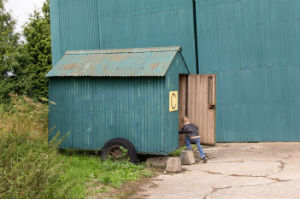 Rayne Hall Farm
Routeing down through Lakenheath's zone, where the laid-back Stateside drawl of the controller always makes the area feel a bit more exotic, we were soon negotiating with Essex Radar for a northern TMZ transit. The importance of doing this was reinforced when we heard the controller trying to raise an infringing Cessna (not one of ours!) showing on her radar as three miles south of Audley End, plus another inside the TMZ not talking and height unknown. A warning to an inbound 'heavy' that he might have to break off his approach brought home how serious this can be – although on this occasion the TMZ traffic headed out of the TMZ, whilst the Cessna realised he was lost and got on the radio to request assistance.
Rayne itself was a revelation! I'd been there earlier this year and the place looked very sad and lonely (the owner of the airfield had died at Easter and the airfield's future seemed very uncertain). However, today they were having a Fly-In and there were so many aeroplanes parked up at the far end of the runway that as we came in to land the view ahead was a bit like an aircraft carrier with all the jets parked up on the foredeck. Once on the ground it was better still, with families picnicking, a hog roast on the go, flying machines of all shapes and sizes coming and going, and various vintage cars parked up to add to the fun. It was great to see so many people embracing their local airfield and enjoying the unique atmosphere that summers' days at grass strips have. Talking to our host it seems that since the owner's death everyone who uses the place has rallied round, and now the future of the airfield looks assured – which can only be a good thing.
All too soon it was time to leave Rayne for the short hop back to North Weald – where waiting to meet us was FG, now safely back from its trip to Germany.
All in all a great day out, with plenty of variety and lots of interesting flying. Particular thanks to Jon and Malcolm for making it all possible, and to the owners of the airfields for kindly giving their permission for us to visit.