8th September 2012
Saturday the 8th September was scheduled to be a group fly out to Elvington Airfield in Yorkshire to visit the Yorkshire Air Museum and then to call in to Wickenby airfield in Lincolnshire on the way back. I don't need to remind you of the appalling weather we have had this year that has seriously curtailed the fly out trips and I was expecting to have to cancel this one as with most of the others.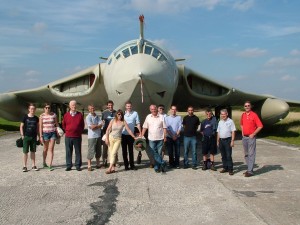 Reading the tafs the evening before nearly resulted in me being rushed to hospital to be treated for severe shock. They were actually good, in fact very good. However, perhaps it was just a dream and I would wake up to the low cloud, wind and rain that had plagued us over the preceding 'summer' months.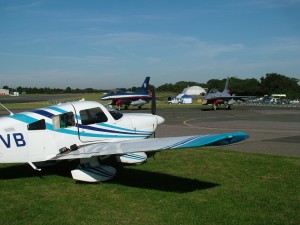 On the morning though it came to pass. Clear sky and great viz, a really welcome change, all of which resulted in happy smiling faces from our group participants. Myself and Paul Weeks were in 'VB'. Linda Winstanley and Alex Khan had 'FG' with Pete McDonald and Simon Pimblett teaming up in 'KA' whilst Vrai Stacey kindly took along ex NWFG member Tony Mac in MM. Malcolm Jarvis and George Tunks were crewing 'FS' and Jonathan Senior was accompanied by Dan Nicolson and girlfriend Emma in the newly 'spatted' FC. Whilst it was the newly painted FC's first proper fly out outing it was unfortunately going to be MM's last before being written off in a landing accident in Scotland shortly after. A great pity but at least without any serious injuries which is the most important thing. Gordon Horscraft also joined us in the 'GEEP' with son in law Simon.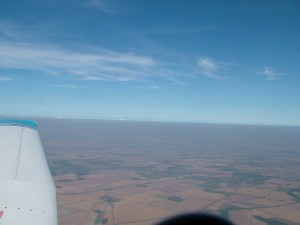 It was the 'Norwegian' weekend at North Weald and the whole place had been suitably spruced up in preparation and it was rather unusual to be preping the aircraft in the company of a couple of mean looking F16s. A phone call to Elvington revealed that some early morning mist was clearing and so it was time to go. Routing was pretty straightforward, across the TMZ to the west then straight up the Luton/Stansted gap to Royston. From there it was more or less a straight line to Newark with not much in the way now that RAF Wittering has effectively closed and RAF Cottesmore has definitely gone, confirmed by the big white crosses all along its runway. From Newark it was a jink around to Gainsborough to avoid Doncasters airspace, Scunthorpe and then onto Elvington which sits under the Church Fenton MATZ just to the SE of York.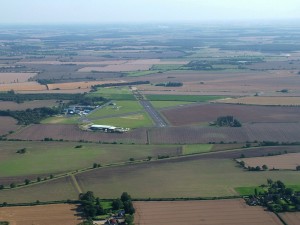 It was a question of what height we fancied subject to the airspace as initially there wasn't a cloud in the sky, matched by some great viz. Our long line of aircraft calling Farnborough then onto Waddington Zone and Doncaster Approach. Approaching Newark scattered cloud started to appear around 3000ft and became somewhat thicker and broken as we went further north. Several of us sat on top with that great white carpet view whilst the others slipped below. As Doncaster was only busy with GA traffic in VB Paul and I decided to try and cut the corner and transit through their airspace. That presented no problem and also allowed us to easily go to a traffic service for our descent through the now quite thick cloud north of the Humber. It was still very clear below and with no answer from Church Fenton we continued inbound to Elvington giving them a call from a few miles out.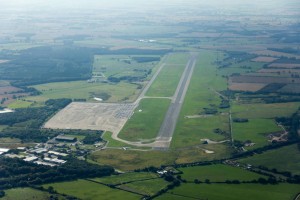 The massive 3000 mtr runway of Elvington soon came into view and we positioned for a left base join for runway 26. The original runway is still in excellent condition but as instructed we aimed for the black surface of the asphalt insert which isn't much shorter than the concrete. Unfortunately, because of a massive gathering of caravans littering the huge apron we were required to back track what seemed like miles to reach our parking area at the far eastern end, just as well our arrivals were well separated.
This former wartime RAF base was home to Halifax heavy bombers during the Battle of the Ruhr. After the war it was handed over to the US Strategic Air Command who built the existing 1.92 mile runway and the huge apron, probably never in there wildest dreams imagining that it would one day be a temporary home to hundreds of caravans rather than nuclear bombers. Despite the resources that went into building it the airfield was never used and was virtually abandoned in 1958. Apart from some early Blackburn Buccaneer testing in the 60's it remained unused. Today apart from a little private flying its facilities are used by numerous groups from model aircraft and land yachts to bike and car track days. It was of course the location of BBC Top Gears Richard Hammonds near fatal jet car crash. 
With us all safely in we met up with Mike Allison the airfield manager to pay our £12 landing fee which was very good value as it included the pilots entrance into the museum which was the main point of the visit. With the group in loose formation we ambled along short lane to the entrance of the Yorkshire Air Museum and it's beautifully kept site. With Princess Senior on a short leash to prevent him eating all the pies before we got to the museum cafe, we split up to explore the grounds with it's wartime buildings, control tower and excellent exhibits. There are really too many to mention but a look at the website gives a full list of the aircraft and all the other very interesting exhibits. http://www.yorkshireairmuseum.org/ Highly recommended for a visit.
Needless to say lunch was an integral part of the day and the airfield NAAFI offered a very acceptable range of food in an interesting setting. With all our participants suitable refuelled we spent another hour looking around before regrouping and heading back to our aircraft for our next stop in the aviation history themed day, Wickenby.
The routing was quite simple but each of the crews took slightly differing routes to take in some of the local sights such as the Humber Bridge or Spurn Head. After take off with a right turn out and the imposing sight of York Minster to the north the sky was now beautifully blue without a cloud to be seen but there was a very distinct inversion layer at around 3500ft. The viz beneath was quite hazy with a dirty yellow hue so Paul and I decided to climb into the crystal clear air above after being bumped around on the inversion layer itself. Sitting on top at around 5000ft was stunning and easily lets one forget the months of poor weather. Routing south and after a short time with Humberside Approach we were descending towards an incredibly busy Wickenby circuit and we ended up as number six of the joining aircraft even though most of our group were already on the ground. Wickenbys 690mtr runway 21 looked a bit different after Elvington. With us all in it was time for afternoon tea followed by a visit to the museum which is located in the very well preserved original control tower. Wickenby was home to two Lancaster Squadrons (12 & 626) and the museum gives a great feel with its exhibits and displays as what it must have been like during it's active years. I like the apparently true story that 'one morning in 1941 farm owner Mr Bowser was told by surveyors that his land was suitable as an airfield and by 3pm that same day contractors McAlpine began to clear the site'. Can you imagine that happening now! Wickenby is another airfield well worth a visit on a nice day especially if you are interested in the historical side. http://www.wickenbyairfield.com/
With all suitably refreshed including HRH Senior who had consumed a huge bun despite already having what looked like and probably was a Mammoth for lunch we headed back to the aircraft for the leg home. (Note to self, buy some worming tablets). With all off of R21 safely we headed back to North Weald at differing heights, the haze below the inversion now being somewhat more noticeable as the sun started to drop in the late afternoon. However sitting on top once again gave some great views of RAF Coningsby as we passed through the overhead and then the expanse of the Wash before routing back down towards the Luton/Stansted gap and through the TMZ and into North Weald.
Another grand and interesting day out and for many of the group two previously unvisited airfields. Thanks for all who attended, it's you that make these days enjoyable and worthwhile.
Paul
Pics;
1. VB and the F16s
2. Elvington overhead.
3. Halifax 'Friday the 13th'
4. The gang.
5. Above the inversion.
6. Deadside for Wickenby.