9th April 2011
Saturday April the 9th was the group's planned day to fly to East Kirkby to visit the Lincolnshire Aviation Heritage Centres wartime airfield museum collection and resident Lancaster Bomber NX611, 'Just Jane'. The TAFS were very good for the whole day and departing from High Cross for the quick hop over to North Weald was one of those real feel good days, nicely warm in the bright spring sunshine and clear smooth air adding to the enormous pleasure of flying. Lots of smiles per mile! There was a very good turnout by our group members as usual for this trip, although it was unfortunate that our PA28, NUKA, annual check had overrun and she was not available. The four NWFG aircraft plus 'VB' were to be joined by our two regular guests the Robins with Gordon Horscraft and Chris Stratford and their ladies plus guests. One of the NW based Sportcruisers G-CGIL was also tagging along. Alex Kenning ex NWFG member was also flying direct from RAF Henlow in a C152 G-BNKI with friend Simon.
After a quick brief we headed out to the aircraft for departure. The routing was to be very straightforward, out through the TMZ to Ware VRP and then north through the Stansted/Luton gap to Royston and then practically a straight line directly past March and up towards Boston to enter the RAF Coningsby eastern MATZ stub under which East Kirkby is situated.
It was just one of those great flying days, a very slight haze out towards the coast but a practically cloudless sky and very light winds. The flat fens and long deep irrigation drains which are great navigation markers slipped away below us as we got closer to Boston. 'FA' with Simon Pimblet and Bill Rice were taking advantage of the weather and clear unrestricted airspace and were enjoying the view from a dizzy FL90, although I'm not quite sure how long it took them to get up there.
A call to Coningsby Zone confirmed there was no one at home so we made blind calls to enter the MATZ with RAF Coningsby itself clearly visible out on our left hand side. A good recce for our next visit in June. Finding the landing area was relatively simple having done our homework with Google Maps, the briefing pic from the museum website and using the remaining old East Kirkby runway out to the east for reference. The landing area is a mix of a grass field (590m) and a large concrete hardstanding (an additional 360m). There is no defined runway just a recommended landing direction which for us would be 06 starting on the grass. With calls made on Safety com 135.47 we joined right hand downwind. The approach was interesting with some high trees bordering the edge of the field. Phil with me in VB was expressing slight concern as he couldn't actually work out which field we were supposed to be landing in and was taking pictures of the wrong place. I suspect it's an age thing!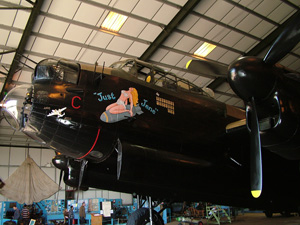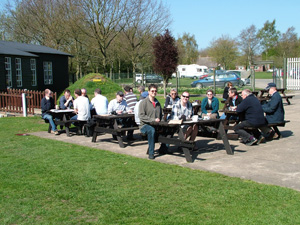 The Robins and Sportcruiser we already in and we parked up next to the rather aromatic chicken sheds to watch the others arrive. All the arrivals were nicely done given the unusual and unfamiliar set up and we were soon all neatly parked up in two rows.
We paid the £10 per aircraft landing fee and £7 per head entry to the museum and as usual the first thing to be visited was the food. The museum was very quiet for a beautiful sunny Saturday and the next few hours were enjoyed wandering around the many and varied exhibits. These included the renovated original control tower which has been returned to its wartime set up with all the relevant equipment, mannequins as the RAF personnel and rolling soundtrack. East Kirkby was a Lancaster base during WW2 and the base's history is as usual at these places fascinating, including one report of how a Lancaster which was being 'bombed up' caught fire. The resulting huge explosion killed and injured a large number of ground crew and destroyed some five Lancasters and damaged a further fourteen. Standing in the tower it would be very easy to imagine it.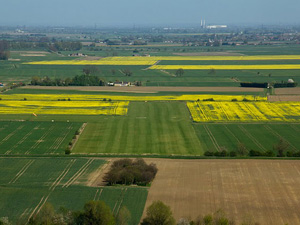 That leads nicely onto the main exhibit the absolutely beautiful Lancaster 'Just Jane' NX611. This aircraft together with the Dakota N473DC which is a genuine 'D Day' veteran are maintained in incredible condition. The Lancaster does regular taxi runs and the Dakota is still airworthy. There is much that I could write about the museum and it's exhibits and the two brothers that set it all up but if you are interested go to their website for all the info.
http://www.lincsaviation.co.uk
As it was such a great day it was decided that we would stop at Fenland on the way back. Most of the group hadn't been in before so it would be another airfield for the log book. With all the NWFG aircraft and guests taxing out across the field together to line up near the tree line for departure it was probably the closest we would get to a departing bomber squadron, our own little tribute perhaps as we climbed out past the control tower and museum.
Fenland was only a 30 min hop and despite finding it a little difficult see amongst the surrounding identical green fields we were soon all in and once again being suitably refreshed. The tower closed at 16.00 so again it was blind calls as we all headed out for departure and a climbing right turn back towards North Weald. Another very interesting 'fly out' day with some absolutely cracking weather to make it even more enjoyable. I shall be flying back to see the Lancaster taxing at some point this summer. The museum is more than happy for visitors to fly in, just PPR a day or two before and do a bit of research on their website and Google Maps as to the actual landing area. This is even more important if RAF Coningsby is active as you are likely to be requested to keep low (500ft) as it's not far off of their centreline.
Thanks to all the NWFG Members and guests that took part, an excellent turn out and a great day all round.