3rd September 2011
Saturday the 3rd of September was the planned group fly out to visit the 'Airbase' collection at Coventry Airport. As usual there was a very good turn out, all five NWFG aircraft were taking part and with the Archer 'VB', regulars Gordon and Chris in the Robin 'GEEP', two 152's from RAF Halton and a further 152 from Stapleford made this a total of 10 aircraft participating.
Arrangements had been made in advance with the very helpful staff at 'Airbase' to get our large group of aircraft in and parked. We were then going to be able to view the static and flying aircraft collection as well as have lunch in the old Air Atlantique DC6 Diner. All the plans were made, what we needed as usual was the weather.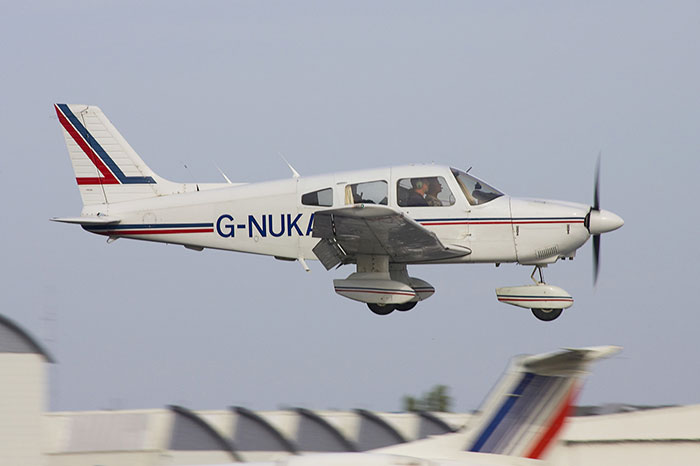 The TAFs and general forecast were very good. A bit of mist and low cloud early on but rapidly clearing into a very nice day. If only that had been true. Driving over to High Cross it was simply grey gloom with a quite strong SW wind blowing. By the time I had prep'd VB things had improved slightly so I took off for the short flight around the edge of the Stansted Zone to meet the others at the 'Squadron'. The cloud was at around 800 ft and the viz in the region of 5km, pure joy, another lovely summers day to go with the rest.
Once the group of NW participants had prep'd their aircraft we gathered in the 'Squadron' to discuss the visit. Regular checks of the weather and Coventry's ATIS showed things were slowly improving. This was just as well as we had arrival slots for all of our aircraft between 11.00 and 11.40 local. With the latest information we mounted up and headed off. A mixture of routes were being taken. Some were routing west and then up towards Daventry, some up the Luton/Stansted gap and a couple of others hoping for a crossing through the Luton overhead.
Given the weather there were a lot of aircraft about in the east/west corridor. They had probably looked at the TAF's and also thought it was going to be a nice day. It still wasn't! The whole of the route was carried out at generally less than 1800ft which was just below the grey cloud base and with an average viz of around 6km, sometimes increasing to 8km if a speck of sunshine appeared. Leaving Farnborough Radar we contacted Coventry Approach after having obtained the latest ATIS info. It was fortunately a bit better there but only over the airfield and certainly not at the Draycott Water VRP point where we were told to report. Despite being quite spread out on departure we were now all arriving quite close together. It was also important keep an eye on our heights as the airspace steps down to 1500ft close to Coventry, very much like North Weald.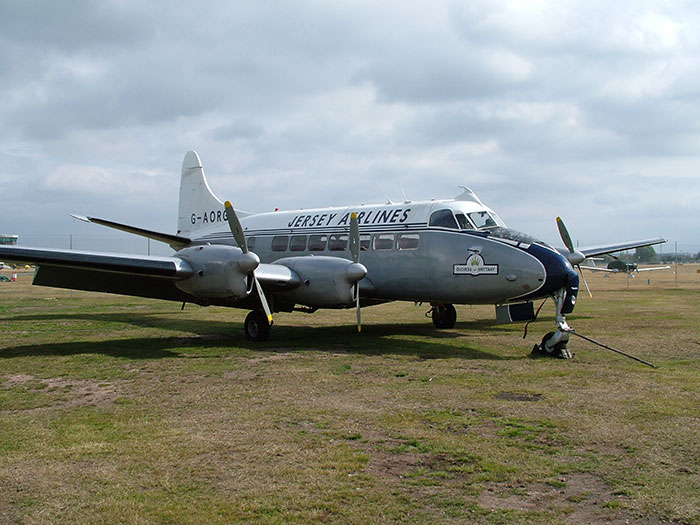 The approach and tower controllers had their work cut out and we were given a series of orbits at different locations on the way in with continual requests to report the aircraft ahead in sight. In the murk that was a rather easier said than done but we found the landing lights and strobes helped a lot in making the aircraft more visible in their orbits.
Finally we were all in with our very helpful marshaller helping to push us back into very tightly packed offset lines just outside of 'Airbase'. Shortly after we met Debi Unwin the Operations Manager. Debi is very keen to promote further flying visits by both individuals and groups and can be contacted at dunwin@airatlantique.co.uk if you are interested in going at some point.
We were taken to reception where we paid a very reasonable group rate of £7 per head which also included the landing fee so was excellent value. We then had an hour and a half to explore the excellent collection of aircraft before lunch. There are numerous types there including large aircraft such as a Douglas DC6 from the old British Eagle airline and a Nimrod which are also open for internal viewing. They are all kept to a very high standard, more information and the full collection can be viewed at www.airbasecoventry.com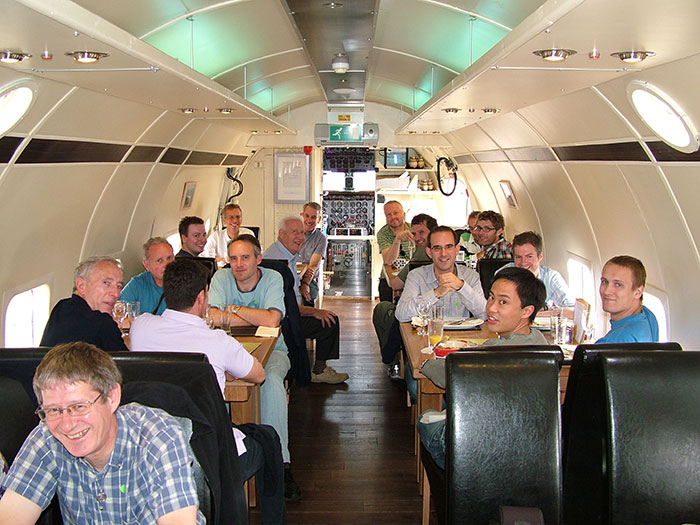 Our usual on our fly out days lunch played an important part of the group get together and on this occasion it was slightly different. A retired Air Atlantique DC6 has been converted into a restaurant/diner and I've got to say it's rather nice. The aircraft was built in 1958 and was taken out of service in 2006 after taking part in filming for the James Bond film, Casino Royale. It can now seat 40 comfortably and has a bar onboard. With the original cockpit open as a backdrop it's a rather pleasant and novel way to have lunch. There is a good selection of very reasonably priced dishes, most of which at least one of our party sampled and the reviews were very favourable. Well worth a visit.
After another wander around the site after lunch it was time to gather the group together for a mass departure back to our home airfields. The weather had improved somewhat but was still nowhere near that forecast. Getting 10 aircraft out took some time as the airport was already quite busy with other traffic. I'm sure there was a sigh of relief from the controllers when we were finally told to change to enroute frequency.
The viz was very much better and with a healthy tail wind for the last part back passing Bovingdon we soon had North Weald coming into view. All safely back in with another excellent day completed as a group fly out despite the weather doing it's best to disrupt as usual. Coventry is a nice airport, especially as the new owner has made it more GA friendly and affordable, which is good to see. Only about an hour away it's well worth the visit to Airbase. There is also another museum at the eastern end of the airport which looked interesting as we taxied past. Maybe next time for a quick trip on a nice day.
Many thanks to all of the North Weald Flying Group that took part and made it a great day out as always. Also to our other flying friends from RAF Halton and Stapleford for joining us and seeing what the North Weald Flying Group and its members is all about. Finally to all at 'Airbase' who made the visit so enjoyable and straightforward to organise.