19th March 2006
Sunday 19th was our second Fly Out date, originally with planned stops at Seething and Conington. All four of the our aircraft were to take part and we had a full complement of bums on seats. Unfortunately due to the Scarlet Pimpernel (aka G-DCKK) being missing, despite Simon and George's best efforts, we were down to three plus Kieron Boost joining us in his Yak 52. The weather forecast wasn't kind to start the day but showed promise of clearing after 12.00 before turning grotty later.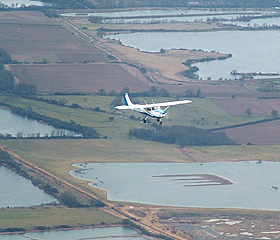 A later start of 11.00am at North Weald was agreed and the participants gathered to clearing skies and even a bit of sunshine breaking through. Due to the late start and as the weather was due to change later, we decided to go straight to Conington for lunch and play it by ear after that. So it was that Julian Mitchell doing his PA-28 check with myself, Paul and Andrew Hutson in the C-152 mastering Julian's GPS, and Alex Kenning in the C-150 took to the sky around 12.15 setting course for Conington via the Luton/Stansted corridor with Kieron going direct from High Cross Farm. A rather bumpy route north was followed, (turbulence not Julian's flying) and as we passed Royston the sky turned overcast with 8/8 cloudbase between 2,000 and 2,400ft, however visibility below was excellent. A couple of air-to-air shots were taken of G-BRBH by Julian and myself en-route.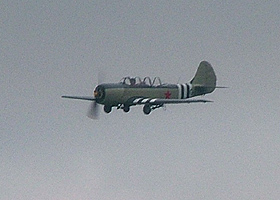 Conington, an old wartime USAF airfield, previously known as RAF Glatton, and home to the B17s of the 457th Bombardment wing, who lost 94 aircraft in a little over 16 months of operations soon came into view between the A1 and the main East Coast railway line. It soon became clear that the world and his wife in light aircraft had decided to call in at the same time and we joined a very busy right hand circuit for R10. All apart from AK in G-BRBH who tried to sneak in a right base join only to find that the circuit was doing a good impression of an aerial M25 and had to take his turn like everyone else! All good fun. On the ground we were well looked after with a marshaller attaching a tow bar as soon as we stopped and manoeuvring us into a suitable parking space whilst we were still on board. Such luxury, can we have one at NW please?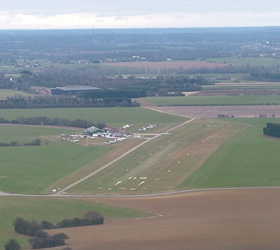 Lunch was consumed in the very their cosy conservatory, and then as the weather was still holding, it was off to Andrewsfield for afternoon tea. Routing around the top of Cambridge and dropping below 1,500ft for the Stansted Zone at Haverhill, to join downwind RH for 09L. After a brief stop it was back into the air for the short trip back to NW and just capturing a picture of Kieron's Yak in flight in the failing light. The sun was low on the horizon as was the temperature as we arrived back into North Weald. A great day had by all. The next date which hopefully will take us further afield to Compton Abbas and Bembridge is on Saturday 29th.