6th October 2012
Saturday, 6 October saw NWFG pilots and aircraft participate in one of the largest ever fly outs arranged to date – this time to Bruntingthorpe in Leicestershire.  Having planned and then scrubbed this particular fly out umpteen times due to weather, Reds One and Two finally came to realise that they were the jinx factor, and in a moment of heroic self-sacrifice, Red One opted to delay his trans-Atlantic return whilst Red Two banished himself to Manchester, and the weather gods duly reciprocated by granting us some of the best flying weather we've seen on a fly out for ages! (Bloody typical! P)

Fortunately, knowing he would be in the States during the planning phase, Paul had delegated the organising of this particular fly out to the closest thing NWFG has to royalty, in the form of Jonathan Senior (who I shall refrain from referring to as 'Princess J' because I know he hates it…)  So it was that the group gathered under Jon's capable leadership on a bright Saturday morning.  All of the NWFG fleet were to take part, joined by the North Weald based Robin DR400 and Aiglon.  Meanwhile, getting ready to make its way up to join us at Bruntingthorpe was a C172 from Andrewsfield; whilst over at Halton a group comprising a Bulldog, a C182, and a Eurostar also made ready.  A grand total of 11 aircraft carrying a total of 29 participants, ranging in age from Kieran's little lad, Rory, who is just 4 years of age, to… errr… George.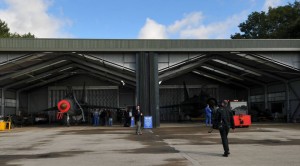 In common with most crews, we in NUKA immediately set about dividing the essential duties between prepping the aircraft (me) and sitting in the clubhouse talking, eating bacon sarnies and drinking coffee (Pete and Linda).  However, those of us who were outside prepping the aircraft were at least treated to the somewhat unusual (and fortunately rare) sight of a mother and her teenage son driving past us the wrong way up the taxi-way in their silver Ford Fiesta – followed moments later by the airfield security vehicle at absolute full pelt in pursuit.  It seems mother and son had turned up for a helicopter flight and, having spotted the helicopter from the far side, had done the 'sensible' thing and driven to it via the shortest possible route… which meant straight across the Active.  They were last seen in Alan's office with the mother saying "We really are most terribly sorry" whilst the son looked on in shame.  A potentially serious incident, albeit fortunately with no harm done, but it does perhaps highlight the need to keep a good scan going during take off and landing and to be prepared for any eventuality.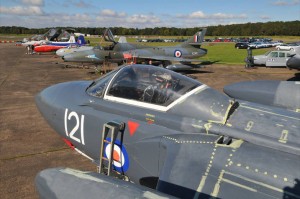 That little excitement over, it was time to go flying.  With the prospect of 11 aircraft all arriving over Bruntingthorpe at the same time, slot times had been arranged that would ensure some degree of separation.  And as you would expect, the Andrewsfield aircraft nailed its slot, the three Halton aircraft spanned their allocated slot with symmetrical precision, whilst as for the NWFG aircraft – well I guess 'sometime Saturday' is a slot of sorts.
First off from North Weald were George and Malcolm in Fox-Alpha who had either double-counted for GMT, or had confused 'Brunty' for 'Lundy', got their Wx from the Shipping Forecast, and factored in a 50kt headwind – as they were off and running before any of us had got as far as getting the covers off.  FA was followed in due course by the three of us in NUKA, aiming to get to Bruntingthorpe ahead of everyone else in order that I could get some photos of the aircraft arriving.  Given that none of the rest of the fleet had crews on board or engines running as we taxied out, and given NUKA's superior speed, it looked a fairly safe bet that we'd accomplish this (FA excepted!).
The flight up was simplicity itself.  With Linda doing the negotiations over the radio, we in NUKA tracked out over BPK to Hatfield, and then got a direct transit through Luton's overhead (where Stelios has helpfully painted an entire hangar bright orange to aid navigation) and then maintained the same heading to take us over the top of CFD at 3,500', and on towards Bruntingthorpe where a planned quick dog-leg via Stanford Reservoir kept us clear of the glider site at Husbands Bosworth prior to jinking right for the final run in to our destination (Memo to self: Stanford Reservoir is tiny whereas Bruntingthorpe is huge.  Never make the aiming point harder to spot than the target itself…)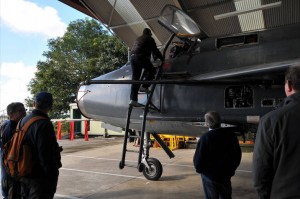 Calling up Bruntingthorpe revealed that the radio, as anticipated, was unmanned, but that George and Malcolm were already descending deadside and weighing-up which runway direction to plump for.  We had already been advised that the hard runway (all 3,000 glorious metres of it) would not be available to us due to car-based activity, and so we would be using the 800m grass strip instead.  The windsock didn't really favour either direction, and so George and Malcolm settled sensibly for Rwy 24, which would at least mean landing with the sun behind.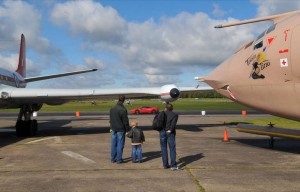 With runway direction settled, and FA now coming back crosswind, we in NUKA decided to forego all that deadside malarkey and instead position to slot in behind FA and join downwind.  This worked well, with a bit of radio negotiation with FA to ensure that they kept rolling after landing so that we would have room to land behind and then backtrack together.  Having watched FA safely down there was then a bit of a garbled radio message from them saying something to the effect of "gurgle, hiss…water…gurgle, hiss".  As this is not an approved transmission to be found in CAP 413, and clearly made no sense at all, we put NUKA down, rolled along the runway, and promptly taxied through an enormous patch of standing water left from the overnight rain!  Apparently FA had been through it with George sending up such a bow wave that he now qualifies for his seaplane rating; whilst although our own arrival had been somewhat less dramatic, the immaculate paintwork of NUKA's port wing was now liberally covered in wet grass.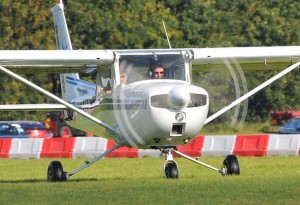 After taxiing back in and parking by the windsock we watched as the two Robins arrived without drama, followed by the Andrewsfield and Halton aircraft, all of whom, as one might expect from seasoned grass-strip operators, landed with consummate ease, avoided all hazards, and made you wonder what all the fuss was about.  By this stage it had also been possible to put out a call on hand-held transceiver, so that the remaining arrivals were at least aware of the hazard, and one by one the remainder of the NWFG aircraft arrived: largely without drama, although Alex and Arthur in FS obviously decided they enjoyed the approach so much that they staged two go-arounds before finally declaring themselves happy to land at the third attempt.
As mentioned, the main runway and perimeter track were being used for car activities.  Supercar training days, as it happens, and so our group of unfit aviators were briskly escorted across the track as we attempted to pick gaps between the Ferraris, Lamborghinis and Aston Martins whizzing past.  Safely across and regrouped, we made our way over to the home of the main reason for our visit: the Lightning Preservation Group.
Our host was the Chairman of the Lightning Preservation Group, Chris Norris, and with great and knowledgeable enthusiasm he explained to us what the Group is all about, talked us through its history, and introduced us to their two prized assets: a pair of Lightning F6 interceptors maintained in fast taxiable condition.
Hopefully the Lightning needs little introduction, but through the Cold War years this was the RAF's front-line interceptor.  A classic British fighter – perhaps the last true home-grown fighter – whose twin Rolls-Royce Avons made it capable of flying at twice the speed of sound, and possessed it of a rate of climb that even today's fighter jets would struggle to match.  Back in the day, its airshow party-piece was to stand on its tail after take off and climb vertically in reheat, but operationally it could climb to 36,000' in just three minutes, and reputedly could carry on up as high as 90,000'.  Stories abound of U2 pilots being surprised at being 'bounced' by RAF pilots in Lightnings…
Given those capabilities, the Lightning's favoured role was to sit at bases up and down the UK's east coast and over in what was then West Germany, ready to blast up into the sky and intercept any incoming Soviet threat.  To this end, Lightnings would be kept at permanent readiness in Quick Reaction Alert hangars ('QRA' hangars – or 'Q-sheds'), with fully kitted-up pilots sat in crew-rooms  alongside (and as any action for UK pilots would have been likely to take place over the North Sea, 'fully kitted-up' meant sitting there in full immersion suits all day ready to go).  The target was to get the Lightning off the ground and on its way to its target within ten minutes of the call to Scramble – impressive, but then again I suppose the pilot was at least spared the responsibility of getting the NWFG cover off the windscreen or trying to track down John to come over with the bowser….
The Lightning Preservation Group was fortunate to able to source a Q-shed from Wattisham and this was erected in 2010 to provide a fitting home for their two Lightnings – providing not only shelter from the elements and space to carry out running maintenance, but also helping place the Lightnings in authentic context and helping convey the story of the role the jets fulfilled.
As to the Lightnings themselves, XR728, wearing attractive grey air superiority markings, was first to be acquired by the Group back in 1988.  Initially the idea was simply to preserve a static example as the type reached the end of its time with the RAF (indeed the RAF's original plan, fortunately never carried through, envisaged drilling holes in the fuel tanks after the jet had been safely flown to Bruntingthorpe to ensure it stayed 'static'!)  But, as Chris Norris explained, it was soon recognised that the best way to keep the jet in good condition was to run up the engines from time to time, and one thing led to another, and gentle run-ups progressed to taxiing under power, then to run-ups in reheat, and eventually to occasional full-bloodied blasts down the runway in full reheat in front of crowds of appreciative enthusiasts.
A second Lightning, XS904, followed in 1993 (being picked up for a bargain £4,000, rather than the £12,000 required to purchase XR728 – although it's best not to ask how much was subsequently required for the Q-shed!).  At the time of our visit, 'XR' had its engines out for servicing – although this permitted Chris to graciously allow members of the group to climb aboard and sit in the cockpit of an otherwise fully functioning legendary fighter.  However, XS's engines were in, and in rude health, as we were about to find out.
At 1pm the Lightning was towed out its lair and the group followed it round to the main runway.  There, suitably chocked, and with a puff and a blast from its Avpin starter (from whose toxic smoke we were kept well away), its upper (Number 2) engine was steadily run up in dry power.  The ground shook, the Lightning rocked, and the roar echoed all around, but that was as nothing as the engineers signalled that they were happy that everything was as it should be, and with that reheat was engaged.  Nose now squatting down and with orange flame streaking out of the nozzle, you were hit with the sort of wall of noise you feel through your whole body rather than just hear – absolutely deafening, painful even, but who would ever want it to stop!  Sadly, guzzling fuel at 2 gallons a second means that all good things must come to an end… but did I mention that the Lightning is a twin-jet fighter?  If you're going to maintain the health of the engines you really must do so with both engines, and no sooner had Number 2 engine wound down than we were regrouped clear of the next blast of Avpin as the Number 1 engine was run up, stabilised, and then pushed all the way in for another full-bloodied blast.  Absolutely fantastic, and those who had been driving round the track thinking they had their hands on something a bit powerful and a bit loud must have had good reason to reconsider….
With the show now over, and grins set to permanent, one of the Halton crew was lucky enough to bag himself a ride in the cockpit as the Lightning was towed back to its base.  The rest of us either returned to the Q-shed to learn more about these magnificent machines, or toured the rest of the treasures that Bruntingthorpe has to offer.  In addition to the Lightnings, Bruntingthorpe is home to the Cold War Jets Collection, and as such provides a home for a Victor and several Buccaneers and Jet Provosts – all similarly maintained in fast taxiable condition and demonstrated to the public at ever-popular Open Days (Bruntingthorpe was also home to the Vulcan during its long restoration, and venue for its successful return to flight).  On top of this there are other classics such as the Sea Vixen, Jaguar, Gnats, a Luftwaffe Starfighter, Comet, Nimrod, Hunter, Canberra, and my personal favourite – the improbable-looking Super Guppy.  For anyone with an interest in aeroplanes Bruntingthorpe is well worth a visit and has a refreshing relaxed atmosphere, free from barriers and with knowledgeable experts dotted around, tending to their charges and more than happy to answer questions or allow a closer look.  It's also worth noting that the Lightning Preservation Group itself, as the winter months approach, organises occasional twilight power runs on the Lightnings – which must be truly spectacular.
All too soon it was time to bid our farewells and ready ourselves for departure back to our respective home bases.  Given the experience on landing, a number of pilots were a little concerned at their prospects for getting airborne inside 800m, but with a bit of self-briefing on short-field/soft-field procedures and arranging to keep well left of the waterlogged patch, all aircraft were comfortably off and on their way without problem.
The return flight was again simplicity itself.  In NUKA we crawled home at 1,500' as Pete had decided he had succumbed to Man Flu and going any higher would make his ears hurt.  Fortunately the Soviets were unaware of this fact and didn't try to invade whilst we were on patrol!  Eventually after an uneventful  flight we arrived back at North Weald as all hell broke loose – four aircraft in the circuit, a Jet Provost joining via the overhead, the JetRanger following one of the aircraft down final, an aircraft on the ground at the hold with a radio failure, another that had given up and was orbiting out to the east 'til things got a bit quieter, and just as we thought we'd successfully navigated all that and turned final, Tower asked 'Do you have the microlight in sight?'!!  Summoning forth an expression usually reserved for games of soldiers, Pete wisely decided that a go around was the order of the day, and so it was that eventually we rolled down final a second time, this time for a peaceful and uneventful landing.
All in all a great day out, and thanks must go to Chris Norris and the Lightning Preservation Group for their enthusiasm and kind hospitality; to David Walton, owner of Bruntingthorpe, for allowing our gaggle of aircraft to set down in the middle of the track on an active motorsports day – and for his support which makes possible the gathering together of all these fantastic aeroplanes at Bruntingthorpe; to Jon Senior for ably stepping into the breach to make sure the day went ahead smoothly; and to all participating crews from North Weald, Andrewsfield, and Halton for the high standards of professionalism displayed throughout which enabled such a large fly out to go off without a hitch.
Photos
1.       The Q-sheds with the Lightnings within
2.       Climbing aboard for a 'tour' of the cockpit
3.       Number 1 engine running at full power!
4.       Small boys of all ages enjoy the gathering of jets, Ferraris, and Cessnas…
5.       A general view of the Cold War Jets park
6.       The first row(!) of fly out participants
7.   Malcolm goes to full 'burner' in FA