3rd November 2007
Once again we were very lucky with the weather for our November fly out. It could have been better but at least it was flyable and the patchy low cloud and slightly hazy conditions made the days task that little more interesting. November the 3rd was to be the second fly out with a difference after the success of 'Fighter Day'. 'Bomber Day' was to be a return to the basics of navigation, lines drawn on maps, tracks, wind drifts and ETAs at various 'targets' that needed to be accurately identified and 'bombed', not with high explosive but a digital camera. GPS's were not permitted and the crews had to declare their estimated time over target before departing The Squadron at North Weald. The start time was to be given by the guys in the North Weald Tower who were kindly playing the game as the competitors reported 'departing overhead'. Points were to be awarded on a sliding scale dependant on how close to the declared time the target was 'bombed'.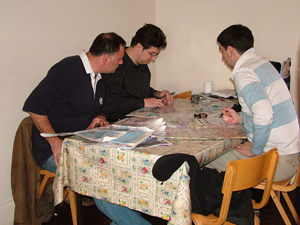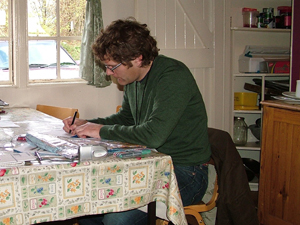 There were five 'targets', aerial pictures of which had already been supplied, but the actual locations of which were only revealed that morning, three prior to lunch and two after. Lunch was to be taken at appropriately enough the old US 8th Air Force 44th Bomb Group base at Shipdham just outside Norwich (also the stopping point of our very first North Weald Flyout Group fly out in Feb 06). The morning targets were a water works outside Maldon, the castle at Sible Hedingham and a small railway bridge south of Saxmundham. The afternoons, another railway bridge near Chatteris and a road tunnel close to Baldock.
The crews gathered at North Weald and it was good to see the guys engrossed in their planning with charts, pens, whizz wheels and plogs strewn around. With times declared it was off to the aircraft for departures of at least five minutes apart. Paul Weeks and Shaun Longley on his first fly out were first off in G-KK, Paul and Andrew Hutson were next off in the courtesy aircraft G-MM, then Julian Mitchell and Alex Kenning in G-BH. Kieran Hardiman and Sean Creighton also on his first fly out followed in our newest edition G-FG and finally Paul Bazire and colleague Nick Spinks who were the umpires/judges in the group outsider G-NS.
Routing out east presented little problems although the weather was quite variable with the cloud base coming down to around 1200ft in places with poor visibility. All went very well with most of the crews quickly identifying their targets, although Kieran and Sean were slightly confused when they saw BH hot footing in the opposite direction to themselves. Are we totally wrong or is it them? Having found the first target spot on time, Julian and Alex also arrived exactly on time at the second target point on their map, unfortunately owing to a small(?) error in planning the target wasn't there but some 10 miles to the west. They quickly realised and cut in BHs afterburners to regain the correct route. Alas this unintentional diversion put paid to their hopes of victory and North Weald Flyout Group glory.
Heading north towards Norwich we were soon all positioning for downwind joins onto Shipdhams runway 02. The guys at Shipdham were very welcoming and even prepared the 'all day breakfasts' for the team themselves as well as manning the radio. The food and drink is very reasonably priced but don't drop in for a quick bite as service was a little slow. The runway and taxiways are in a poor condition still having the same 1945 concrete surface that the B24 Liberators used. I would say 'taxi with caution' but it's hard to avoid the bad bits as its all bad!
This is a pity as there is a small but interesting museum dedicated to the 44th Bomb Group which is maintained by volunteers. For anyone with an interest in that era it is worth a visit. The 'Flying Eight Balls' lost 153 aircraft in combat between November 1942 and April 1945. It's not difficult to bring to life the scenes of the B24's and their crews depicted in the museums extensive collection of photographs, and to imagine the noise and atmosphere as one looks across the remains of the airfield today.
It was off into a slightly darkening sky to head west against a low sun for the two afternoon targets and then down the Luton Stansted corridor for the return to North Weald.
All the targets had been successfully identified and the group consensus was of a very worthwhile and useful day in terms of getting 'back to basics'. Also one that should be repeated next season. As the judge and umpire I've got to say I was very impressed with all the crews accuracy in their navigating and identifications, three of the four competing crews achieved maximum points for the day which means they were within two minutes of the ETA over every 'target'.
Thanks to all for taking part as always.