25th June 2006
Sunday 16th July was our day for Alderney. A mini North Weald 'Fly Out' this one with just two aircraft and seven members and guests taking part. G-AVNS with Paul Bazire, Julian Mitchell and Rob Smith on board. G-DCKK, Andy and Amanda Ramsay and Lee and Anne Ware. The TAFs were the best of the year and we met at North Weald to bright blue skies, light winds and excellent visibility. Flight plans had been filed, customs forms submitted with the minimum of 12 hours advance warning to Special Branch, aircraft fuelled, hired life rafts stowed, lifejackets donned and, phew! we were ready to go. Departures at North Weald were from R13 as the main 02/20 was shut for an event. With G-AVNS making a planned quick stop for a fuel top up at Bembridge it was all crew and passengers on board in the now very hot cockpits.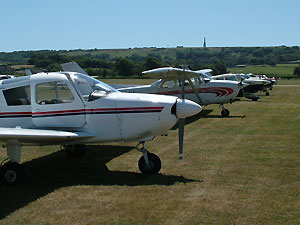 Pre-start checks in AVNS reached 'Mags on' and then a serious lack of movement in the key barrel stopped things dead! Locked solid and despite numerous 'jiggling', other keys and a screwdriver it was obvious this plane was not going anywhere! After much fussing, faffing, swearing and a squirt of WD40 we finally managed to get airborne at 11.20 instead of 9.30.
By the time G-AVNS was ready, Andy and G-DCKK had already departed North Weald having decided to have a day on the Isle of Wight instead. G-AVNS's crew had decided that we were going to reach the Channel Islands no matter what, given such a perfect day.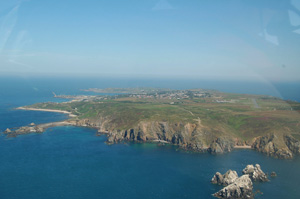 The flying conditions were absolutely perfect and G-AVNS dropped into Bembridge's R12 with just a slight wind straight down the runway. Fuel was loaded, and as Andy Ramsay had very kindly filed a new Flight Plan for us, G-AVNS finally departed for the long over water leg at 13.15. Routing was direct from Ventnor to Alderney, an over water distance of some 66 nm. The sea crossing was excellent and we could see Alderney appearing at a range of some 40 miles.
After leaving Bembridge we had been speaking to London Information, they had asked us to report changing to the Jersey Zone. So it was that at 30 miles from Alderney we changed to Jersey Zone, 125.20, for our first venture into Class 'A' airspace.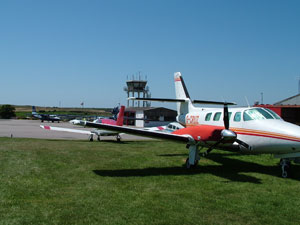 For those interested I have detailed the calls that we made below for future reference, Jersey was very friendly and helpful and if the thought of entering the Class A to do this trip has worried you then don't let it. If you know what to say and where to say it you won't have a problem:
G-NS Jersey Zone, good afternoon, G-AVNS
JZ Jersey Zone, G-AVNS pass your message.
NS G-AVNS is a PA28 currently 30 mile NE of Alderney heading 210 at 3,000ft on 1025, routing Bembridge to Alderney VFR requesting entry into the Zone.
JZ G-NS squawk 3621
NS Squawk 3621 G-NS JZ G-NS identified 30 miles NE of Alderney, cleared into the zone, Special VFR, not above 3000ft QNH 1025, Radar control service, expect left base join for runway 08 at Alderney. Report Alderney in sight.
NS Cleared into the Zone, Special VFR, not above 3000ft on 1025, Radar control service, expect left base for runway 08, we have Alderney in sight. G-NS
JZ G-NS roger, call Guernsey Approach 128.650, Good day.
NS Guernsey Approach 128.650 G-NS
NS Guernsey App, Good Afternoon G-AVNS with you and descending 2000ft 1025.
GA G-NS this is Guernsey App, roger, join left base for R08 at Alderney you are No 1 QNH 1025, call Alderney Tower 125.35.
G NS join left base for R08, No1, QNH 1025, changing to Alderney Twr 125.35.
G NS Alderney Twr, Good afternoon, G-AVNS is left base for R08.
A Twr G-NS, Alderney Twr, Good Afternoon, R 08, Cleared to land, you are No 1 the QFE 1015 surface wind 080 14kts.
G NS R08 cleared to land and No 1, QFE 1015 G-NS.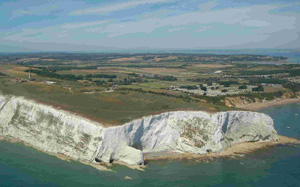 And that's it. It may look worse than it is, and there is certainly a lot of work to do and you do have to concentrate but it's only a question of getting the calls correct, in the right order and knowing the frequency changes you are likely to need. Departure is similar with Alderney giving a Squawk before take off and then handing you over to Jersey Zone a couple of miles out. Our routing out of the Zone was not above 1,000ft so be prepared for a good view of the sea and boats! Alderney was delightful and well worth a visit and good introduction to the Channel Islands and controlled airspace. For those that haven't done it, give it a go yourself, but allow plenty of time as we squeaked back into North Weald at 18.57.