27th June 2013
As some of you know (and the rest I'll bore you with anyway), I've long had a plan to try to fill a page of my logbook in a day, and on Thursday I finally managed it. To make it a bit more challenging than simply going round and round at North Weald all day, I also decided that I should fill the page with airfields that were new to me, and to add to make things fun, they should all be in Essex. Given that I'd already done the obvious ones – Andrewsfield (where I learned to fly), Southend, Clacton, Stow Maries and Great Oakley – finding ten new ones was going to be a bit of a challenge, all the more so as I'd decided to avoid Stansted (the £330 quoted landing fee was a bit off-putting), and Stapleford (just petty prejudice on my behalf, same as I swore many years ago I would go to my grave never having been to Liverpool…)
Nonetheless, armed with a Pooley's, a Lockyear's, a quarter-mil map, and the power of the internet, I managed to located ten fields, all scattered around the Stansted zone, and set about the mammoth task of tracking down owners/operators , getting strip details, uploading locations into the GPS, and obtaining the all-important PPR.
All the strips were grass, and most looked to be pretty tight, so the natural candidate was my old chum Fox Alpha. I ended up doing the whole thing solo: in part because having the plane as light as possible seemed to make sense; in part because whenever I mentioned what I had in mind to any of my usual accomplices, they suddenly decided they had pressing engagements elsewhere… or curtains to hang…
So, as until last week I didn't know that half these places existed, and because they're all on the doorstep, here's some notes on what I found, in case any of you are looking for something a bit different to do this summer:
West Horndon (500m 06/24 80'amsl – 2 miles north of Thurrock airstrip)
A real gem! I never even knew this place existed and must have flown over it umpteen times without ever noticing it. It's a beautifully landscaped garden that's open to the public, and basically you land in the orchard. I thought I'd be in and out in ten minutes, but they were so pleased to see an aeroplane visit they put me in a golf buggy and gave me a guided tour of the grounds – which include loads of fantastic sculptures scattered everywhere, and garages containing a superb collection of old cars (1912 De Dion Bouton anyone?). As I wasn't technically visiting the gardens they refused to take any payment – although I will definitely return with Mrs P on one of their open days, and would highly recommend the same for anyone whose Significant Other thinks flying around in little aeroplanes is a daft pastime… Details for anyone who's interested here – http://www.barnardsfarm.eu/flyin.htm – and I've also attached a photo to give a taste (before my pocket camera battery packed up and I decided trying to take pictures whilst flying in and out of short strips was probably none too bright anyway!)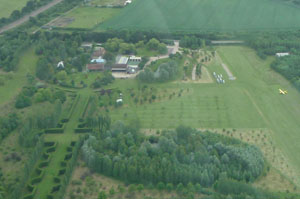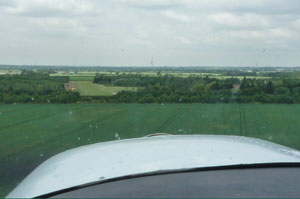 Damyn's Hall (600m 03/21 56'amsl)
Probably already reasonably familiar to a number of Group pilots, a fairly straightforward grass strip with a good atmosphere and a nice clubhouse and cafe. I sat in the sunshine eating an ice cream, and chatted to a chap who saw the logos on the plane and wanted to know more. He said he'd seen the ads in Pilot so I gave him the details and told him to get in touch. Incidentally, although I didn't realise it at the time, Damyn's turned out to be the 100th airfield I have visited.
Thurrock (650m 07/25 30'amsl)
For some reason, I'd always been led to believe that there was an attitude of 'we don't like strangers round 'ere' at Thurrock. Even at Damyn's when I mentioned where I was off to next there was a bit of a collective sucking of air though teeth and asking whether I was sure. Admittedly Thurrock's website doesn't exactly shout 'Come on in!', and yet when I spoke to them the day before they were nice as pie. And so it turned out when I got there. There's a choice of tarmac (for girls) or grass runways, a lot of home-based aeroplanes and planes in for servicing, and the chap in the hut was really welcoming – saying that he'd happily welcome more visitors and adding that there's a really good pub just across the road.

Laindon (475m 08/26 90'amsl)
A proper farm strip this one. I'd got the owners details from Lockyear's and phoned them. They were actually in France at the time but said yes visiting would be no problem – although they sounded a little surprised as to why anyone would want to ('There's nothing to do when you get there!'). I was a little nervous about this one as it was the first of the 'sub 500m' strips and on a couple of occasions I'd failed to find it on Google Earth(!) In the end it proved remarkably straightforward, and although they were right that there's nothing to do there, sitting on FA's mainwheel, in the sunshine, in splendid isolation, whilst sending a text to a friend, is one of my favourite memories of the day. I couldn't find the 'honesty box' for the £5 landing fee, so I posted it to the owners when I got home with a note to say how sitting on FA's mainwheel, in the sunshine….was one of my favourite memories of the day.
Napp's Field (700m 08/26 193' amsl)
I don't know why, but even though it's on the chart, I'd never noticed that this airfield even existed before. It's not in any of the guides, but the UKGA website gave a number and when I rang they said no problem – only issue being that there'd 'been a bereavement' and therefore the place would be deserted, but as long as I was happy I could give it a go. It turned out to be a lovely strip – the central 450m of the 700m are flat and they've dug two fishing lakes on the south side. If you're into fishing (I'm not) I can't imagine anything better than flying in with your tackle (Ooo-er, Missus) and spending the afternoon doing battle with the bottom-feeders. There are aeromodellers on site who move if you fly a circuit in advance, and when I landed a teenage girl sat by the side of the runway who didn't look up from her iPhone even though a Cessna landed (and later took off) mere feet away…
High Easter (450m 08/26 244'amsl)
This was the one that I harboured most doubts about. At 450m it was the shortest strip of the day, and I couldn't find details for it in any of the guides. In the end I tracked down someone who was selling a share in a based aircraft and through him got the airfield owner's details. I was warned that there was 'a bit of a slope' (up towards the village) and that 'There's nothing to do when you get here!' (seems to be a bit of a recurring theme), nonetheless I was welcome to give it a go – although they cast some doubt on my choice of a flying machine which carried a wheel at the front… As it turned out, I needn't have worried, and in fact, far from finding the strip too short, ended up, Alpe d'Huez altiport-style, having to put on power to drag FA up the field to the parking area at the top! It is a challenge though, as the strip not only slopes up, but also left to right, and it's so close to Stansted's zone that your wingtip is within 1nm of the boundary as you turn final (I maintained a listening watch and squawked 0013 throughout). Lovely spot though, and the village supposedly has a very nice pub.
Rayne (785m 09/27 225'amsl)
I found out via the internet that the owner of this strip sadly died a few weeks back when he fell off the roof of the bowser. There was no answer on the airfield phone, so it looked like I wouldn't be visiting, but then I chanced on someone on UKGA that was selling a C150 taildragger (yes, they do exist!) based there. I phoned him and explained what I was hoping to do, and he confirmed that although the airfield would be unmanned it would be fine to visit. As it was, the place was deserted and the runway seemed enormous after High Easter. It's a nice little strip, and one can only hope it survives the loss of the owner.
Earls Colne (800m 06/24 227'amsl)
For some reason I've never been in here. On any other day I probably would have thought it was great, as it was, after all the proper little strips I'd just visited, it just seemed it was taking itself a little too seriously and certainly the £15 landing fee was taking the…. That said, the people there were nice and friendly, and for the first time since Damyn's I was able to get something to eat and drink. It did just seem that I'd entered the world of Rules and Regulations again, with circuit diagrams to observe, and my question as to whether it would be alright to turn right after take-off was met with one of those looks reserved for people who ask for red wine with their Filet o'Fish. Oh, and 800m seems like an awful lot of taxiing to do when you've been used to having things your own way!
Stone's Farm (700m 09/27 210'amsl – 4 nm north of Earl's Colne)
The private strip of a gentleman farmer called Martin. I'd got his details from Lockyear's and despite some initial reservations ('There's nothing to do when you get here you know!'), when I explained what I was trying to do he said he'd be happy for me to drop in. As it turned out this was the most fantastic strip. You know those dreams we all have of having our private strip at the bottom of our garden? Martin has exactly that: a beautiful Robin Regent sitting in its own hangar with a grass strip that is smoother and better than most people's lawns. He also turned out to be a really nice guy and I wish I could have spent longer. He refused any sort of landing fee, so when I got home I arranged to send him a couple of bottles of very nice wine – I thought it was the least I could do in return for being able to park on his lawn, and anyway, as FA is rather conspicuously covered in NWFG logos it seems sensible to keep in with the neighbours!

Audley End (800m 18/36 283'amsl)
A quick transit of the TMZ 2, talking to Essex Radar as I went, and I was soon joining for runway 18 at Audley End. Bizarrely, even though I'm originally from Saffron Walden, and my mum still lives there, it's an airfield I've never got round to visiting – and it turns out I've been missing out! Audley End is home to Vintage Fabrics Limited, and they were perfectly happy to show me round their hangar where they're restoring a WWII Supermarine Walrus amphibian and Fiat biplane, maintaining and overhauling Chipmunks, Buldogs and various others, and providing a home to Paul Bonhomme's ultra-exotic Red Bull aerobatic mount. A really fascinating place to visit, with the added benefit of great views of Audley End Huse on your right as you come in to land. The strip's quite long, but has a pronounced slope up to the south, so unless there's a good reason not to, land on 18 and take off on 36.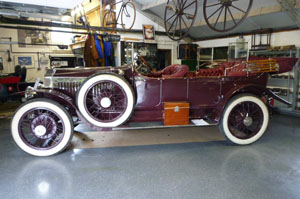 And with that it was up into the Audley End overhead, attempting to negotiate a direct transit with Essex Radar. Told to expect a five minute delay I elected instead to route around the zone, passing High Cross on the way and waving at VB safely tucked up on the ground as I went, before safely dropping FA back on 20 Grass at North Weald – and then sitting down to attack the mammoth task of filling in the tech log.
In total, I clocked up just 2.6 tacho, but I reckon as much experience logged as you would expect in, well, a whole logbook page of flying! Two of the flights (Damyn's to Thurrock, and Laindon to Napp's Field) chalked up just 0.1 tacho each – and really how much more fun can you have these days for £9.87!
Fox Alpha herself took it all in her stride, and routinely landed and took off inside 200-250m.
And to prove I didn't make the whole thing up, a photo showing the log entries is attached – a whole page completed in a day. Hurrah!