30th November 2016
Monday 28th November 2016  –  Mini Night Fly Coventry
We had managed to get a small group of our night owls 'refreshed' on a cracking calm, starry evening at Andrewsfield after just one weather delay. That put us nicely ready to start the group night trips. However, our first planned outing on the 18th November had to be cancelled due to the poor forecast for the aircraft recovery back to North Weald on the Saturday. This is often a problem factor, there is a great night but the following morning's weather prevents the aircraft being brought back to base, and of course we can't have them stuck and the logistical nightmare of our members trying to get to Andrewsfield or Southend in dribs and drabs. Hopefully from early next year that will all change with the proposed installation of lights at North Weald. Not only will we be able to night fly and return home on the same evening, but North Weald Flight Training will be able to conduct night ratings for those that haven't sampled the delights of piloting an aircraft at night.
Looking at the weather it became apparent that the evening of Monday the 28th November and the following morning was looking very good.  Weekdays are always a problem for our members to engage in a bit of afternoon flying activity and the recovery the following morning just makes organising something even harder. However a quick email resulted in a mini night trip being put together, just two aircraft and five participants, but at least it was a decent start to the night flying season.
The plan was to depart North Weald just before the closing time at 'official night' – 16.24, fly to Coventry and with the very nice DC 6 Diner closed on a Monday, have an early dinner at the local pub. However that plan was scuppered on checking the notams that revealed that Coventry now shuts at 18.00 rather than the previous time of 02.00. A quick plan B: fly to Coventry and with a reasonably quick turnaround route back to Southend. At least that would get some decent 'night' time in.
So, with the aircraft prepared and all lights checked, myself and Paul Cook in 'VB' headed out in the increasing darkness for the 02 hold, closely followed by James Grainger, Malcolm Jarvis and John Reynolds in 'FS'. With checks complete and 5 minutes to 'night' we lined up for departure, and with the sequence of top, bottom and wing strobes casting brilliant dancing pools of light on the concrete accelerated down the runway to climb and turn left into a stunning sunset as we routed west through TMZ 2 with the headlights of cars on the M11 stretching for miles.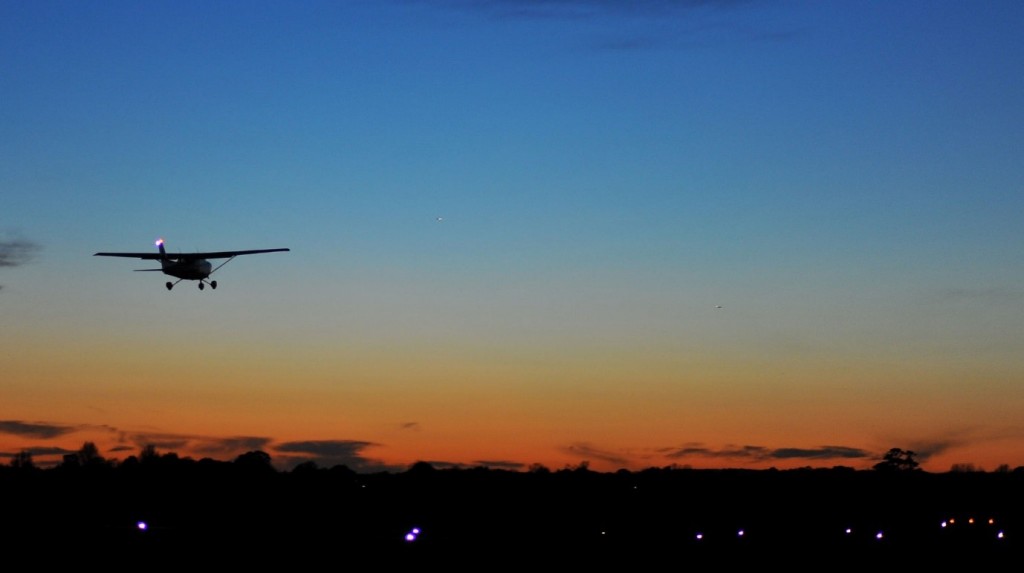 Requesting a basic service, we probably disturbed the Farnborough controller, who quite likely had his feet up and a cup of coffee in hand given the time of day, and turned towards Ware in the increasing darkness to slip north through the Luton/Stansted gap at not above 2400ft. The route was north to St Neots and then a left turn towards the Daventry VOR. As expected it was crystal clear night and the road, towns and villages slipped passed in a spectacular lit rolling kaleidoscope of colours.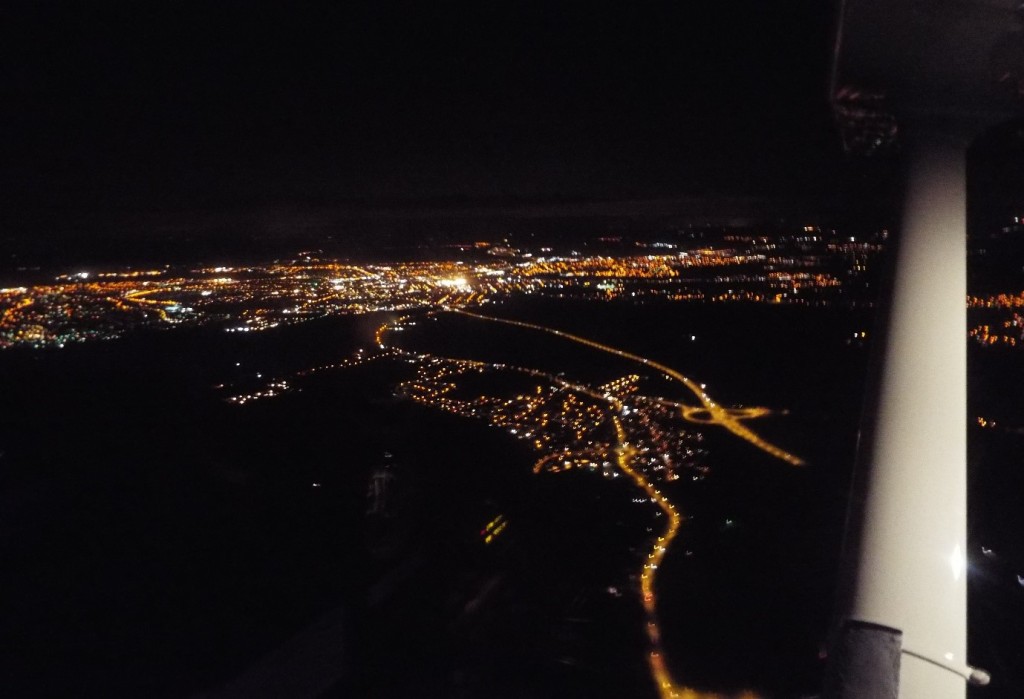 Paul and I were planning to do the DTY direct entry ILS approach so with a listen to the ATIS giving a runway 23 arrival we called Coventry Approach at 15 miles from DTY. All went to plan and following the procedure we were soon established on the 23 ILS which was quite nice as the VFR circuit traffic was being kept nicely out of our way. With 'FS' positioning as number 2 behind us the final part of the approach the runway lights and PAPI's gave that unique pilots view of coming into land at a decent size airport at night. A view that never fails to get the heart racing even after years of doing it. Sinking down towards the runway lights with the tyres kissing the tarmac (if I say so myself) we were instructed to vacate at 'bravo'. With the runway lights going progressively slower past the window I knew roughly where it was but unfortunately due to a lack of blue lights or or a marker board neither Paul or myself spotted it and we went drifting slowly by it. That was unfortunate as it resulted in the controller having to instruct 'FS' to go around as he directed us further down to vacate at Alfa 1. Slight annoying but James and Malcolm had the same issue when they landed which made me feel a bit better, which reminds me I must drop a line to Coventry about it.
Parking on the western apron we opened the door to the freezing cold. A quick visit to the clubhouse and a goodbye to Paul Cook who was catching a train from Coventry and we were heading back to the aircraft to get out before closing time. JR was joining me for the return and James and Malcolm changed around. The runway was now 05 for departure and with a start request and then taxi we manoeuvred around the unfamiliar taxi way to A1 for checks. That was good timing as a Citation was coming down behind us and that resulted in 'FS' ending up as number 3. We headed off into the night and being careful to remain below 1500ft due to Birmingham's airspace we headed back to DTY.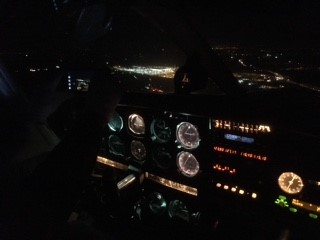 Knowing the 'FS' crew were going to try and get a routing overhead Stansted on the way back JR and I thought we would give it a go as well. Switching to Essex Radar we started to get a picture of the inbounds and thought there might be a window of opportunity to get a clearance. So with a listen to the ATIS establishing that 04 was in use I called Essex Radar requesting a routing through the zone from BKY to Southend via the 04 threshold.  The controller was very obliging and gave use a basic service with instructions to continue towards BKY for a possible clearance as we got closer. With large well defined glow of Stansted in the darkness already in sight through the clear air we were cleared to cross via the 04 threshold at no above 1800ft. That height obviously gives a great view and we could see the Ryanair 737's lining up in turn ahead as we approached and at 5 miles were changed to Stansted Tower with instructions to continue VFR. Over the 04 threshold with stunning views of the airport. Once clear of the centreline we were changed to Stansted Director for the remaining time in the zone.
Clearing the Stansted Zone and heading towards Chelmsford we requested a change to Southend Radar and after listening to the ATIS gave them an inbound call with 'Zulu' and requested a radar vectored ILS for 05. With the first vectors towards the ILS, the controller informed us that if we were in company with G-FS just to let you know that they are going around in circles north of Stansted. Indeed they were, having entered the zone Malcolm and James were unable to cross the approach due to a flurry of inbounds and ended up orbiting for over 20 minutes before getting their clearance to cross. Established on the localiser we were changed to Southend tower and as we descended with the glideslope were again treated to that amazing 'big airport' lights picture through the windscreen. Another fine touchdown and we were vacating at ''Bravo' for the marshaller with his illuminated 'wands' on the north apron. With the aircraft shut down it was back into the bitter cold and to quickly throw the cover over and secure the plane for the night.
Now really quite hungry John and I headed off for some fine dining at MacDonald's whilst we waited the arrival of the other two. With them safely in that brought a very successful evening to an end and we all headed off to get the train back home, which is a great advantage of Southend. The following morning after paying the hefty £48 for landing and parking Malcolm and I recovered the aircraft after giving the sun a bit of time to melt the very thick frost. A bonus being the stunning clear air on the short 20 minute hop back to North Weald.
A great evening and certainly the perfect night to grab a short notice adventure. A pity we couldn't have had a few more participants but given it was a Monday evening not really surprising but it's certainly a start. Let's hope for more after Christmas.
Paul